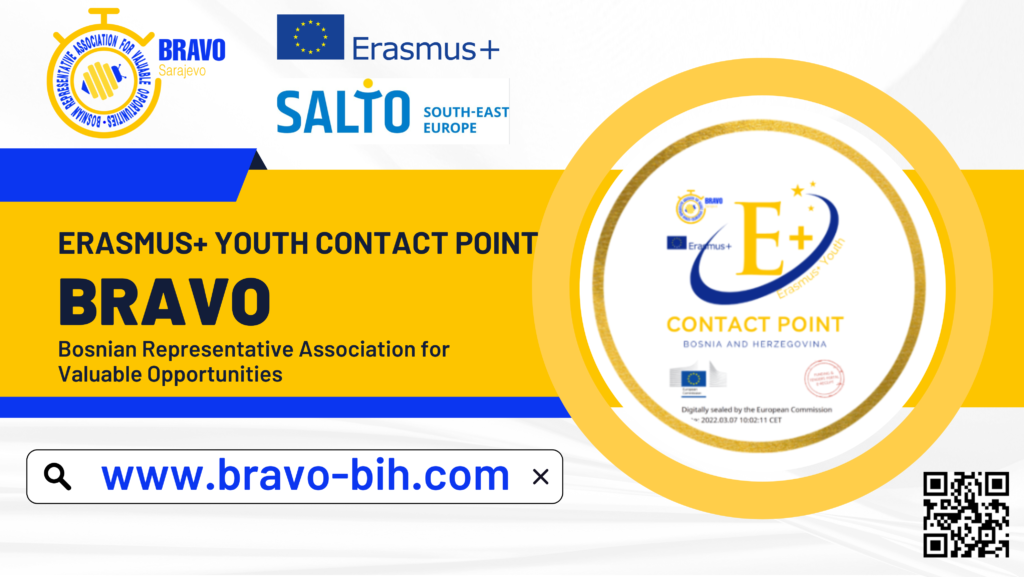 Erasmus+ Youth and ESC Contact Point in Bosnia and Herzegovina
As the Contact Points for Erasmus+ Youth and European Solidarity Corps in Bosnia and Herzegovina, BRAVO plays a crucial role in facilitating opportunities and support for young people. Our goal is to provide the Bosnian and Herzegovinian youth with any and all information regarding the Erasmus+ programme and the European Solidarity Corps program. By being one of the two designated Contact Points in Bosnia and Herzegovina, BRAVO is constantly and consistently sharing information, guidance, and resources in regard to the Programmes.

Through partnering with the National Erasmus+ Office (NEO) Bosnia and Herzegovina, scheduled regular events are planned, hosted, and implemented so that all the possibilities to get involved are distributed to our youth. As many organizations and institutions in Bosnia and Herzegovina didn't have the proper opportunities to get informed about the different programmes and what they offer, BRAVO educates and motivates them to use the Programmes and apply their own projects. Through the use of our local language and working with smaller organizations in small cities/towns/villages in rural areas, we are giving our all to ensure that we are fostering the growth, inclusivity, and active participation of young individuals in Bosnia and Herzegovina, ultimately contributing to their personal, professional, and social development within a European context.

In addition, we serve as a bridge between the SALTO South East Europe Resource Center and the youth in our country to maintain and establish dialogues and cooperation with the other Contact Points in our region. We expressed interest in becoming a Contact Point for Erasmus+: Youth and European Solidarity Corps in Bosnia and Herzegovina due to the fact that for several years, we have served as one of the most successful platforms in Bosnia and Herzegovina for engaging more than several hundred young individuals in learning about and experiencing Erasmus+ and other European programs. BRAVO's mission is to spread knowledge and engage youth in the opportunities they deserve. As a Contact Point, we are moving forward with making our vision a reality on an even bigger scale.