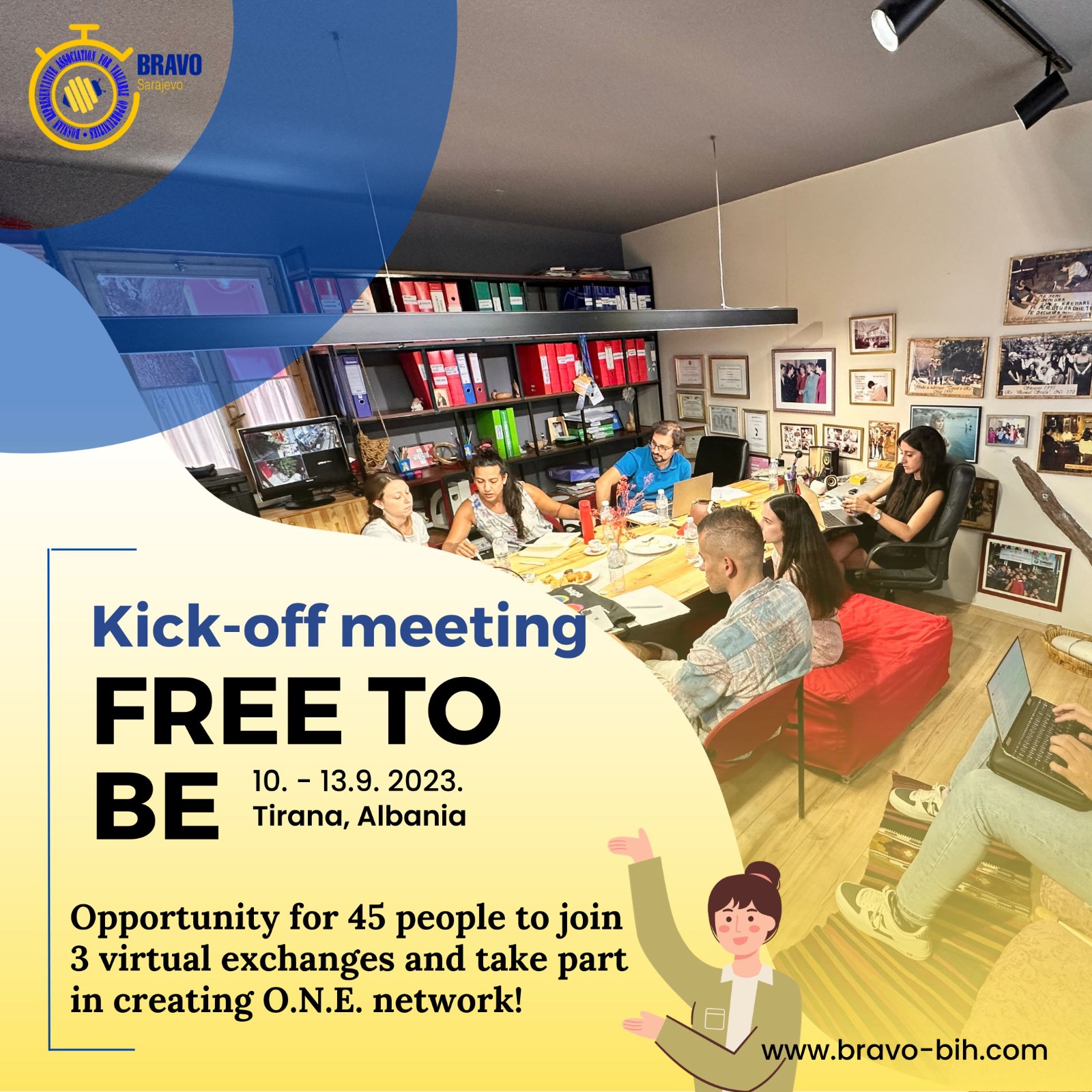 KICK-OFF MEETING OF "FREE TO BE" – A Pioneering Approach Against Homophobic Cyber-Bullying
From the 11th to the 13th of September 2023, a vibrant mix of youth workers, activists, and stakeholders converged in the picturesque city of Tirana, Albania, for the kick-off meeting of the project "FREE TO BE". The objective? To foster a cyberspace where everyone, irrespective of their sexual orientation or gender identity, feels secure, respected, and valued.
Project Classification and Objective
The "FREE TO BE" initiative is facilitated under the auspices of the ERASMUS-EDU-2021-VIRT-EXCH-IPA, as dictated by the Erasmus Plus Programme rules. This project shines a beacon on an urgent and often overlooked issue – homophobic cyber-bullying against LGBTQI youth. In an age where digital interactions are as real and significant as physical ones, it becomes imperative to ensure that every individual, regardless of their identity, can navigate the digital realm without the fear of prejudice or harassment.
Aims and Objectives
Our ultimate vision is to curb and eventually eradicate homophobic cyberbullying targeting young LGBTQI individuals. Our roadmap to achieve this includes:
Promoting Respectful Digital Communication: We endeavor to inspire the adoption of a respectful and understanding language across all digital devices and platforms concerning LGBTQI subjects.

Amplifying Positive Discourse: By steering the narrative, we aim to propagate a respectful and appropriate language against LGBTQI, especially on internet platforms and social media, where the majority of interactions occur.

Creating a Lasting Network: Building a robust and permanent network of youth associations and Youth Workers is at the project's core. This network will become the torchbearers in promoting prevention strategies and raising awareness regarding homophobic cyber-bullying.
Engaging Youth Workers
Youth workers are the lynchpin of this initiative. With the "FREE TO BE" project, they will have the unique opportunity to participate in virtual exchanges with colleagues from various countries. This cross-cultural collaboration will equip them with diverse strategies, tools, and perspectives to combat homophobic cyber-bullying effectively.
By being a part of this project, youth workers will be transformed into true agents of change. Their role will be instrumental in not just preventing such bullying but also in guiding and mentoring young individuals both inside and outside the consortium.
Conclusion
The kick-off meeting in Tirana was not just a gathering; it was a powerful statement that we, as a community, stand united against discrimination and prejudice in all its forms. With the combined efforts of all involved, the "FREE TO BE" project will undoubtedly make significant strides towards creating a safer, more inclusive digital world for our LGBTQI youth.
Let's pledge to be the change we wish to see, to build a world where everyone is truly "Free To Be".
More about BRAVO you can see on our video below: