#BRAVO signed an MOU with Association Sport for All Serbia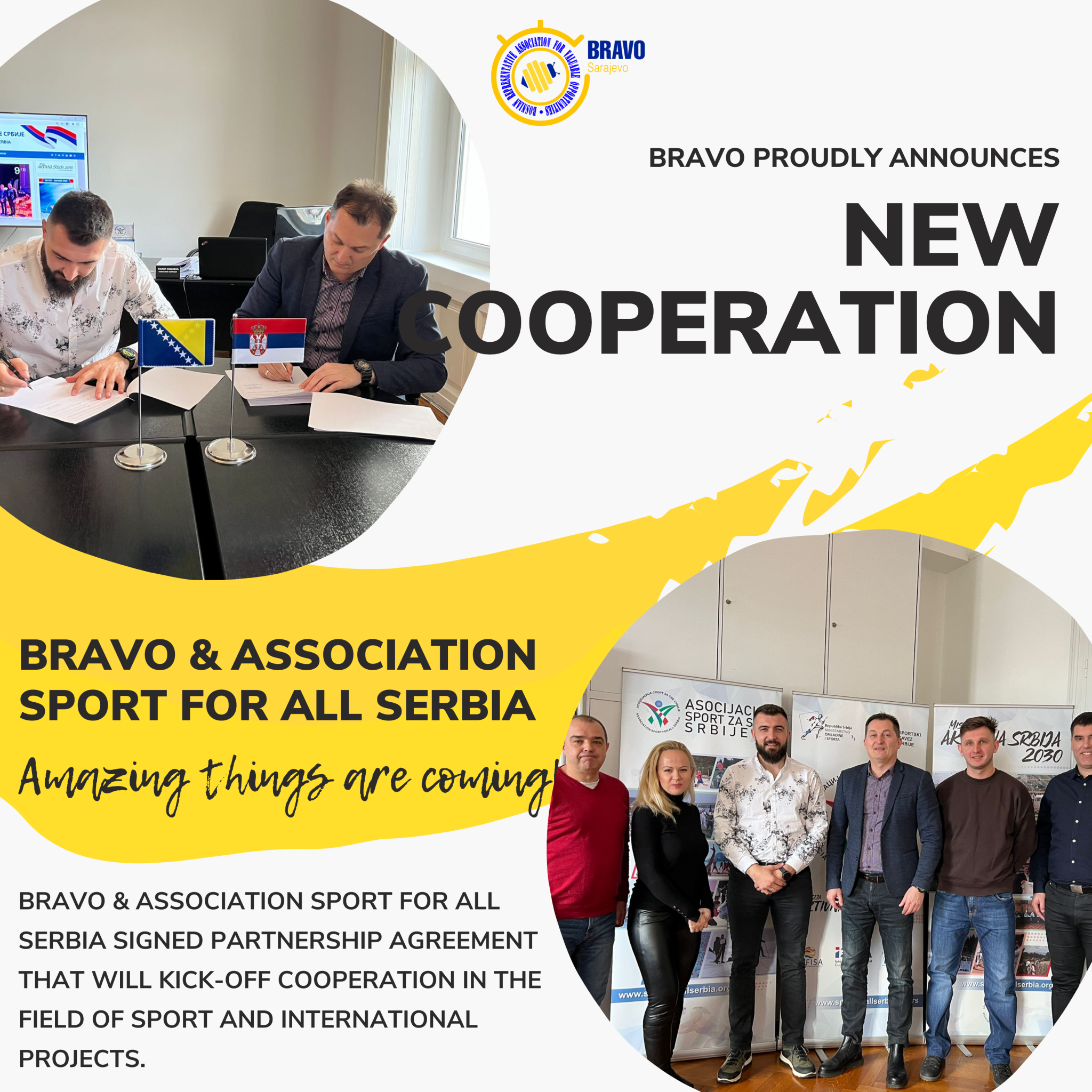 Those who know us, knows that BRAVO is always doing hard work on creating new and better opportunities for youth from differents parts of Bosnia and Herzegovina, different occupations and hobbies and by that is writting, day by day, great stories.
BRAVO has friends all around the world and enjoys making new friends and partners. This time we are bringing you great story about our new partners from Serbia and what our plans and ideas are. Our partner is association called "Sport za sve" from Serbia.
With its program definition, " Sport za sve" has aroused the interest of many non-governmental organizations, which to a greater or lesser extent are engaged in sports recreation programs for all citizens, regardless of gender and age.
Today, the Association has close to 70 members.
A number of associated organizations are from the National level, but also a very important organizational scheme consists of members from local communities. Now that we introduced our partner, we will tell you more about our goals and how together we will #MAKETHEWORLDWONDER.
On Januar 21st a first work meeting was held, and with that day everything starts. The aim of the meeting was to sign an agreement on cooperation and an agreement on future joint action through European Union projects. What is wonderfu to know is that the collaboration came, actually through the #BRAVO project "Sitting Darts". Project that supported sport for people with dissabilities. Inspired by this and with the wonderful emotions that accompanied us through this project, we decided that from now on we will work not only to strengthen and create joint local sporting events, but also to create and implement international opportunistic events to be funded by the European Union .
In addition to all of the above, our goal is to consciously and honestly spread awareness about the sport and its benefits, and to make the sport accessible to everyone, regardless of gender, age, popularity of the sport and the place you come from. We are looking forward to cooperation and partnership, and we can't wait to write new wonderful stories. And to all of you who are reading this do not forget to #MAKETHEWORLDWONDER.
#BRAVO #BRAVOBIH #MAKETHEWORLDWONDER #BRAVOPARTNERS #SPORT