#WORLDCAFE in #BRAVO office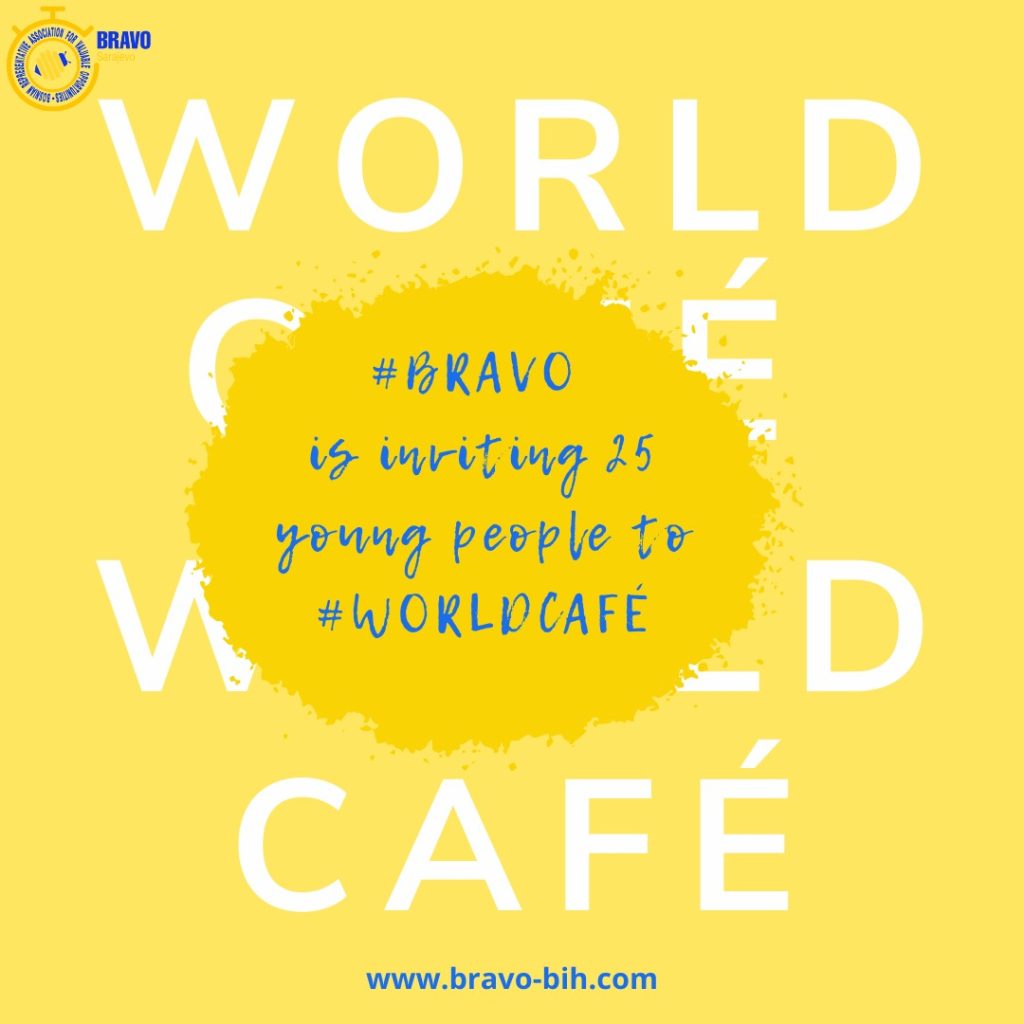 Where and when?
Join us at #WORLDCAFE in #BRAVO office at address Valtera Perića 9, on 18th of february at 18h.
What to bring?
Great mood and will to learn new things, and rest is on BRAVO.
What is BRAVO doing?
BRAVO is planning and implementing a local lobby and advocacy campaign by organising a consultation with 25 young people with fewer opportunities, to find out their specific needs and challenges.
 What is WORLD CAFÉ?
The World Cafe is an engagement process designed to take place in a cafe setting (either in an actual cafe or else the room is set up to resemble one as much as possible so that participants are seated around small tables with tablecloths and tea, coffee and other beverages). 
The idea behind this is to create a space that supports 'good conversation', where anybody can talk about things that matter to them. The process is distinguished by several core design principles. These include making sure that the space is hospitable space, everyone's contribution counts and that participants take responsibility for listening and exploring insights together.
Each round is initiated with a specific question related to the overall purpose of the event. The same questions can be used for more than one round, or they can build upon one another. The choice of question(s) is crucial to the success of the event. During the event participants discuss the questions at their table, before moving on to a new table/group for each new round. Often participants are provided with pens and are encouraged to draw and record their conversations on the paper tablecloths to capture free flowing ideas as they emerge.
One participant (the table host) remains and summarizes the previous conversation to the newly arrived participants. By moving participants around the room, the conversations at each table are cross-fertilized with ideas from other tables, resulting in a collective intelligence. At the end of the process the main ideas are summarized in a plenary session and follow-up possibilities are discussed.
WHAT ARE WE GOING TO TALK ABOUT?
What is the relationship of the young people with fewer opportunities with the authorities and the community?
Barriers in youth participation: Why young people with fewer opportunities don't participate in their community? What makes it difficult for young people with fewer opportunities to actively participate in the decision-making process?
What are the needs and problems young people with fewer opportunities are facing into different domains? (Free time, Education, Soft skills, Carrier, Health – you can choose based on the main interests of the young people participating in the world café)
Human rights, minorities, inclusion and exclusion


Opportunities, interests & motivation to participate: How to support the participation of the young people with fewer opportunities?
#BRAVO #BRAVOBIH #MAKETHEWORLDWONDER #WORLDCAFE
FEEL FREE TO JOIN US, MEET NEW FRIENDS, HAVE THE TIME OF YOUR LIFE AND MOST IMPORTANT COME TO #MAKETHEWORLDWONDER