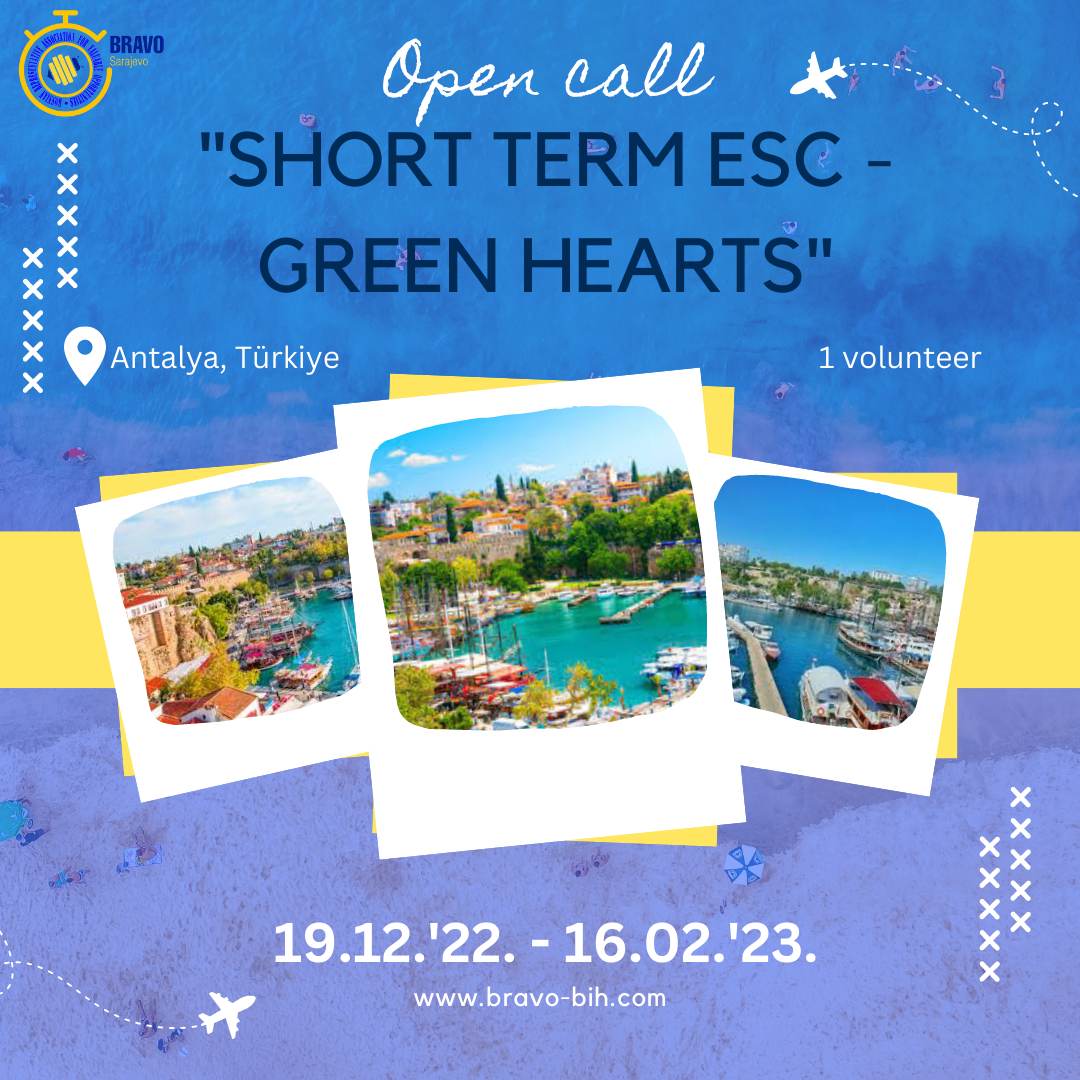 Name of the project: "Green Hearts"
Date of Project: 59 days (starting in November)
 Hosting organization: ANTALYA TURKUAZ YOUTH AND SPORTS CLUB ASSOCIATION
Sending Organization: "BRAVO"
Place: Antalya, Turkiye
Participants' age: 18 – 30
The number of volunteers: 1 male volunteer
Working language: English
Deadline for applying: 18.12.2022.
ACTIVITIES OF THE PROJECT
-Giving language courses to kids and youth
-Handcrafts including diy activities
-Green activities, planting, taking care of flowers, creating hobby garden
-Outdoor activities such as cultural and historical trips picnics, outdoor sports
-Office work and project writing /management
The volunteers must be 18–30 years old. We are looking for volunteers who are aware of the needs and constraints of the disadvantaged group in the project. 
Volunteers should be flexible and creative and provide input on various activities in the project.
They should act as well as a team member and understand the importance of volunteer work independently.
We need volunteers who will work in the rural area with the cosmopolitan participants, and they will have to organize language lessons, especially English language lessons for kids and youth, and organize DIY workshops for the disadvantaged women or youth, including T-shirt, bag (cloth) designing or painting, knitting, designing jewelry.
They should work in the office and manage the project, but they must also organize sports activities, and dance activities for youth.
They should have hobby garden and cook from their countries cousine.
They should join cultural and historical trips.
The host organization will assume the following responsibilities
To prepare volunteers for the project in Antalya.
To provide the necessary conditions for the volunteer to perform volunteering activities properly.
To provide him/her with a place to stay.
Per participant and for the daily grant: 4 EUR
Providing food (financial support) of 50 EUR
Providing allowance to the volunteer every month.
Round trip travel fee will be refunded up to 275 EUR.
Fill out the application form below:
If you have any questions feel free to contact us any time via email