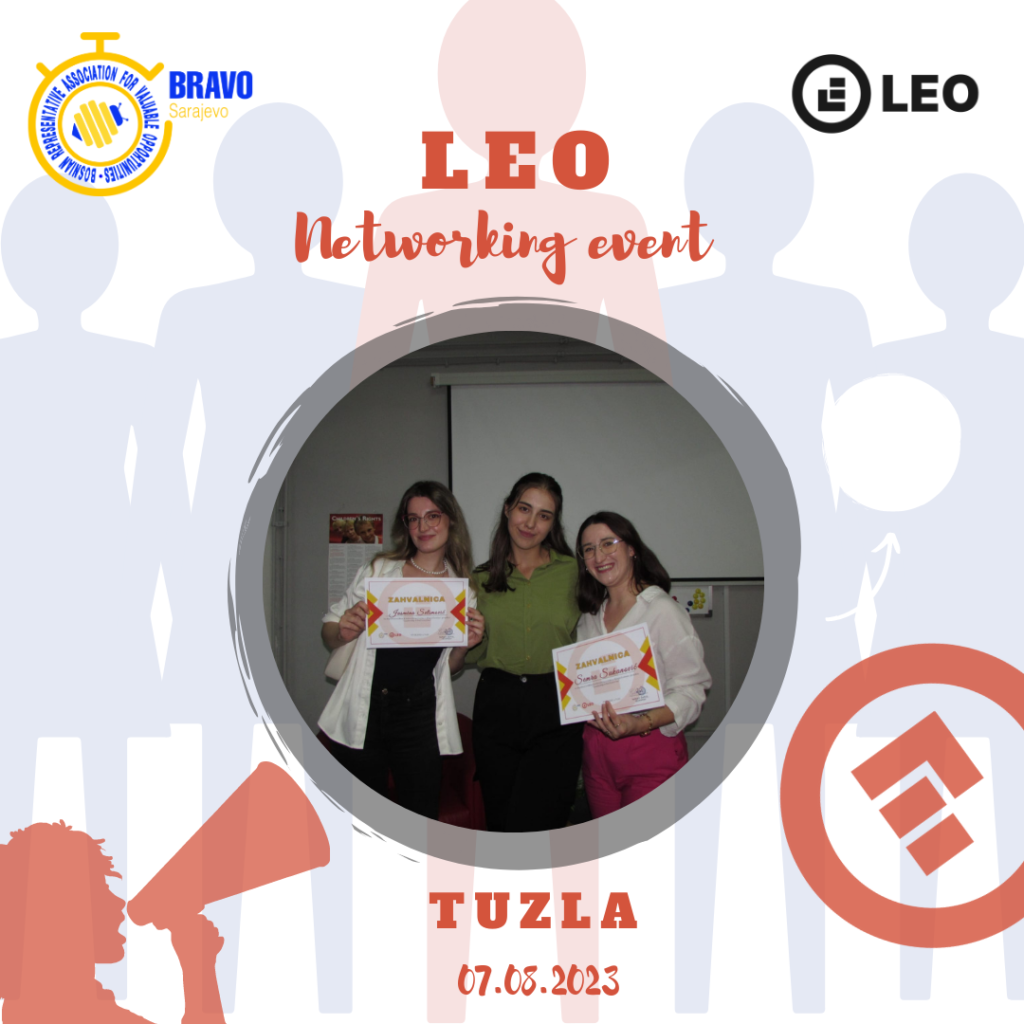 BRAVO has written one more beautiful chapter in the story of the project "Leadership is for EveryOne" and it is all about women and their success stories!
Yes, you read that right! On the 7th of August, a networking event "Leadership is for EveryOne" was implemented in Tuzla. It gathered successful women from different fields of work who selflessly shared their knowledge and motivated 25 participants who were eager to learn more about true female leadership.
The speakers of the networking event were Semra Sukanović, Dina Bajraktarević, and Jasmina Selimović. It was truly our honor to host these women who are changing the industry and with their hard work and dedication creating a more inclusive society for everyone!
Semra Sukanović is the founder and owner of ZEN Natural Cosmetics, the first brand of natural cosmetics in Bosnia and Herzegovina. Through her speech, she shared the beginnings of her journey and the meaning and inspiration behind her idea to start her own business and brand. Her story has gradually motivated participants as it has shown a different side of success, the side that comes with many obstacles, especially those that come by just being a woman entering the industry.
The second speaker was Dina Bajraktarević, the Executive Director of Tuzla Open Center, who shared with the participants the work of her organization and the efforts they have been making in order to create equal opportunities for each person. It is safe to say that her speech was emotional and touched the hearts of everyone present. Through the speech, Dina emphasized the importance of activism and the involvement of young people in the fight for equal human rights.
The last speaker was Jasmina Selimović who raised awareness on the importance of mental health and breaking the false stigma surrounding it. She explored the influence of stereotypes and societal barriers on mental health and emphasized the significance of maintaining good mental hygiene. Through her speech, Jasmina urged participants to be more open regarding the topic of mental health and also spread kindness and create a better world for everyone.
Semra, Dina and Jasmina are true leaders and they are the women who break stereotypes and show everyone that actually "Leadership is for EveryOne". They are the real role models who are inspiring and motivating other young women to break off the toxic shackles of society.
The networking event was successfully implemented and we couldn't be prouder to write one more chapter of the story among inspiring youth in Tuzla.
Till next time remember that Leadership is for EveryOne!
More about "LEO" project:
Women's empowerment is a prerequisite for gender equality, according to the CoE Gender Equality Strategy 2018-2023. Even when girls demonstrate leadership abilities or hold positions of power, the world fails to make them feel good because the mind model that we have is gendered "male." As a result, when girls adopt such a model, claiming that leaders are bold and make difficult decisions, they may experience cognitive Men outnumber women in leadership positions in every sector of the world, including business, nonprofits, government, education, medicine, the military, and religion  This gender gap, often referred to with the metaphor "glass ceiling", represents one of the most critical challenges to achieve gender equity and allow equitable working opportunities to all genders
The project aims at enhancing women's leadership, developing NFE resources for youth workers and young people, promoting men's involvement in women's empowerment, and strengthening the synergies between youth work and the labour market.
And specific call's thematic areas: 
inclusion of young people with fewer opportunities; 
empowerment / engagement / employability of young people; 
anti-discrimination and gender equality; 
 Overall, the LEO project efficiently contributes to the global effort to achieve gender equity and meets the EU Gender Equality Strategy Key Actions 2020-2025 (challenging gender stereotypes, boosting women's economic empowerment, ensuring equal opportunities in the labour market). Moreover, the project addresses many of the general and specific call's objectives, ensuring its quality and relevance.