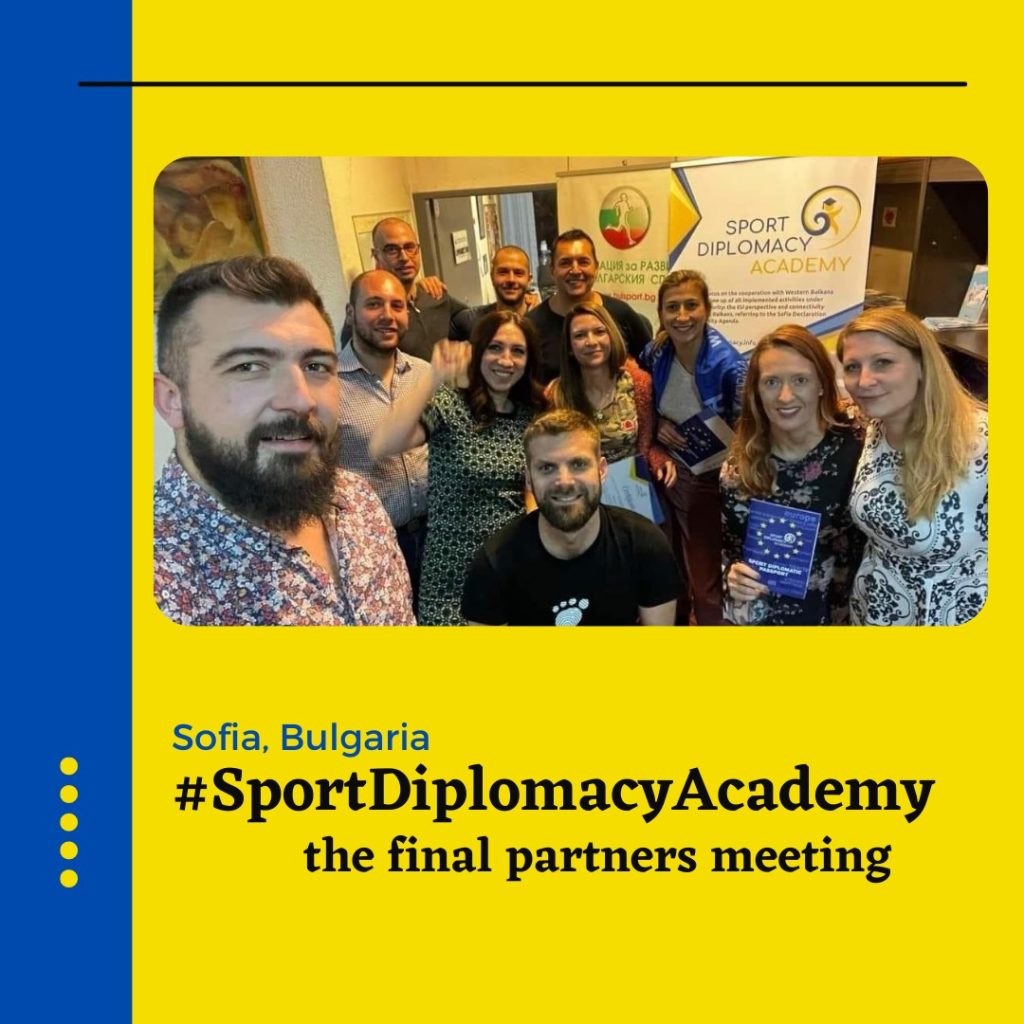 In the period 13-16 of December 2021, in Sofia, Bulgaria, the final partners meeting of Sports Diplomacy Academy was held and it gathered the organizations, implementing since 2019 the pilot initiative that is aiming to empower sports leaders from Bulgaria, Bosnia and Herzegovina, Croatia and Italy and it delivered by Bulgarian Sports Development Association, Bosnian Representative Association for  Valuable Opportunities (BRAVO), Rijeka's Sports Association and L'Orma SSD.  
Sports Diplomacy Academy /SDA/ project is legacy of the recent First Bulgarian Presidency of the Council of the EU 2018 and is focused on Western Balkan's lot as a logical follow up of all implemented  #EU2018BG activities: prioritizing the European perspective and connectivity of the Western Balkans,  referring to the Sofia Declaration and Sofia Priority Agenda. #SportDiplomacyAcademy project ensures the educational mobility of coaches and other staff of sports organizations (incl. volunteers) linked to professional and grassroots sport. Learning mobility is an investment in human capital and a  contribution to the capacity building of sports organizations with a clear focus on building a network of well-trained sports diplomats.  
Now we will remind you of inspiring module of Sport Diplomacy Academy held in Sarajevo.  In the period 03-09 of December 2019 in Sarajevo was held the second module under the Sports Diplomacy Academy project, which brought together 80 sports administrators, coaches, and volunteers from 4 countries.
The second module of the Sports Diplomacy Academy has been focused on good governance in sport  for the participants in the field of Olympics legacy – infrastructure, emotions, and people (Winter  Olympic Games '84 and EYOF 2019); Transparency in Sports with accents on values of good 
governance: transparency, accountability, integrity, solidarity, courage, justice, democracy; Anti Doping – WADA code application, fundamental aims and values of anti-doping policies, good practices in the anti-doping fight; Business instruments that can be transferred to sport organizations to achieve proper development and sustainability; ErasmusPlus project management from the NOC  of Bosnia and Herzegovina perspective; Paralympic sport – empower life-changing opportunities;  Motivation for development; Testimonials and perspectives of good practices in sports sector; Woman in Sports; Legal safety in sports; Business perspective and the economical dimension in Sports.
During this module we had amazing participants such as Nedžad Fazlija, Peđa Đurasović, Slobo Klačar, Elmir Ćera Ćerimagić, Aela Ajdinović, Said Fazlagic.
Paralympic round table with main focus "The real meaning in a sport is not the medals, the real meaning is to empower life-changing opportunities" with the participation of Ismail Zulfic – Paralympic swimmer, Nermin Memic – Paralympic swimmer, Ermin Jusufović – Paralympic sitting volleyball player, Nijaz Memic – Paralympic skiing, Amel Kapo – founder of the first Paralympic swimming club in Bosnia and Herzegovina, Ismir Jusko – Alpinism and extreme sport. During the module in Sarajevo, participants had the opportunity to work in mixed groups and express their views on the different aspects of #GoodGovernanceSport – challenges and perspectives in sport.