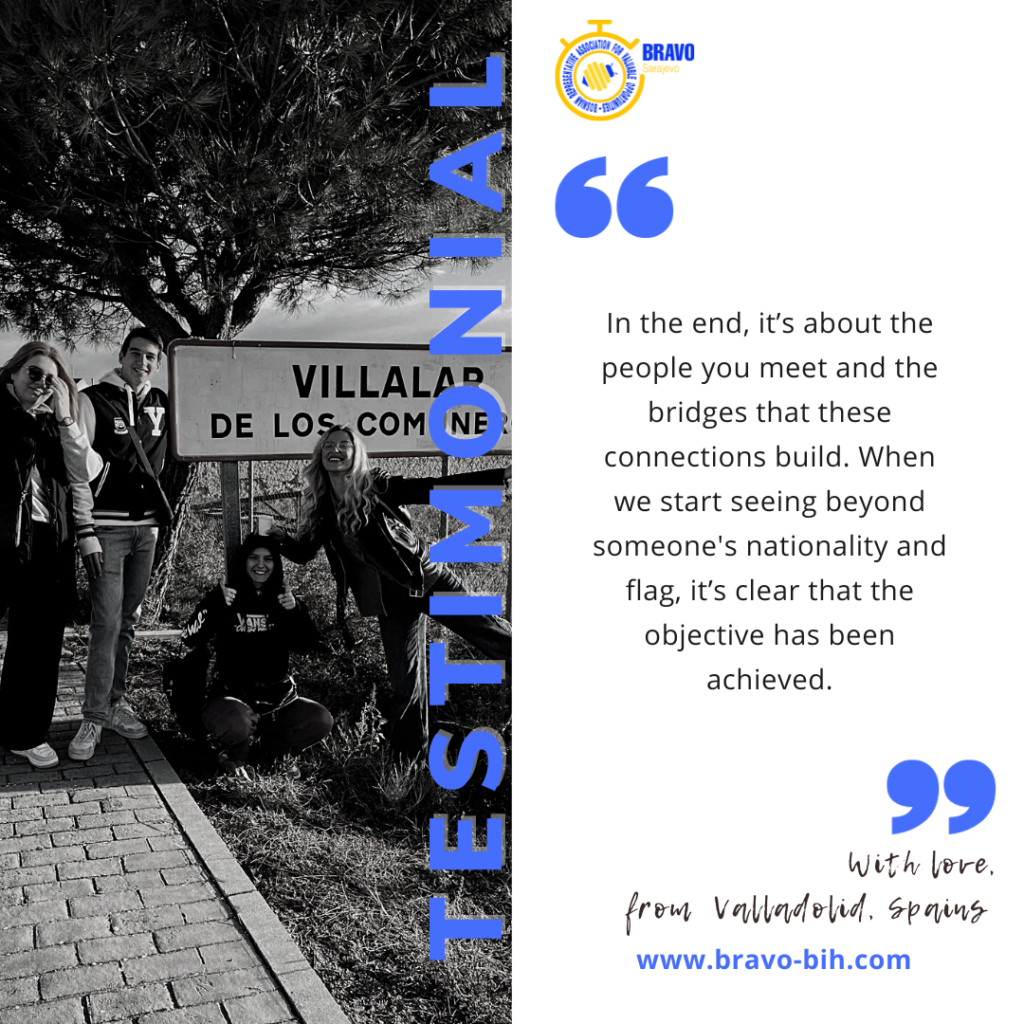 The Youth Exchange "SolidEU" was held in Valladolid, Spain from the 20th to the 29th of October. It gathered participants from all parts of Europe and provided them with one enriching experience. Through these 9 days, they learned, laughed, and made new memories and friendships. What do our participants have to say about this experience? Continue reading to gain a deeper insight!
"It was already dark when we first arrived in Villalar de los Comuneros, so we couldn't imagine what kind of place that could be. A hostel located in a village off the beaten path and a group of young people. Sounds familiar? Doesn't it remind you of the opening scene of an eerie movie? They say that the morning is wiser than the evening but in this case, it was more like the late afternoon. It's safe to say that most of us are used to the hustle and bustle of cities, and the expectations associated with this program included visiting various sightseeing spots in Spain. However, Villalar provided a unique and distinct scenery. Once we realized that we were really "stuck" in this remote village, we had to tap into our creativity to make the most of our free time. Time is said to be relative, but that perspective is quite strongly highlighted there, as time passes by differently. We dug through our childhood memories and started playing some of the games we used to play as children. Then, you could see cultural and age barriers melting. I can confirm that all of us have learned a lot from one another.
One of the project's aims was to start discussions and debates on hot topics such as gender equality and environmental issues while fostering intercultural communication and solidarity. The time we spent together was insightful. It showed us how we act and react in situations that are everything but comfortable and familiar. It taught us that you sometimes have to dig deep to find patience and tolerance when your opinions are challenged. It is easy to show solidarity to those who are similar to us. But, if it's that easy, how can it animate and encourage us to grow as individuals?
We stayed in Villalar for nine days, and even though it's not a large community, the locals showed us an incredible amount of hospitality. Their warm smiles were welcoming and made us feel at home. On rainy afternoons, we would gather at the local coffee shop/bar, where we had conversations that were lighthearted and deep at the same time. We represented our countries, and cultures, and learned about others. We can't help but wonder that we might not have spent such quality time together if we had been placed in a bigger city with all modern-day distractions.
Here, all we had was nature, spacious fields, endless roads that reminded me of those stereotypical screen savers, and each other. We experienced a roller coaster of emotions, from disappointment, anger, and frustration, to happiness, understanding, acceptance, and warmth. Sharing living space with many people does not come at zero cost, but we made the best of the situation. On the other hand, sharing food at lunch and dinnertime promoted bonding and helped us feel closer. This led to a fun and lively atmosphere in the culture center, filled with laughter and joy.
We honed numerous skills such as problem-solving, communication, attentive listening, and empathy among others. During the activities, we expressed our perspectives on various contemporary topics, gave presentations, and shared our thoughts and feelings. We also had the privilege of interacting with university students and imparting our knowledge to high school students. Furthermore, we conducted interviews with local individuals to gain insights and perspectives on the changes that have taken place in their hometowns over the years.
The activists and individuals who are committed to protecting the environment introduced their goals to us, and we had a chance to play a little role in their initiative. Their actions and dedication were truly inspiring and motivational. The last day we left our footprints in the field while planting trees in a bid to restore the ecosystem. Building small but cozy homes for weasels to help increase their numbers was such a humbling and rewarding experience. Some tasks and activities were more enjoyable than others, but in the end, it's about the people you meet and the bridges that these connections build. When we start seeing beyond someone's nationality and flag, it's clear that the objective has been achieved.
Truth be told, in our fast-paced lifestyle, our minds can become overwhelmed by the sheer amount of information we are exposed to, so not knowing everything can sometimes be a blessing and luxury. We are so grateful we had not googled this place before applying. If we had done it, we might have made a different decision and missed out on a lot."
Long story short, their trip to Spain was far from what they had expected but it really made them step out of their comfort zone! What started as a potential challenge turned into a transformative experience that highlighted the importance of patience, tolerance, and understanding in diverse and unfamiliar situations.