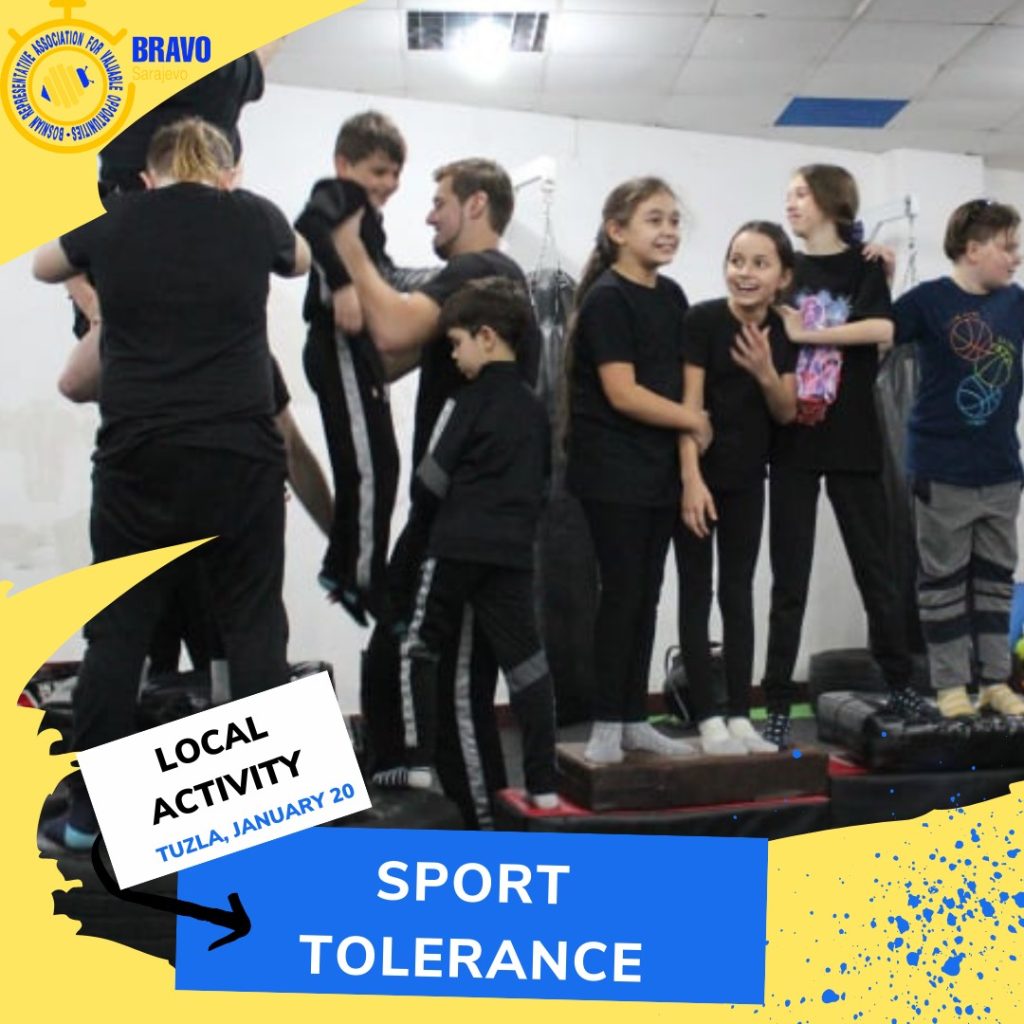 On January 20th 2022 our team had organized a local activity in Sarajevo as part of the SPORTolerance project. Members of the BRAVO- Bosnian Representative Association for Valuable opportunities went above and beyond to make it a special and fun day for 22 children. The activities where made in coorperation with Krav Maga Club IKMI from Tuzla. They made several interactive games with the young members of the Club. Games where made  up to be interesting and educative for children age 7-14, both male and female. They were brought together in mixed gender gruops to  interact amongst themselves. Activities where fun and kept the attention of the young participants.
With these activities, our team`s goal was to inspire young people to see sport in a positive way aswell as to raise awareness on the added value of sport and physical activities in relation to the personal and social development of individuals.
"#SPORTolerance project aims to contribute to further human capacity development in sport through development of set of mobilities for sport coaches that will include both educational modules and modules for exchange of good practices in the field of using sport for prevention of radicalization and building tolerance and solidarity. Project will use and further develop in the field of tolerance and solidarity the non-formal educational methodology Education Through Sport /ETS/ that is an illustration of using sport as learning tool and thereby taking steps to stretch sport beyond the activity itself. ETS approach in the context of education, on the basis of non-formal education, experiential learning and active participation, is a conceptual model and a practical learning tool. The activities of this methodology assist and enrich the non-formal learning processes in the youth sector and will equip participating sport coaches with new skills and instruments to be used at daily basis. ETS methodology (official Salto resource) is a structured pedagogical non-formal educational approach that works with sport and physical activity and refers to the development of key competences of individuals and groups, in order to contribute to personal development and sustainable social transformation with a main goal – active citizenship. "
More informations about #SPORTolerance project itself, it`s objectives, goals and 24-month activities can be found on the project`s official web page: www.sportolerance.com.