SELMA MEMOVIĆ
Few words about yourself (who you are, what do you do, and what is your motivation)
Hi! My name is Selma Memović, I live in Sarajevo, the city where east meets west. The diverse heritage makes Sarajevo one of Europe's most intriguing cities. Trust me.
I am a sophomore at the School of Economics and Business, University of Sarajevo. Previously, at the Faculty of Sport and Physical Education at the University of Sarajevo, I earned a Bachelor of Management in Sport. I am a player of the most trophy women's football club in Bosnia and Herzegovina, WFC "SFK 2000 Sarajevo", I also work as a coach at the girl's soccer school, and last but not least, I am a member of the club organization in the field of project management and Marketing. Also, I work as a project assistant in the non-governmental organization Sarajevo Meeting of Cultures, which deals with the promotion of Sarajevo and Bosnia and Herzegovina, mainly in the field of cultural tourism, as well as education, sports and more.
My motivation is actually a sentence from Steve Jobs that says, "People who are crazy enough to think they can change the world, are the ones who do." The man had his vision, which he followed regardless of all obstacles and barriers – he believed in it – and succeeded. Enough motivation, right?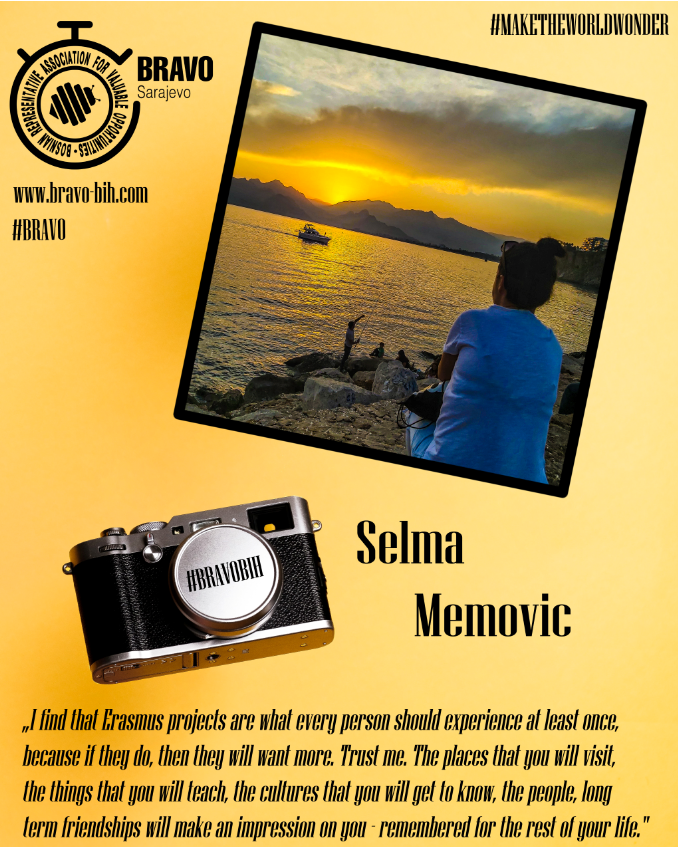 Few words about BRAVO and Erasmus+ (what it meant to you, how it affected you)
There are many non-governmental organizations in Bosnia and Herzegovina, but what is interesting is that only a small number of them really do anything. BRAVO is changing the situation at the local, federal and state levels, providing opportunities for young people to educate and work in the fields they want, giving young people the opportunity to visit the world, because, as the organization's director says, Ismail – MAKE THE WORLD WONDER (hashtag is an obligation, don't forget).
Thanks to them, I had the opportunity to be on the "Solid-art-ity" project that took place in Antalya, Turkey and what I can tell you is that it was fantastic and amazing! I am currently part of another project called "Sports Diplomacy Academy", which is held in four modules, where 80 sports experts from Bosnia and Herzegovina, Italy, Bulgaria, and Croatia have the opportunity to exchange experiences and improve the state of sports in their countries. So, thank you BRAVO for these opportunities!
I find that Erasmus projects are what every person should experience at least once, because if they do, then they will want more. Trust me. The places that you will visit, the things that you will teach, the cultures that you will get to know, the people, long-term friendships will make an impression on you – remembered for the rest of your life.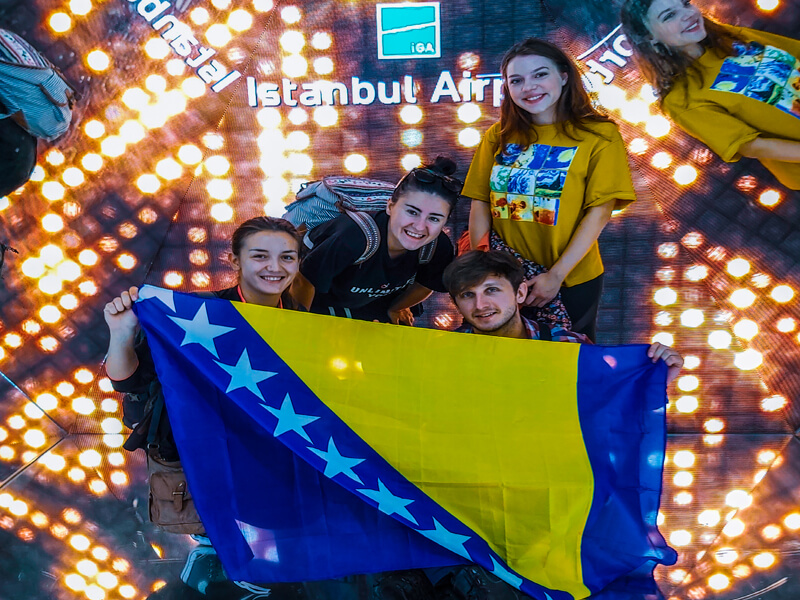 And something that you would like to share with other young people such as advice or motivation
Be persistent. Believe in yourself! Believe that you can do it, even when it seems absolutely impossible, even when everyone around you says you can't, you persevere in fulfilling your dreams. It won't happen overnight; on the contrary, you will need to go through many small steps that may seem like an eternity at first, but step by step they will reach your goal. Be unique, be different. Don't be afraid to present yourself to the world as you really are. Remember Steve Jobs's sentence above, only crazy people change the world. Even when the whole world is against them.
And yes, when this quarantine time passes, when BRAVO throws out a project you like, sign up!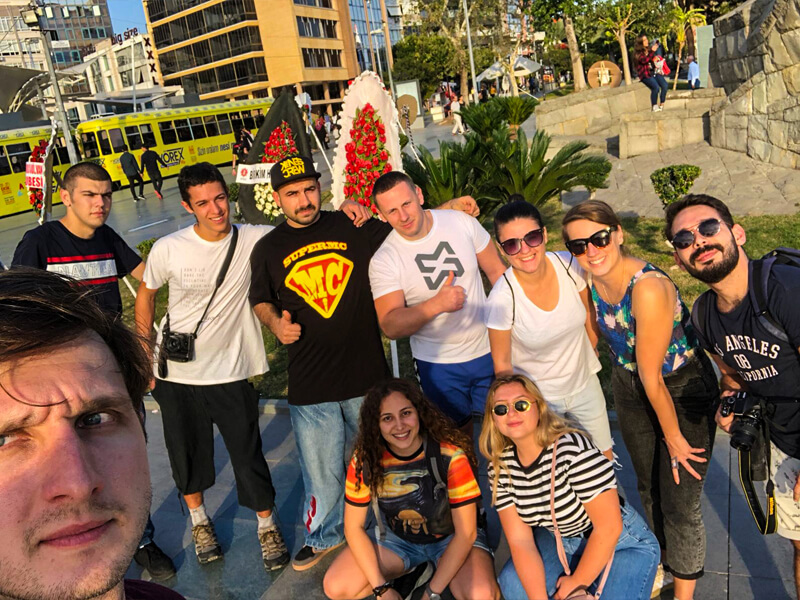 #BRAVO #BRAVOBIH #MAKETHEWORLDWONDER #BRAVOVOLUNTEERS