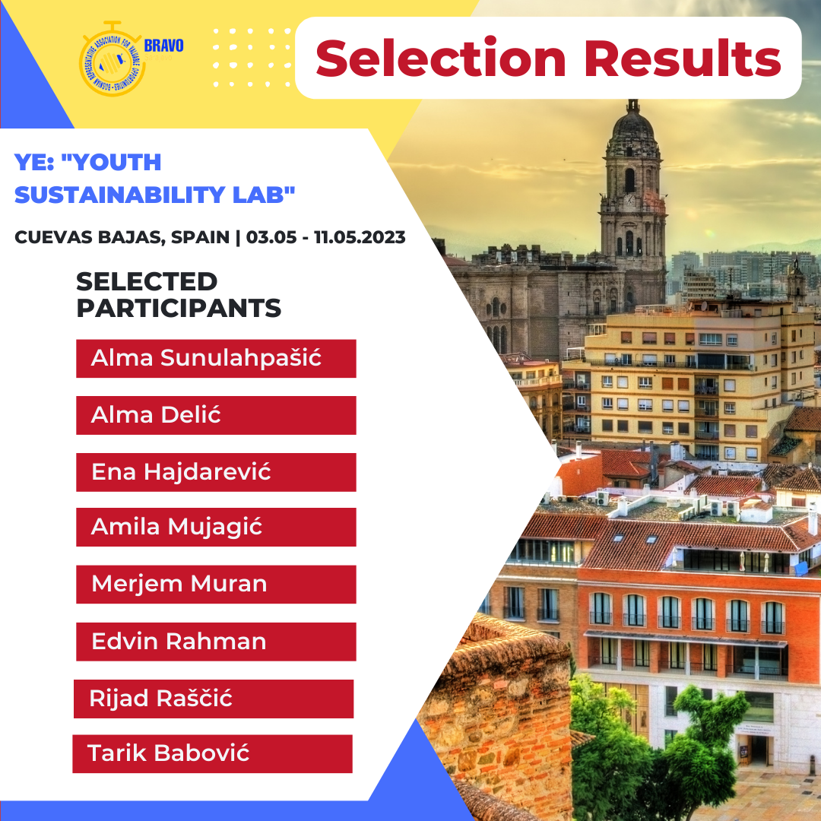 Name of the project:  Youth Exchange "Youth Sustainability Lab"


Date of Project: 03.05. – 11.05.2023.


Hosting organization: "Group of European Youth for Change – GEYC"


Sending Organization: "BRAVO"


Place:  Cuevas Bajas, Spain


Participants age: 16-30


The number of participants: 8


Working language: English
The aim of this project is to educate and empower young people to understand and tackle environmental issues in their respective countries through research, analysis, and digital campaigns. Participants will have the opportunity to learn about the current environmental context of their country and compare it with other participating countries. By calculating their carbon footprint and using digital tools, they will be able to create impactful campaigns and engage their peers in taking action to address environmental issues.
Alma Sunulahpašić

Alma Delić

Ena Hajdarević

Merjem Muran

Amila Mujagić

Tarik Babović

Rijad Raščić

Edvin Rahman
Hamza Šestić
Dika Šabanović
Ena Karadžin
Lana Smječanin
Živko Lekić
Iman Bešlija
Ena Robović
More about BRAVO you can see on our video below: