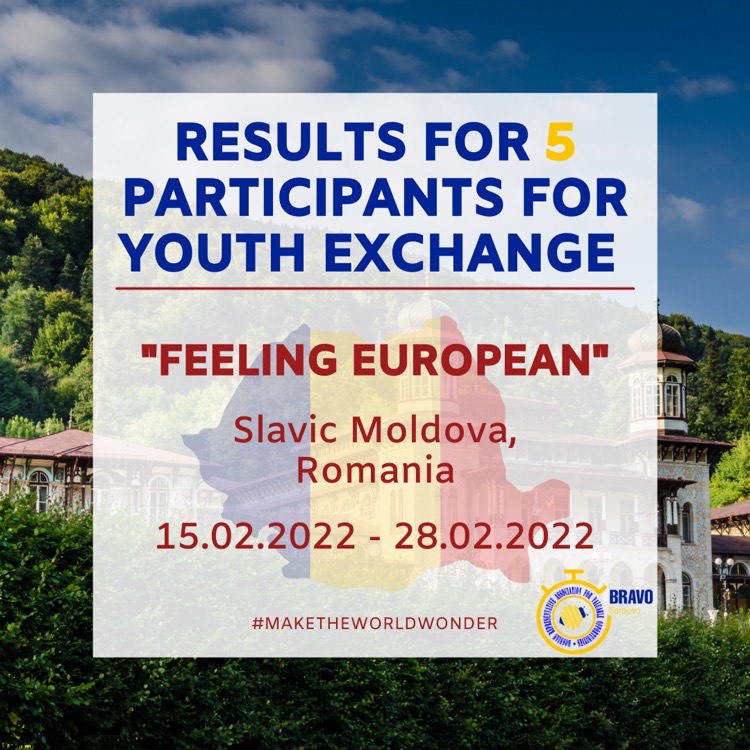 Name of the project: "Feeling European"
Date of Project: 15.02.2022. – 28.02.2022.
Hosting organization: "ASOCIATIA PENTRU DEZVOLTARE ACTIVA ADA"
Sending organizations: "BRAVO"
Place: Slanic Moldova, Romania
Participants age: + 18
The number of participants : 5
Working language: English
Deadline for applying: 15.01.2021
Note: Preference is given to all persons who have been fully vaccinated.
Nina Kurt
Nadira Ćurulija
Šejla Halilović
Dino Brakić
Kristijan Kumović
Through "Feeling European" we want to raise the European awareness among young people and to increase their confidence in the European Union, but also to promote the European principles and values both, among the young people in the EU and outside the EU. The whole project was built to meet the learning needs of the young people from the partner organizations' local communities, raising the European awareness of young people and their confidence in the European Union, taking into consideration the trust issues the EU is facing nowadays because of Brexit and Euroscepticism.
#BRAVO #BRAVOBIH #MAKETHEWORLDWONDER #ERASMUSPLUS