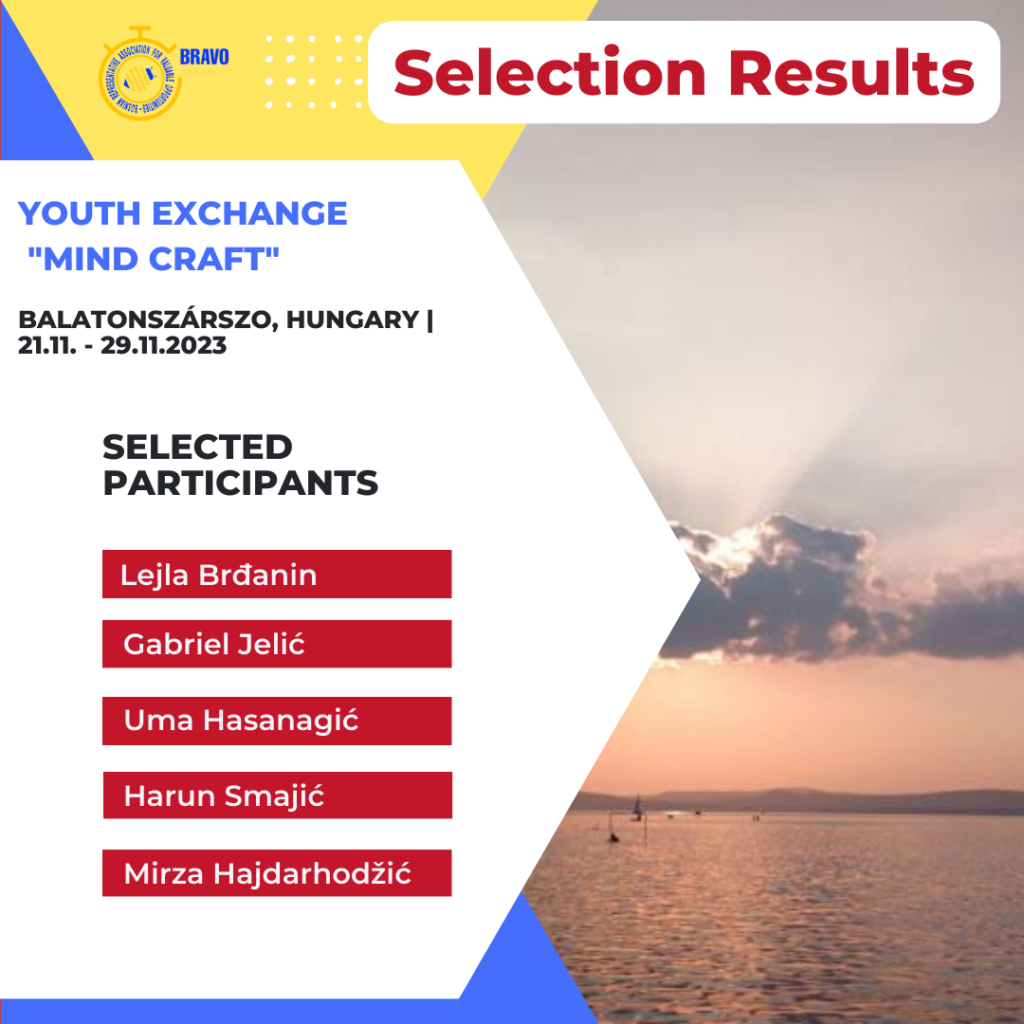 Name of the project:  Youth Exchange ''Mind Craft''


Date of Project:  21.11.2023. – 29.11.2023.


Sending Organization: "BRAVO"


Hosting organization: ''The MeOut Group''


Place:  Balatonszárszo, Hungary
Participants age: 16+


The number of participants: 5


Working language: English

"Mind Craft" is a project of MeOut. The project aims to help youngsters to develop their personalities, especially focusing on mental health and being fit. The project uses good practices and methods to share practical knowledge and activities that help them to be healthy, happy, and balanced citizens.  Ultimately, the project contributes to the capacity building and learning of youth within formal and non-formal education, aligning with the objectives of the Erasmus+ program.
By promoting effective practices and practical knowledge, "Mind Craft" empowers and builds resilience in youth, preparing them to be not just well-rounded individuals but also responsible global citizens. This reflects the core mission of MeOut, ensuring that future generations not only have the skills to succeed but also the inspiration to make a positive impact on the world. Our project aims to empower participants with a comprehensive understanding of mental health and its significance in daily life. We provide essential knowledge to help individuals identify and prevent mental health challenges while fostering better concentration skills for increased productivity. Through practical tools and methods, we equip participants to actively support their mental well-being. Furthermore, we encourage knowledge exchange among participants, building a supportive community around mental health.
The project explores the integration of effective breath techniques and highlights the connection between mental and physical health through sports and yoga activities. Additionally, we present innovative ways of using green practices and nature to enhance mental well-being. Together, these objectives create a holistic approach to nurturing and maintaining mental health.
1. Lejla Brdjanin
2. Gabriel Jelić
3. Uma Hasanagić
4. Harun Smajić
5. Mirza Hajdarhodžić
More about BRAVO you can see on our video below: