Moja Erasmus+ priča počela je 2015. godine,a  ta ista priča traje i danas. Prvi projekat na kojem sam prisustvovao održavao se Portugalu, tačnije u Portu.
Sve je počelo sa jednom, naizgled bezazlenom objavom koja je glasila: "HITNO! Traže se učesnici". Tek kasnije sam shvatio da su to zlatne riječi koje ne želite da propustite. U nastavku je pisalo: "Portugal, Porto, 19-26. juli SVI TROŠKOVI PLAĆENI". Otvorim objavu i počnem čitati. Nakon nekoliko konsultacija sa samim sobom, odlučim da ispunim obrazac i pošaljem dokumente potrebne za prijavu. Čisto da probam.
Nakon samo sat vremena, dobio sam obavijest da sam prihvaćen. Četiri mjeseca kasnije sjedio sam u avionu za Porto. Uslijedilo je sedam nevjerovatnih dana gdje sam vidio gradove koje nisam pomišljao da ću ikad vidjeti, sklopio prijateljstva za koja nisam nikad mislio da ću imati, počevši od Španije, Portugala pa do Palestine i Gruzije i doživio iskustva koja ću zauvijek pamtiti. Bio sam na mjestu odakle je Kristofor Kolumbo krenuo put Indije, vidio sam najveći samostan u Evropi, doživio Lisabon i Porto, probao svjetski poznato portugalsko vino i neodoljivu portugalsku kuhinju. Za tih sedam dana nikad se više nisam povezao sa nepoznatim osobama koje sam vidio po prvi, a vjerovatno i zadnji put u životu. Svaki dan je bio radni: debate, radionice, pisanja, projekti, istraživanja, timski rad, a naveče druženja, provodi i interesantni razgovori. Upoznao sam toliko različitih kultura i ličnih priča na jednom mjestu i u isto vrijeme da sam postao neprocjenjivo bogatiji i tolerantniji.
Ovakvo iskustvo neće vam niko moći prepričati, niti približno dočarati ukoliko niste sami prošli kroz isto. Suviše dobro da bi bilo istinito, zaista vrijedi u ovom slučaju, i ne dajte da nas naša tmurna sadašnjica spriječava u bilo ćemu. Iskoristite priliku, putujte, istražujte, interesujte se i niste svjesni koliku uslugu ćete sebi uraditi. Mnogi drugi već jesu, a možeš i ti!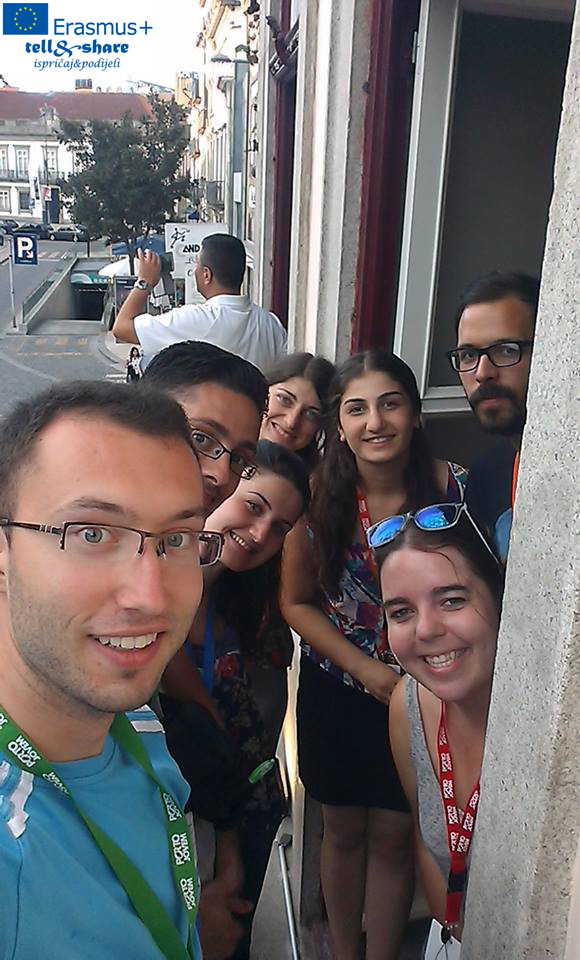 _____________
My Erasmus+ story began in 2015 and the story still continues today. First project I attended was being held in Portugal, more precisely in Porto.
Everything began with a seamlessly unimportant post that said: "URGENT! Looking for participants". Only later did I realize those words are the ones you do not wish to miss. The post further said: "Portugal, Porto 19-26th of July. ALL COSTS COVERED." I open the post and start reading. After a few consultations with myself, I decided to fill in the form and send application documents. Just to give it a try.
After just an hour I got a reply that I had been accepted. Four months later I was sitting in a plane en route to Porto. Then followed incredible seven days where I saw cities I never thought I would see, made friendships I never thought I would have, from Spain, Portugal to Palestine and Georgia and earned experiences I would forever remember. I was at the place from which Cristopher Columbus sailed to India, saw the largest monastery in Europe, walked through streets of Lisbon and Porto, tried famous Portuguese wine and their cuisine. During those seven days I connected with many persons that became my friends, but that was also probably the first and last time I will ever see them. Every day was a working day: debates, workshops, writing, projects, exploring, teamwork and during the night we hanged out, partied and had incredible conversations. I met such a great number of cultures, personal stories at one place at the same time that I became invaluably richer and more tolerant.
Nobody will be able to describe you this kind of experience or depict it unless you went through the same yourself. Too good to be true actually is true in this case. Use the opportunities offered, travel, explore, interest yourself and you cannot imagine what kind of favor you would be doing to your future self. Many have done it, and so can you!