Učimo
ENGLESKI JEZIK
zajedno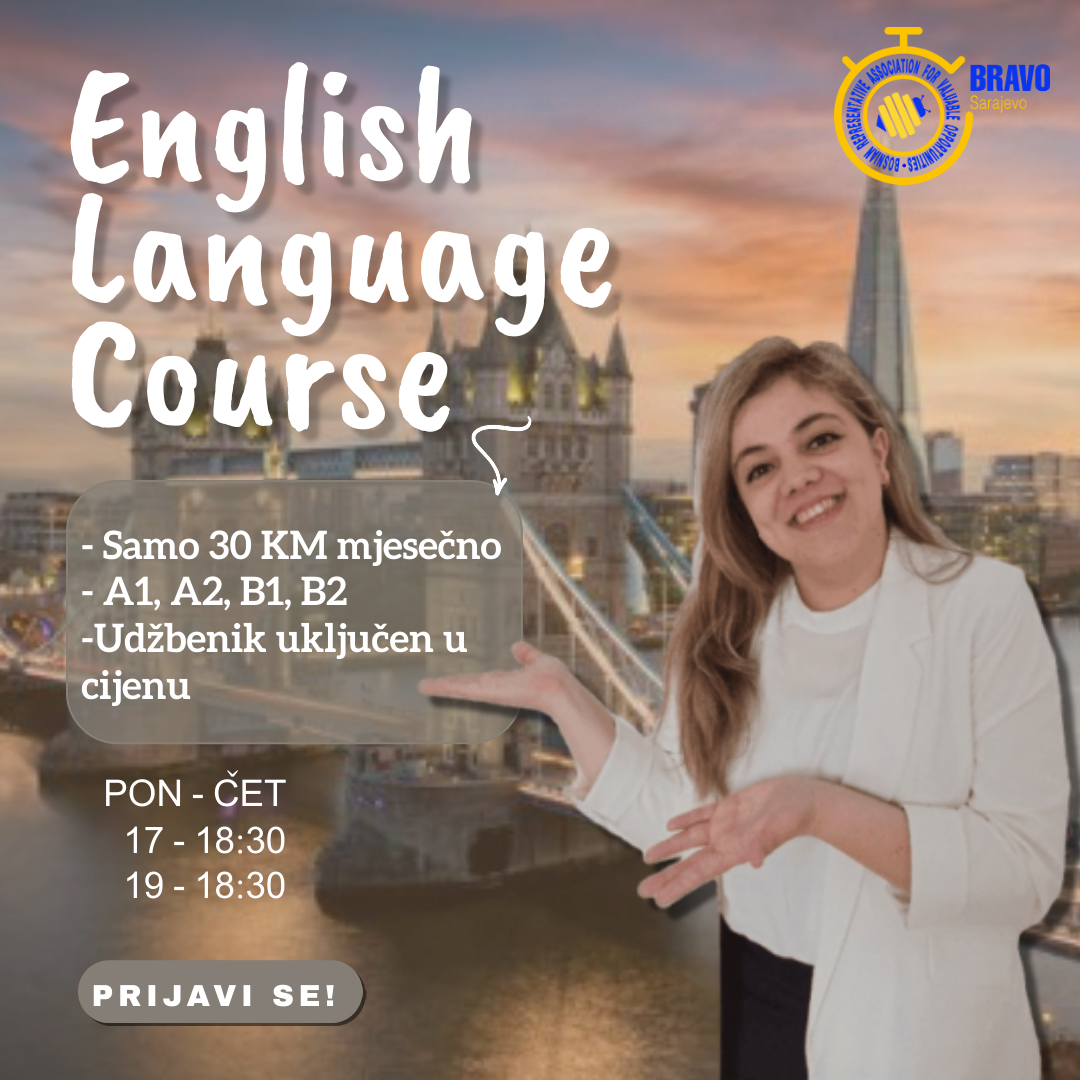 Dragi naši,
BRAVO zvanično otvara prijave za novi ciklus kursa engleskog jezika! Nakon uspješno završenih A1 i A2 nivoa, ovaj put prijave otvaramo ponovo za ta dva nivoa, ali i za B1 i B2. Sve informacije o kursu možete pronaći u nastavku.
PREDVIĐENO TRAJANJE KURSA:
Svi nivoi (A1, A2, B1, B2) će trajati po tri mjeseca.
Mjeseci se ne računaju kalendarski. Jedan mjesec kursa obuhvata 4 sedmice od početka kursa. Svake sedmice se održavaju po dva časa, a jedan čas traje sat i po vremena. To je ukupno 16 školskih časova mjesečno.


PRIJAVE OSTAJU OTVORENE DO: 01.07.2021.
POČETAK KURSA: 12.07.2021.
OSNOVNE INFRORMACIJE O KURSU:
Kao što već znate, kurs se odvija online peko platforme Zoom. Stoga je potrebno da svi prijavljeni učenici otvore Zoom nalog i da se prijave preko svog imena i prezimena. Ukoliko ne stavite svoje ime i prezime, instruktorica vas neće pustiti na čas, jer neće znati o kome se radi. Udžbenici i dodatni materijali će biti poslani emailom, ali i postavljeni na Facebook grupu nakon što se prijave zatvore.

Uplate se vrše uvijek na početku kursa i moguće je plaćati svaki mjesec posebno, a i odjednom platiti za sve mjesece trajanja kursa. Oni koji se odluče uplaćivati posebno svaki mjesec, uplate za svaki naredni mjesec će trebati izvršiti u četvrtoj sedmici prethodnog mjeseca. Nastavnica će vas svakako obavijestiti o tome kada možete uplatiti za naredni mjesec.
Nakon što se pijavite na kurs, popunjavanjem Google Forme, 24.6. će svi prijavljeni učenici dobiti zajednički mail u kojem će dobiti podatke za uplate i rok od pet dana za uplatu. Nakon što se izvrši uplata i pošalje dokaz o istoj, nastavnica Ajla će svima koji su uplatitli kurs poslati udžbenike, link za Zoom meeting i link facebook grupe u kojoj postavljamo sve obavijesti i preko koje se dogovaramo za sve što je potrebno.
Prijaviti se možete iz bilo kojeg dijela svijeta, a svi načini za izvršavanje uplate će vam biti predstavljeni u prvom mailu koji ćete dobiti nakon prijave za kurs.
U svakom ciklusu nudimo i po maksimalno 3 besplatna kursa. Sve što je potrebno da uradite jeste da nam pošaljete motivaciono pismo u kojem ćete nam objasniti svoju situaciju i zašto baš Vama da poklonimo taj besplatan kurs. Nakon zatvaranja poziva, svi prijavljeni za besplatan kurs će dobiti mail u kojem ćemo ih obavijestiti kome smo odlučili pokloniti kurs. Ističemo također da je važno da osobe koje dobiju besplatan kurs trebaju opravdati naše povjerenje učešćem u nastavi. Pored toga, besplatan kurs je dodijeljen samo za jedan ciklus. Za svaki naredni ciklus, potrebno je da se osoba ponovo prijavi nakon čega će biti obaviještena o rezultatima odabira.
NAPOMINJEMO DA UKOLIKO BROJ PRIJAVLJENIH ZA JEDAN NIVO BUDE MANJI OD 5 UČENIKA, GRUPA SE NEĆE OFORMITI I KURS ZA TAJ NIVO SE NEĆE ODRŽAVATI.
TERMINI ODRŽAVANJA GRUPNIH ČASOVA:
Termini su fiksni i nije moguće praviti izmjene.
Za termine individualnih časova, nastavnica se dogovara s učenicima. Moguće je odrediti fiksne termine i za individualne časove, a moguće je i dogovarati se za naredni termin na kraju svakog časa.
ŠTA O NAMA KAŽU POLAZNICI:
"Zanimljiv drugačiji pristup, jasne prezentacije i dobra pojašnjenja, mogućnost predlaganja tema koje nas zanimaju, opuštena atmosfera…", Đorđe Manojlović, 26 godina, Doboj
"My name is Maja Bursać, I'm 18 years old and I come from Novi Grad (Banja Luka). I took BRAVO English course and I'm really pleased with it"
"I'm Mileva Lela Marinović and I'm 18 years old. My profession is pharmaceutical technician. I have completed BRAVO English course and I'm very pleased."
PRIJAVE OSTAJU OTVORENE DO: 01.07.2021.
POČETAK KURSA: 12.07.2021.
If you have any additional questions for our BRAVO team, feel free to contact us via our email address: office@bravo-bih.com or the contact form down below.
We can`t wait to hear from you!