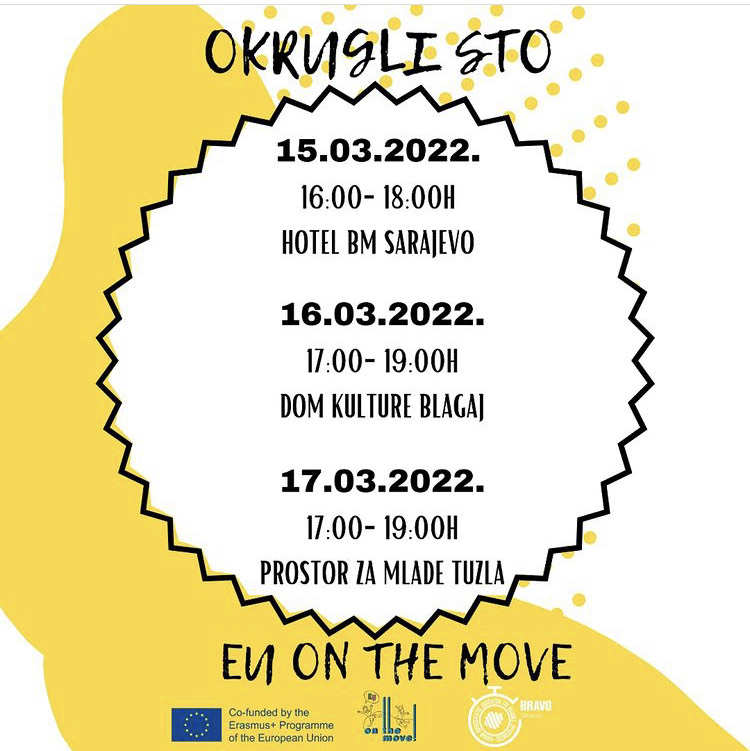 U sklopu Erasmus+ projekta "Eu on the Move", finansiranog od strane Evropske komisije, BRAVO otvara novi poziv za Okrugli sto koji će se održati na više lokacija u  Bosni i Hercegovini
Također, ovo koristimo kao priliku da Vas upoznamo malo bolje ali i da Vi predstavite svoj klub, organizaciju ili školu kako bismo Vas dodali u našu jedinstvenu mrežu kroz koju ćemo Vas uključivati u sportske projekte u budućnosti.
 Stoga, pozivamo sve zainteresirane da nam se priključe u Blagaju i Tuzli, te prošire svoje znanje i učešćem doprinesu  budućim projektnim aktivnostima.
Okrugli sto u Blagaju će se održati 16.03. u prostorijama Doma kulture, u trajanju dva sata sa početkom u 17 časova.
03. u prostorijama Prostora za mlade, Tuzla, okrugli sto će biti održan sa početkom u 17 časova u trajanju dva sata.
"EU on the Move" je Erasmus+ sportski projekat, čiji cilj je dizanje svijesti o značaju fizičke aktivnosti kod djece uzrasta 7 do 11 godina, kroz dodatno pružane obuke namijenjene sportskim profesionalcima i realizaciji sportskih aktivnosti za djecu u školama i sportskim organizacijama u svakoj partnerskoj zemlji.
Ovim putem vas potičemo da se prijavite i postanete dio jedne posebne priče, kroz čije aktivnosti se nastoji oživjeti ideja sportskog angažmana među djecom kao sljedećim trendom koji će pozitvno utjecati na faze razvoja djeteta. Prijavite se i budite dio raznolikog projekta koji okuplja partnere iz Hrvatske, Portugala, Turske i Slovenije.