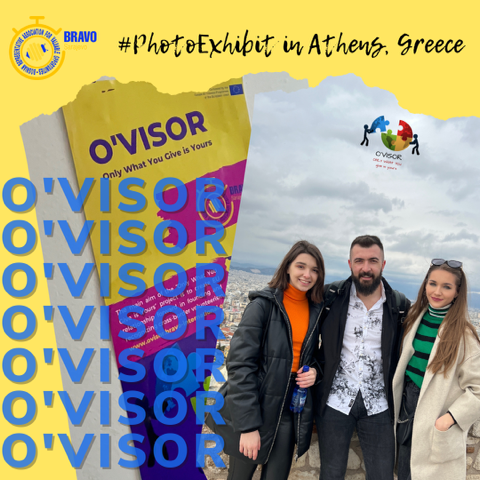 That history and art have always been perfect complements has been proved once again by the very creative management of BRAVO and its partners in Athens. Henceforth, the last days of February 2022 will keep being recalled for the astonishing international O'visor photo exhibit in the heart of exotic Greece.
Following the photo contest, which was held in Sarajevo two months ago, the best young photographers and illustration artists from ten European countries have showed their skills and presented 70 artworks that undoubtedly show how volunteers in crisis situations shape lives and societal welfare. Besides, the exhibit had a special guest, a professional photographer from Bosnia and Herzegovina Arnej Misirlić who shared his thoughts about the displayed works with our representatives. Photos were taken by activists in moments of natural/humanitarian catastrophes and show numerous and creative ways to react, help, and support the people affected by the crisis. 
Thus, they provoke empathy of viewers and assure them that "Only What You Give Is Yours". O'visor, we remind, is one of BRAVO's greatest active projects at the moment and its partners and participants come from Luxembourg (The Alliance for Global Development), Greece (IASIS NGO), Hungary (Youth Strategic Research Center Foundation), Italy (Moby Dick ETS), Croatia (Syncro Synergy Croatia), Serbia (SFERA Serbia), Montenegro (Mladiinfo Montenegro), North Macedonia (World of Change), Albania (New Vision), and of course Bosnia (BRAVO).
Proud to gather such an active community of passionate individuals in one place, we extended our work in Athens and raised awareness of the importance of volunteering and all its benefits enjoyed jointly by society as a whole. In that manner, the various country teams visited a few facilities including the very successful and sustainable recycling enterprise FabricRepublic and a boarding house for homeless people with mental disabilities based in the city. The whole experience will stay in deep memory of all representatives and young artists.
The day after, on the 27 of February, representatives and participants had the opportunity to explore the historical metropolis and learn more about art and history of the city. Our story, however, does not end with this activity. O'visor continues with its next photo exhibit in Sarajevo in April this year with more photos taken across the whooping ten countries. We will host our respected partners and youngsters from their respective countries and use the beautiful spring days to present them our capital and culture.
The project will, however, offer youngsters more opportunities to get involved. Apart from our photo exhibits, we announce local and international rounds of Karl Popper Debate competition. We invite you to keep up with the news for more information and catch the upcoming opportunities of our immense and comprehensive O'visor. Follow our various social media channels to find out how to get involved in your local communities: Website, Facebook, Instagram.
Remember, ONLY WHAT YOU GIVE IS YOURS.
#BRAVO #BRAVOBIH #MAKETHEWORLDWONDER #BRAVOVISOR #ONLYWHATYOUGIVEISYOURS #EuropeForCitizens