O'visor INTERNATIONAL KARL POPPER DEBATE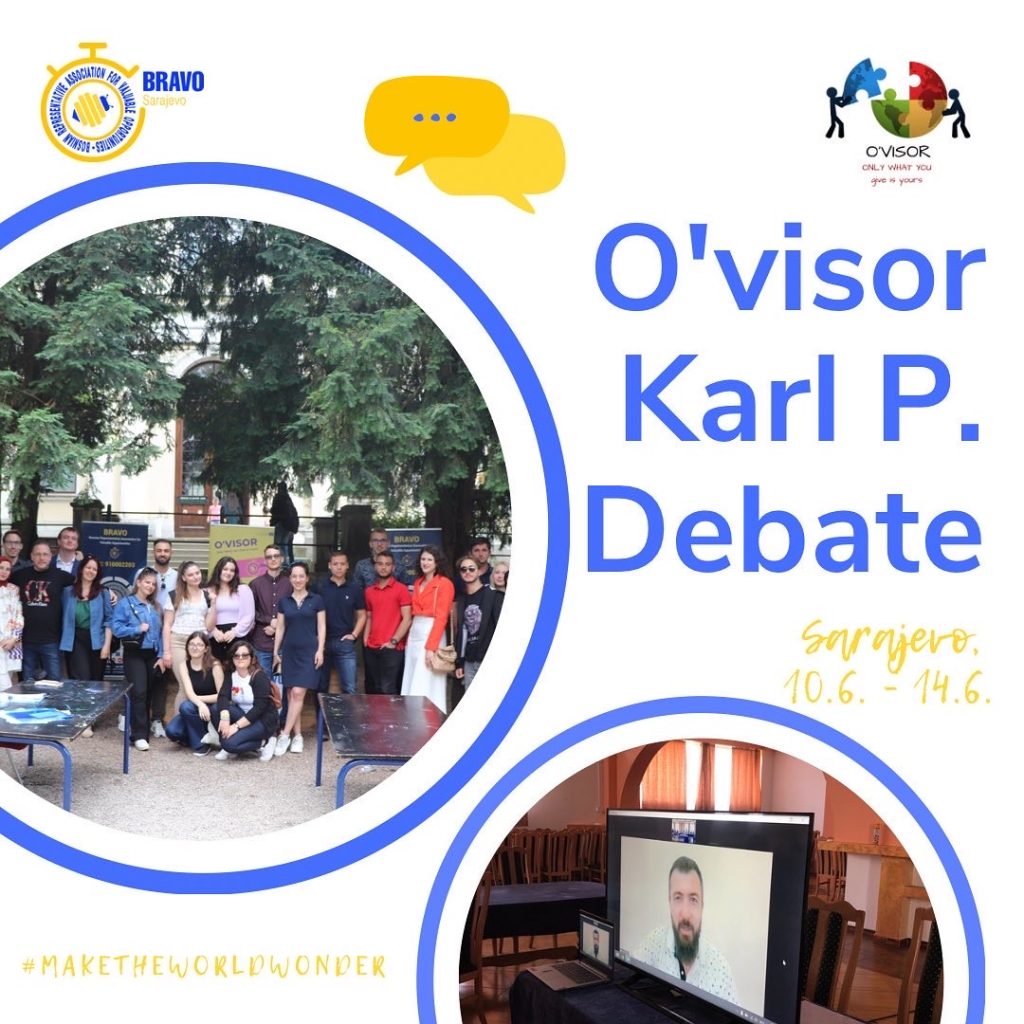 The aim of the project "O'VISOR – Only What You Give Is Yours" is strengthening the EU unity and supporting WB region on the way to EU, also strengthening EU and WB identity and conscience built from the grassroots to the community-based, community-built and community-supported starting with the impact and improvement of volunteering policies at the transnational level.
#BRAVO believes that with the International Karl Popper Debate did exactly that. The debate contestants arrived on June 10th in Sarajevo. They were hosted and greeted by BRAVO members. Day 1 of the debate started at 10:00 in the conference hall at the BM International hotel. Contestants had to pick numbers by which the competing teams were determined.
Each team had an hour exactly to prepare their topics which were randomly generated by a computer program. The topics were extremely in and showed current issues in the world such as the government's readiness for crisis situations or social media issues that we know of.
First up were the Bosnia A team and Serbia. Bosnia A won the first round. Second up was Italy vs Hungary and Hungary won . After that Greece competed with Albania and Albania won. Montenegro competed with Bosnia B team and Montenegro won.
After all of this hard work from the debaters and staff members as well as the immense work of the judges, we finally had our two finalists countries: Hungary and Montenegro.
Next day the finale of the competition was held at the Botanical Garden of the National Museum of Bosnia and Herzegovina. The venue looked outstanding and the nature around everyone made the competition feel much less stressful for the competitors. The teams that had lost showed huge amounts of support for the finalists and couldn't pick their favorite.
Day started with O'visor and BRAVO overview led by project coordinator Ezana Ćeman. After that our amazing BRAVO members Amina Hasović and Nedžma Salkić talked about ESC Quality label for Humanitarian Aid and volunteerism in Bosnia and Herzegovina. We also had speakers coming from Pomozi.ba and the Danish Refugee Council. They acknowledged the importance of talking about such important topics and debating about them and they also showed great respect and support for the entire project. We thank them very much for attending such an important project event for us and are grateful for their support.
All in all, the Hungarian team took 1st place in the International Karl Popper Debate Competition. They took great prizes home and we are extremely proud of our winners and wish them the best in their upcoming debates.
The event lasted for 72 hours total. After this grand finale, debaters had the chance to check out what the Museum had to offer. One of the main goals that were accomplished from this project is that the debates lasted even after the competition itself. Since the topics of the debate were so up to date, there was a lot to talk about and share opinions.
The #BRAVO staff members were very involved in making sure that they show Sarajevo in the best way possible. They visited together great places while learning more about Sarajevo history. There were a lot of curious debaters which made us very happy that we could explain the history to them.
In their free time, they went sightseeing, they learned more each day about people from other countries, about their traditions and ways of living, they heard new music, shared opinions, cooperated, worked in teams and were overall moving stigmas and prejudices about each other.
We also thank our kind judges for their transparency when it came to determining winners. The aim of the O'visor Debate Competition was to raise awareness about volunteering and charity, and also to facilitate in an attractive way the development of skills, abilities, and knowledge of the participants.
Once again, we are proud of each one of our debaters, for some of them it was even their first time doing such a thing. We love how projects like these push people out of their comfort zones and make them go out of their bubble. We thank all of those who participated in this amazing, one of a kind project and we hope to see you all soon! 'Till next time do not forget to  #MAKETHEWORLDWONDER!