Name of the project:  Youth Exchange "Youth as Peacemakers"
Date of Project:  19.08.2023. – 27.08.2023.


Hosting Organization: "BRAVO"


Place:  Sarajevo, BiH


Participants age: 16+
The number of participants: 6


Working language: English


Deadline for applying: 06.07.2023.
This project is supported and co-funded by the Erasmus+ programme. It means that your travel costs, accommodation, and food will be fully covered if you get selected for the project. The European Commission's support for the production of this publication does not constitute an endorsement of the contents, which reflect the views only of the authors, and the Commission nor EACEA can be held responsible for any use which may be made of the information contained therein.
Youth exchanges help young people challenge their worldview, improve their English speaking skills, gain confidence, and strengthen values such as solidarity, democracy, as well as discover new cultures, habits, and lifestyles in a safe environment. You get the chance to meet a lot of new people, participate in activities, and step outside of your comfort zone. Don't be afraid to make some mistakes, to be ridiculous, to laugh at yourself and others.
The project "Youth as peacemakers" centers around the fundamental themes of peace building, intercultural dialogue, and non-violent communication. Our primary objective is to foster an inclusive and harmonious environment by bringing together a diverse group of participants from various countries and cultural backgrounds. Through this gathering, we strive to cultivate a secure and supportive atmosphere that encourages meaningful exchanges and facilitates open dialogue on the pertinent topics at hand.
By creating a space where individuals can share their perspectives, experiences, and ideas, we aim to promote mutual understanding and appreciation for different cultures, traditions, and viewpoints. Through these interactions, we aspire to empower the participants as agents of peace and equip them with the necessary tools to effectively communicate, resolve conflicts, and contribute positively to their communities.
OBJECTIVES OF THE PROJECT
 Promote Inclusion: The project aims to foster the active participation and inclusion of young people in community life. By engaging participants from different cultures and countries, we strive to prevent negative attitudes towards individuals from diverse backgrounds, promoting understanding, respect, and appreciation.


Encourage Creative Thinking: Through creative outlets such as art, storytelling, and digital media, the project seeks to effectively spread information and raise awareness about the topics of peace building, intercultural dialogue, and non-violent communication. By utilizing innovative approaches, we aim to engage young people and encourage them to actively contribute to the dissemination of knowledge and ideas.


Foster Knowledge, Tolerance, and Peacefulness: The project is designed to contribute to the personal development of young people by enhancing their knowledge, fostering tolerance, and cultivating peaceful attitudes. Through educational workshops, interactive sessions, and meaningful exchanges, participants will gain a deeper understanding of the importance of diversity, empathy, and peaceful coexistence.


Support Non-Formal Learning: As an integral part of the project, we strive to promote and develop non-formal learning methodologies. By incorporating interactive and experiential learning approaches, participants will engage in hands-on activities, group discussions, and reflective exercises that encourage critical thinking, personal growth, and skill development.
It is created for young people over 16 years old who are eager to extend their knowledge, upgrade their skills and broaden their horizons. Participants must come from the following countries:


BiH,
Austria,
Slovenia,
Lithuania,
Spain,
Ukraine
Participants must be able to communicate in English. Participants must attend all training sessions and actively participate in them.
ABOUT HOSTING ORGANIZATION
Bosnian Representative Association for Valuable Opportunities (BRAVO) is a non-governmental organization that prioritizes knowledge, entrepreneurship, civil society development, non-formal education, and innovative learning and development techniques for young people and adults. BRAVO's key principles are tolerance, democracy, diversity, voluntariness, and openness, which guide the organization's actions.
BRAVO is a leading organization in Bosnia and Herzegovina that serves as the Contact Point for Erasmus+ Youth. As such, it plays a crucial role in facilitating and supporting the participation of Bosnian youth in various Erasmus+ youth programs.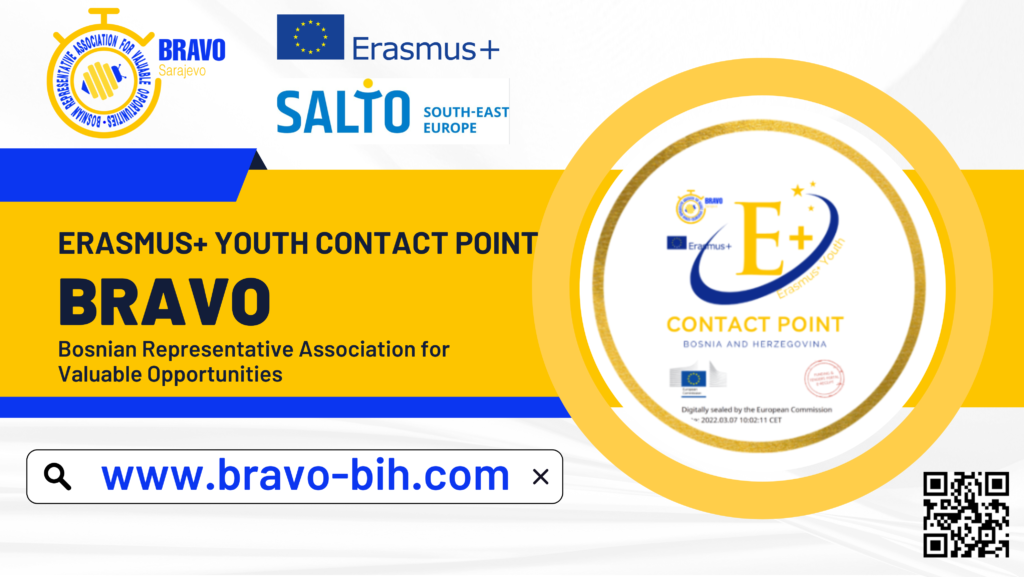 BRAVO's expertise extends beyond youth development and humanitarian work. It is the only organization in the Western Balkans region that has the authority to certify companies and individuals on digital skills and competencies. This certification program is designed to equip individuals and organizations with the skills they need to thrive in today's digital landscape.
Overall, BRAVO is an organization committed to driving positive change in Bosnia and Herzegovina and beyond. Its focus on youth development, humanitarian aid, and digital skills training, along with its numerous accreditations and certifications, makes it a highly respected and effective organization in the region.
BRAVO fosters partnerships between the private, public, and civil society sectors, enabling it to contribute to long-term local community development. Its focus is on empowering youth to gain the skills necessary for the 21st century, offering more accessible and inclusive non-formal education, and investing in innovations and entrepreneurship. BRAVO targets young people aged 15 to 35, but it is also committed to assisting individuals of all ages in need of support.
BRAVO concentrates on worldwide initiatives that uphold European values and ideals, particularly working with individuals who have less access to opportunities. The organization collaborates with institutions and organizations that support people with disabilities, organizing sign language courses and sports activities for individuals who are blind or have impaired vision. BRAVO engages participants from across Europe to volunteer and learn about ways to support vulnerable groups.
BRAVO's team operates in various fields and topics, including human rights, anti-trafficking, reproductive health and STDs, gender equality and combating gender-based violence, sports, audio and video production, people with fewer opportunities, event organization, entrepreneurship, IT and ICT, technology, humanitarian actions, national and international projects, support in the fight against criminality and corruption, accelerating start-ups, industry 4.0, project management, refugee and migrant support, and creative actions. The organization is also involved in publishing books, brochures, newsletters, flyers, affiliations, and other publications.
ACCOMMODATION, FOOD & TRAVELLING
Participants will be accommodated in Hotel BM International
Pijačna 2, Sarajevo 71000, Bosnia and Herzegovina HOTEL BM INTERNATIONAL **** http://hoteli.bracamujic.com/en/hotel-bm-international.html
The hotel is located on the main road between the city center and the smaller down city center called Ilida. It has parking for guests, and two tram stops are only a couple of minutes away. Whether it's about individuals or entire families, the hotel offers tourists comfort and quality service, and business customers can even rent an office or business premises for several days as needed. Hotel BM International apartments have separate bedrooms, a separate kitchen with a dining area, mini-bar, and bathroom with toilet. Cable TV, telephone and free internet access over wireless network are just few of the details included in this offer. During the stay, food will be prepared by experienced cooks, provided at the venue. Three meals and two coffee breaks per day will be provided.
Spain, Ukraine, Lithuania, Austria, Slovenia, BiH – All costs are fully covered. 


Spain, Ukraine and Lithuania –  up to 275€
Austria, Slovenia – up to 180€
BiH – up to 23€
Complete the BRAVO- APPLICATION FORM with in English title as following "name of the project you are applying for" until 23:59 on deadline day.
Deadline for applying:

06.07.2023.

Selection results:

10.07.2023.

PARTICIPATION FEE: 

NO PARTICIPATION FEE

If you have any questions don't hesitate to contact us at: office@bravo-bih.com
Who is BRAVO? Watch a video below and enjoy <3
On the video below you can hear very useful information for this mobility.