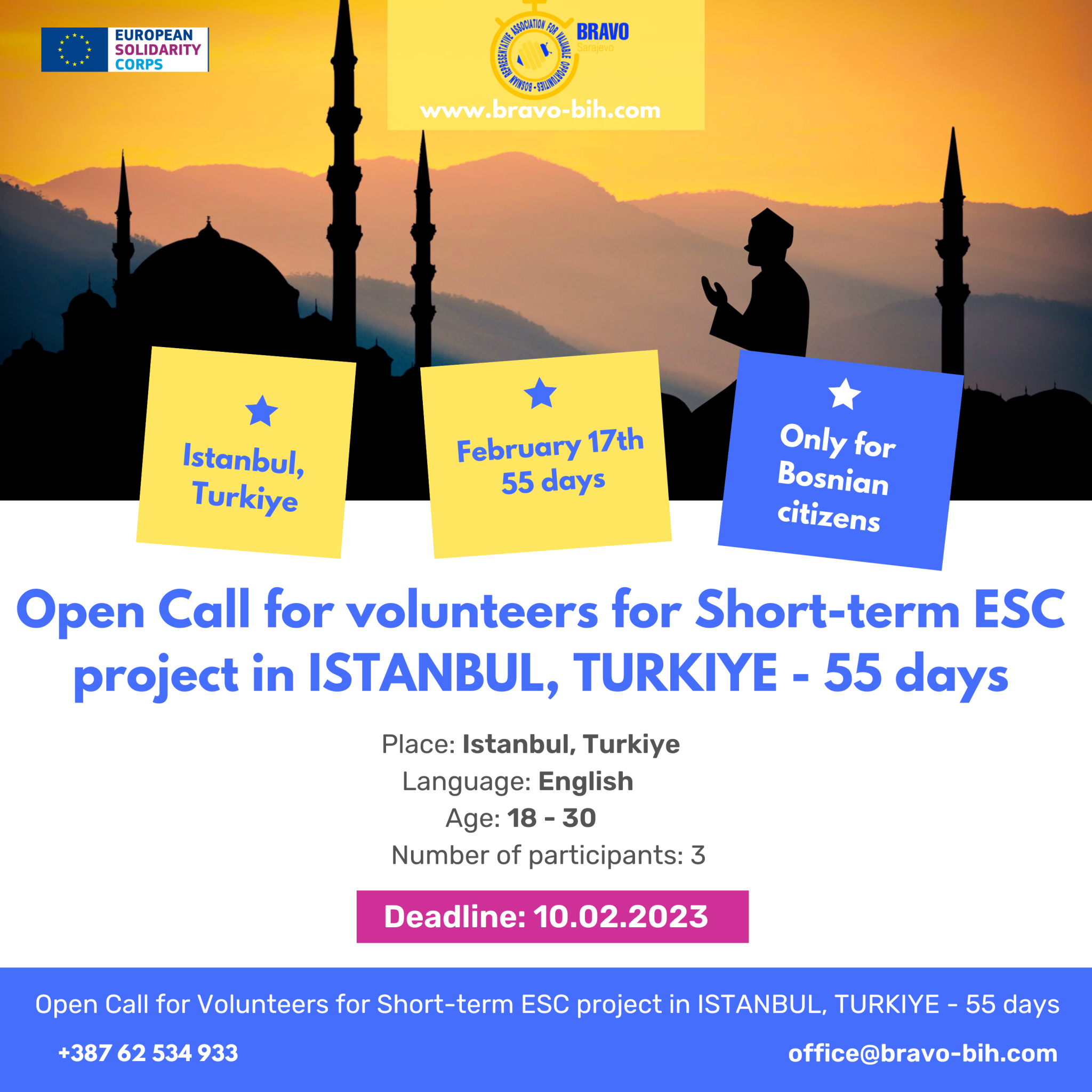 Name of the project: Short-term ESC project


Duration:  55 days


Sending Organization: "BRAVO"


Hosting organization: "Turkey Youth Foundation"


Place:  Istanbul, Turkiye


Participant age: 18-30


The number of participants: 2


Working language: English


Deadline for applying: 10.02.2023.
This project is supported and co-funded by the Erasmus+ programme. It means that your travel costs, accommodation, and food will be fully covered if you get selected for the project. The European Commission's support for the production of this publication does not constitute an endorsement of the contents, which reflect the views only of the authors, and the Commission nor EACEA can be held responsible for any use which may be made of the information contained therein.
Attention all volunteers! We are excited to announce an open call for participants in a short-term European Solidarity Corps (ESC) project in Istanbul, Turkey. The project will last for 55 days and will focus on project management, writing, and designing European projects.
Are you passionate about making a positive impact in your community? Do you have experience in project management, or are you eager to learn more about it? If so, this is the perfect opportunity for you!
As a volunteer on this project, you will have the chance to work with a dynamic team of professionals and make a tangible difference in the lives of those around you. You will gain valuable skills and experience in project management, writing, and designing European projects, which will help you stand out in your future endeavors.
The project will take place in the vibrant city of Istanbul, Turkey, and will provide volunteers with the opportunity to immerse themselves in the local culture and make meaningful connections with the community.
If you are interested in applying for this exciting opportunity, please fill out the application form on our website. Hurry, as spaces are limited and the deadline to apply is fast approaching! We can't wait to review your application and potentially _:welcome you to our team.
ACTIVITIES OF THE PROJECT
Speaking Club
Erasmus+ and ESC promotion on the website blog and social media (content management)
Cooperation with foreign partners
Supporting, improving and writing and also implementing the projects
Youngsters (preferably with fewer opportunities) between 18 and 30 years old;
Motivated to participate in volunteer actions and activities that enable the development of skills key, experie,nces and learning;
With little or no experience in volunteering activities promoted by ESC (or previous EVS);
Aware of their role and to be able to participate in all phases of the volunteer activity in which they will be involved;
Interested in participating and contributing to volunteer activities oriented towards priorities and values of European countries promoted by Erasmus+ and the ESC. Has knowledge of Erasmus Plus and European Solidarity Corps projects.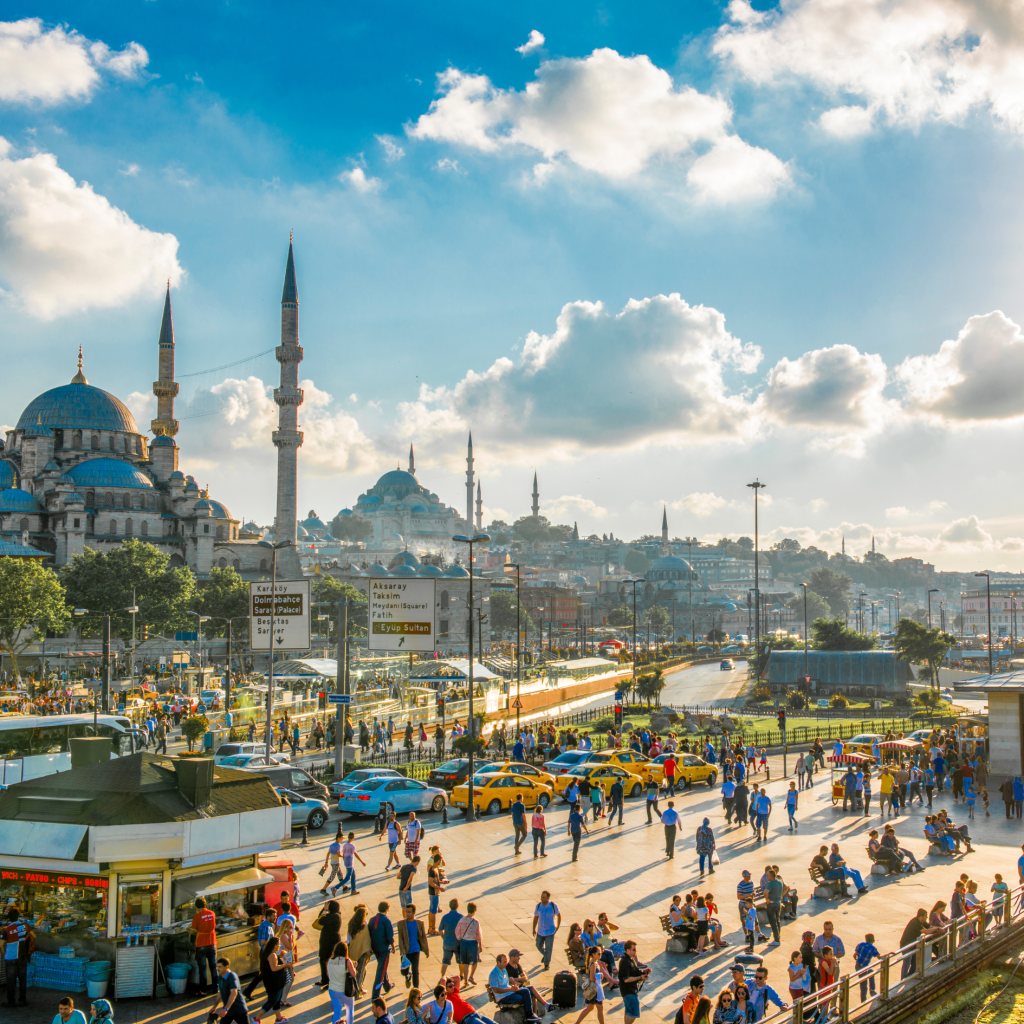 ABOUT THE HOSTING ORGANIZATION:
Founded in Turkey in 2014, the Turkish Youth Foundation is one of the largest non-governmental organizations in Turkey with over 100 professional employees, 300,000 volunteer members, robotic coding workshops in 39 cities, and 42 dormitories. It includes 14 coordinators operating in the fields of sports, women, entrepreneurship, media, education, culture and arts, career, partnership, high school and university. It aims to contribute by supporting the social, physical, mental, psychological and spiritual development of young people all over the world, especially in Turkey, and to teach them to be productive, progressive, innovative and valuable for our world. Turkey Youth Foundation, which welcomes all people who feel young, regardless of age, as its target group, has the experience of running more than 200 national and international projects. Our mission is to contribute to the formation of innovative and qualified human value, which constantly improves itself, attaches importance to cultural accumulation, by observing the social, physical, mental, spiritual and spiritual development of the youth. Our vision is to be a foundation that raises the generations that will regenerate and build our civilization
AS A VOLUNTEER YOU WİLL HAVE:
FINANCIAL SUPPORT : Pocket money of 5€/per day every month + Food support (150€ per month);
LANGUAGE SUPPORT – online and face-to-face linguistic support to learn Turkish;
TECHNİCAL SUPPORT – Supervision + Weekly meeting in the hosting organization to integrate information and share learning outcomes + support of the sending organization;
MENTORING :A mentor the organization to assist you in your daily life;
AN INDIVIDUL ROOM in an apartment with all the living conditions required by the Erasmus + programme (rent, water, electricity, gas and Wi-Fi for free)
Bosnia and Herzegovina – 275€ per participant
Complete the BRAVO- APPLICATION FORM with in English title as following "name of the project you are applying for" until 23:59 on deadline day.
Deadline for applying: 10.02.2023.
Selection results: 13.02.2023.
PARTICIPATION FEE: NO PARTICIPATION FEE
If you have any questions don't hesitate to contact us at: office@bravo-bih.com
Who is BRAVO? Watch a video below and enjoy <3
On the video below you can hear very useful information for this mobility.