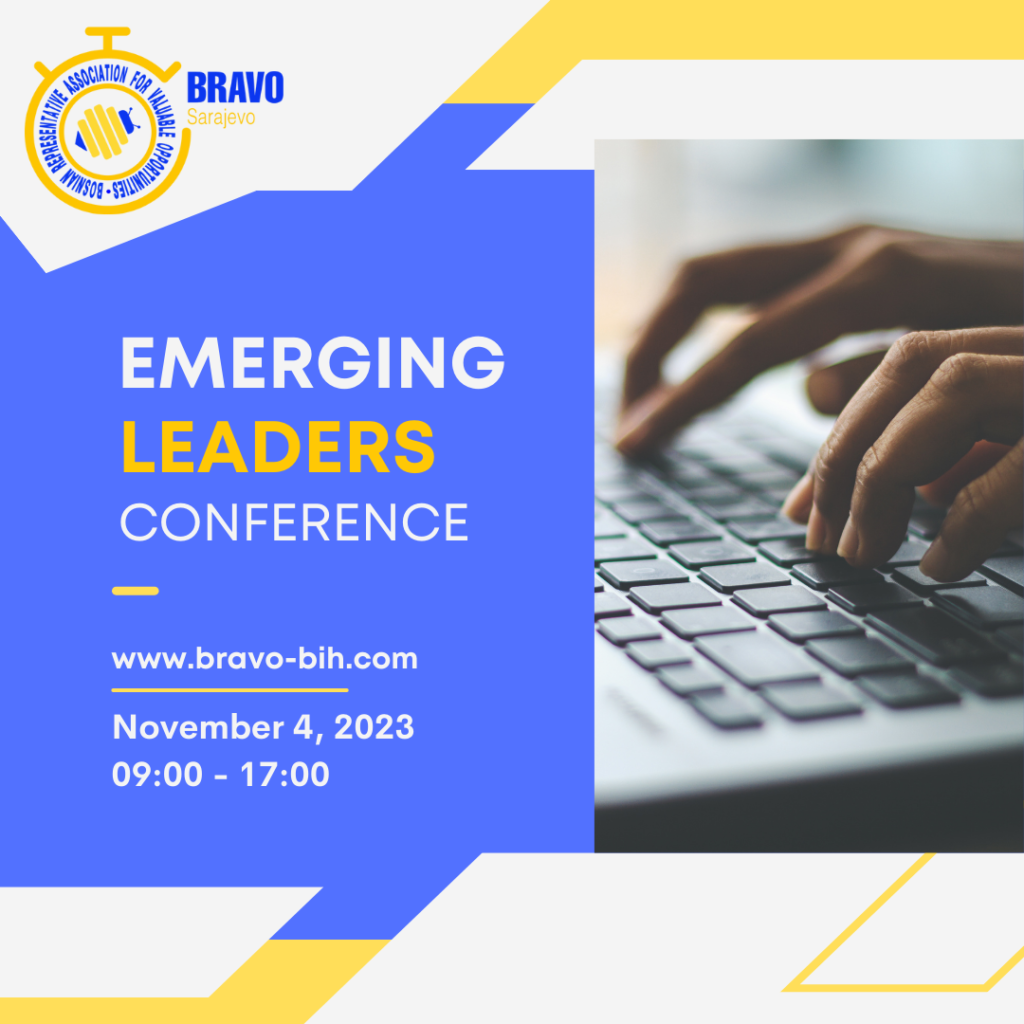 If you want to upgrade your leadership skills, network with professionals in the field, and engage in discussions with young leaders from all parts of the world, then we urge you to register and join us at the virtual ''Emerging Leaders Conference''. There are no excuses not to take advantage of this opportunity because all you have to do is turn on your computer, join the conference via the Zoom platform, and attend from the comfort of your home!
The conference will be held on the 4th of November from 09:00 to 17:00 CET via the Zoom platform.
The ''Emerging Leaders Conference'' presents a great opportunity for young people to be part of a big, virtual community that gathers aspiring leaders from a wide range of backgrounds, and fields. The conference aims to foster leadership development, educate and inspire attendees to become the future leaders of our society.
The best part about the conference is that it is created exactly for young people like you—young people who are open to meeting participants from other countries and have the motivation to take part in a mutual learning process. It is also important to be able to communicate in English and actively take part in all phases of the conference.
By attending the conference, you will:
Develop your leadership skills and extend your knowledge about conflict resolution, strategic planning, and effective communication.
Take part in discussions and develop your critical thinking skills
Gain diverse perspectives on leadership and different leadership styles
Engage in beneficial cross-cultural learning
Network with professionals in the field and like-minded individuals
Enrich your CV
As you can see, the ''Emerging Leaders Conference'' is an extraordinary opportunity that can't be missed. Along with gaining some basic experience, you will take your first steps into a world of endless opportunities.
Fill out the  registration form
Download Zoom: If you don't already have Zoom installed on your computer or mobile device, please download it from Zoom's Download Page.
Join the Conference: On the day of the conference, click the following link to join the Zoom meeting (Meeting ID: 813 9100 8900; Passcode: 041123)
Test Your Connection: We recommend meeting a few minutes early to ensure your audio and video are working correctly. You can also use Zoom's test meeting feature to check your setup in advance: Zoom Test Meeting.
Interact with Us: Feel free to ask questions or participate in discussions during the conference using Zoom's chat and Q&A features.
If you have any questions don't hesitate to contact us at: office@bravo-bih.com
More about BRAVO you can see on our video below: