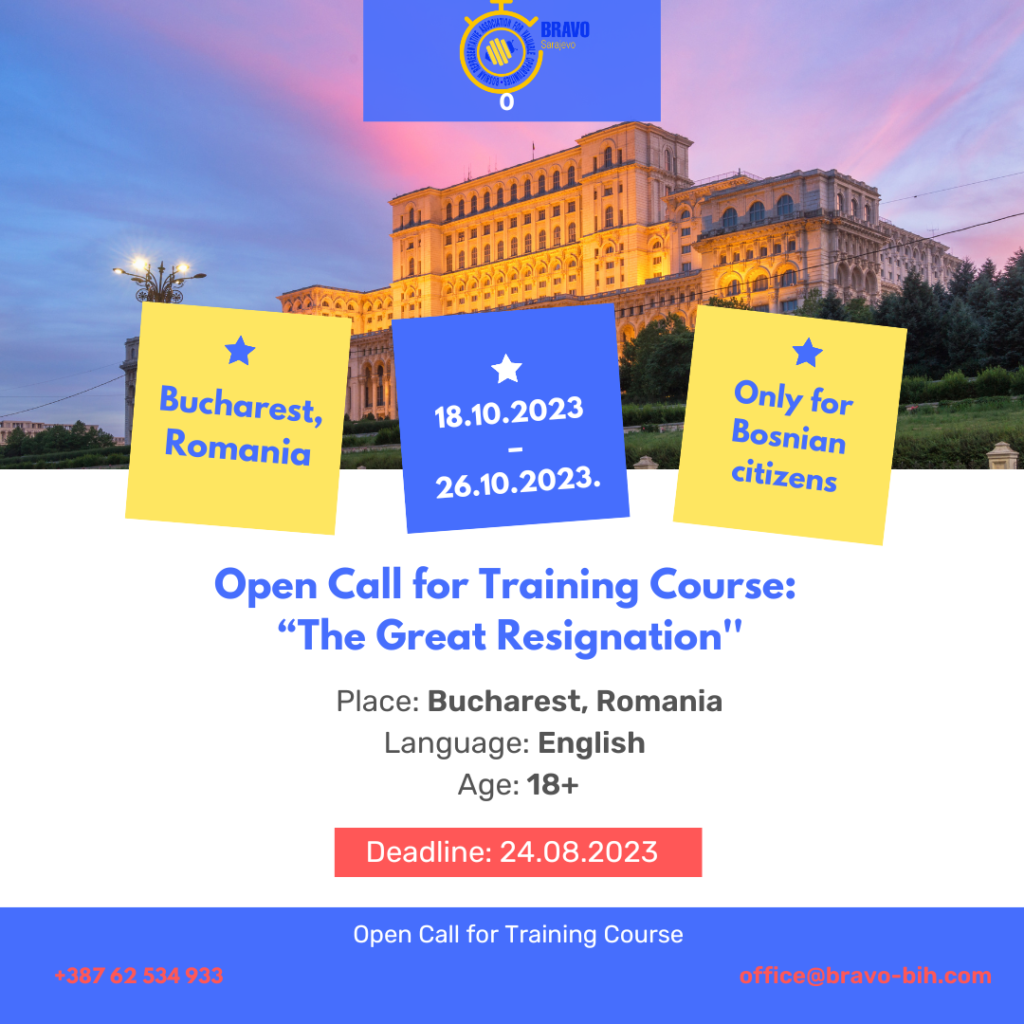 Name of the project:  Training Course ''The Great Resignation''


Date of Project:  18.10.2023. – 26.10.2023.


Sending Organization: "BRAVO"


Hosting organization: ''COSI''


Place:  Bucharest, Romania


Participants age: 18+


The number of participants: 3


Working language: English


Deadline for applying: 24.08.2023.
This project is supported and co-funded by the Erasmus+ programme. It means that your travel costs, accommodation, and food will be fully covered if you get selected for the project. The European Commission's support for the production of this publication does not constitute an endorsement of the contents, which reflect the views only of the authors, and the Commission nor EACEA can be held responsible for any use which may be made of the information contained therein.
In the wake of recent global socio-economic events, the labor market is undergoing a transformative shift. The emergence of the 'Great Resignation,' 'Great Reshuffle,' or 'Big Quit' phenomenon underscores the need for a new approach to career and work dynamics. This training course aims to explore and adapt to this evolving landscape by equipping individuals and organizations with the understanding and tools necessary to navigate and thrive in the changing world of work.
The course will consist of interactive sessions, case studies, group discussions, and practical exercises to engage participants in meaningful learning experiences. Expert speakers from various fields will provide insights into different aspects of the changing world of work.
The 'Great Resignation' isn't just about large numbers of people leaving their jobs. It represents a deeper introspection about what people value, what they expect from their employers, and how they envision their career paths. Traditional models of work are being challenged, and a new equilibrium is in the making.
For organizations, understanding this shift is crucial for talent retention, organizational culture refinement, and long-term success. For individuals, navigating this new landscape requires skills and understanding that go beyond traditional career planning.
By the end of this course, participants will have a holistic view of the ongoing shifts in the world of work, equipped with the strategies and insights to turn challenges into opportunities. Whether you're an HR professional, a team leader, or an individual looking to understand your place in the new work world, this course offers valuable insights and tools to help you thrive.
OBJECTIVES OF THE PROJECT
Taking into consideration these recent trends, the need to inform and empower young people in their educational and/or career path, as well as the popularity and efficiency of podcasts as a digital tool of tackling the 'great resignation' effects, the project aims to increase the active participation and the involvement of young people into society through the following objectives:
Improving the capacity of 20 youth workers to engage with youngsters in their communities, and provide information and counseling services in their daily work by developing the necessary competencies of using digital tools and social media platforms.


Empowering 150 youngsters (18- 30) from 6 countries to become active members of society by providing information and guidance about lifelong learning programs and through a series of 6 podcasts during the dissemination stage


Developing an efficient network of 3 EU and 3 non-EU NGOs by creating a sharing space meant to exchange good practices, and efficient tools and improve their services and internationalization.
This training course provides a comprehensive toolkit for individuals and organizations to navigate this new landscape successfully, embracing dignity, flexibility, work-life balance, and prioritizing mental health. By adapting to these changes, participants can not only thrive but also contribute to the creation of a more fulfilling and sustainable future of work.
The Training Course is aimed at people who:


Are involved with local youth, especially NEETs, and who are using non-formal educational methods in their daily activities aiming to contribute to youth employability (social workers, educators, counsellors, volunteers, trainers and other related staff)
Are interested in improving their competencies, success and know-how of their NGOs in terms of youth empowerment, engagement and entrepreneurship
Are willing to get involved in the local, national and European system providing learning opportunities for other members of their NGOs and for the young people they work with
Are interested and motivated and committed to actively take part in 9 mobility days and in all the project's stages (design, planning, mobility, dissemination)
Are engaged in society and willing to expand their knowledge about inclusive entrepreneurship and youth engagement and how to empower young people, especially from disadvantaged backgrounds
Have basic digital skills and basic knowledge of their countries' youth practices
Are able to communicate in English
Are at least 18 years old
ABOUT HOSTING ORGANIZATION
COSI is a non-governmental entity that aims to promote tolerance and intercultural dialogue, as well as the social integration of young people and the disadvantaged, by overcoming social exclusion through coherent social, educational, and civic initiatives.
COSI supports and assists disadvantaged people in Bucharest and the surrounding areas who face critical situations of marginalization, extreme poverty, and social exclusion by providing necessary and highly requested benefits/services (clothing, food, hygiene items, school supplies, building materials, guidance and counseling, etc.) in order to increase a dignified standard of living, reintegration into society and/or the educational system through humanitarian aid actions. COSI aims to develop the awareness of the general population of Romania (especially the NEET youth) regarding the important societal factors that still constitute obstacles to equal rights and the values of non-discrimination according to the Universal Declaration of Human Rights.
ACCOMMODATION, FOOD & TRAVELLING
The Training Course will take place in Bucharest, Romania, the capital and largest city, as well as its cultural, industrial, and financial center.
During the stay, food will be prepared by experienced cooks, provided at the venue. Three meals and two coffee breaks per day will be provided.
Bosnia and Herzegovina – fully covered
Complete the BRAVO- APPLICATION FORM with in English title as following "name of the project you are applying for" until 23:59 on deadline day.
Deadline for applying: 

24.08.2023.

Selection results: 

28.08.2023.

PARTICIPATION FEE: 

NO PARTICIPATION FEE

If you have any questions don't hesitate to contact us at: office@bravo-bih.com
Who is BRAVO? Watch a video below and enjoy <3
On the video below you can hear very useful information for this mobility.