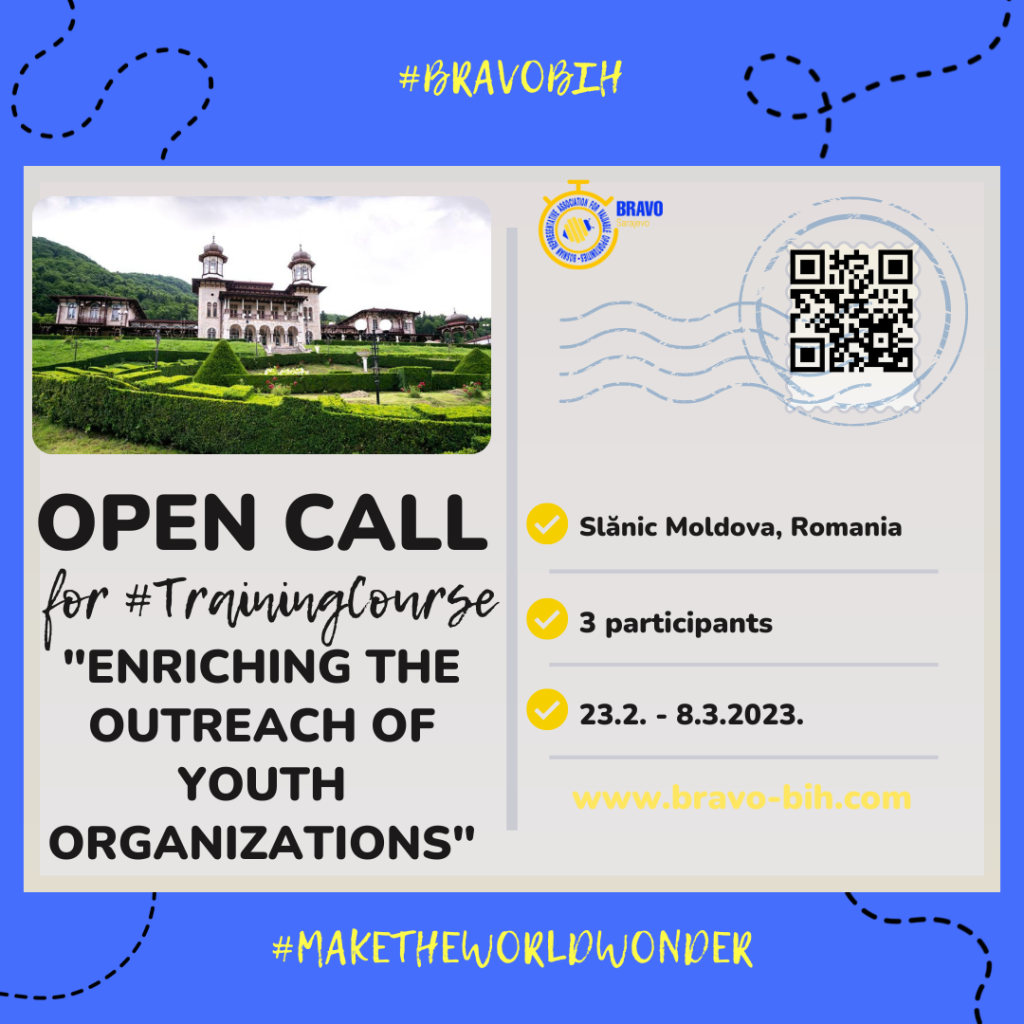 Name of the project: "Enriching the outreach of youth organizations" 
Date of Project: 23.02 – 08.03.2023.
Sending Organization: "BRAVO"
Place: Slanic Moldova, Romania
Participants' age: 18+
The number of participants: 3
Working language: English
Deadline for applying: 20.11.2022.
This project is financed by the European Commission through the Erasmus Plus Program. This publication reflects the view only of the author, and the European Commission cannot be held responsible for any use which may be made of the information contained therein. By Erasmus+ rules organizers will cover travel costs, accommodation and food. 
PROJECT'S MAIN OBJECTIVES
To develop the communication management skills of 30 youth workers from 10 different organizations and their ability to develop and implement a communication and dissemination strategy.


To equip youth workers with the tools, methods, and competences to efficiently develop and use online communication materials.


To increase the online visibility of youth organizations.


To develop among youth workers digital skills for internal and external communication, including fundraising abilities.
The direct beneficiaries of the project are the 30 youth workers from the 10 partner organizations that deal with communication / want to develop specific skills in the field of communication and public relations online, which have decision-making power in organizations (to develop framework documents such as the Communication Strategy) or handling fundraising and networking activities.
 The project is a professional development context for youth workers, equipping them with the needed skills to develop an online communication strategy, but they will also develop skills that will help them elaborate materials for online communication, fundraising, internal relations, volunteer recruitment and social education. Learning activities during the training course will consist of: team building meetings, workshops, sharing and networking sessions, interactive presentations, guided discussions, teamwork, research, representation of communication concepts, analysis of target groups, analysis of the organization's communication needs, planning campaigns, the creation of audio-video materials, assessment and reflection on the learning process, practical workshops to develop a communication strategy, and sessions in which participants will develop an Online Communication Guide for Youth Organizations.
After the mobility, the participants will contribute with the skills and knowledge they developed during the mobility in the process of DEVELOPING THE COMMUNICATION STRATEGIES of their organizations. They will create a communication guide for organizations (started during mobility) and will organize KNOW-HOW TRANSFER AND DISSEMINATION ACTIVITIES, both at the organization's level and with their local communities/networks of which they are part of.
The 3 youth workers must be with the external communication (either responsible with social media and general promotion of the activities/projects the organization is implementing, either to be directly involved in the communication with the target audience – for example staff members that are in charge of selecting participants for projects) or in charge with the fundraising activities.
The youth worker has interpersonal and communication abilities; Has a strategic thinking and is focused on results thinking; Has a positive and supporting attitude; Has Team spirit; Pays attention to details and promotes a positive attitude among the participants; Has coordinating, planning and organizing abilities; Has English speaking skills (at least medium level); Has experience in volunteering, non-formal education and youth working; Is a good mediator? Has facilitating abilities; Has evaluating abilities.
Active Development Association aims to initiate, promote, and implement sustainable and active development measures regarding the quality of life, seeking to build a responsible and active society in terms of cultural, educational, social and environmental development.
We are working on all level of intervention with focus on community organizing and education. Active Development Association (ADA) is active in creating opportunities for young people, with a focus on those from rural areas and from vulnerable discriminated minorities. Our NGO is involved in organizing international youth mobilities in which young people and also youth workers have opportunity to develop their skills and competencies in a variety of topics, from lifestyle to social inclusion and entrepreneurship
If you choose to travel by plane, you can search for flights to Otopeni Airport (Bucharest) or to Bacau Airport, which is the closest city to Slănic Moldova, the place where the training course will be held. It is better if you land in Romania (in Bucharest) in the morning on 23rd of February 2023 and you depart from Romania in the evening on 8th of March 2023, as the training course will be held in Slănic Moldova, Bacau County, and you need to take into consideration the internal travel, from the airport to the place where the project will be held.
For your trip from Bucharest to Slănic Moldova, we will rend a bus to bring all participants from Bucharest/Otopeni Airport straight to the hotel in Slănic Moldova on 23rd of February 2023 and then, from Slănic Moldova to Bucharest/Otopeni Airport on 8th of March 2023.
Bosnia and Herzegovina – 275€ per participant
If any participant wants to stay longer in Romania, this is possible up to 2-3 days before and 2-3 days after the mobility. Still, all costs related to the extra days (for food, accommodation, trips, local transportation, or other type of costs who were not made for the project) must be covered by the participant himself/herself.
Anyone considering travel to Romania should check the latest information from the local authorities regarding requirements for international passengers arriving in the country. You may find more details here: https://reopen.europa.eu/en/map/ROU/7001
The accommodation is 100% covered by Erasmus+ Programme, between 23rd of February 2022 (Check in after 14:00) and 8th of March 2022 (Check out before 12:00). During the Training course participants will be hosted at Pensiunea Poiana Verde from Slanic Moldova. The rooms will be shared between 2 or 3 people. Some of the rooms have 3 beds, others TWIN beds and a couch, others have a matrimonial/shared bed and a third bed, a matrimonial/shared bed, and a couch or just a matrimonial/shared bed. If you want to share the room with someone, please let us know in time.
Complete the BRAVO- APPLICATION FORM with in English title as following "name of the project you are applying for" until 23:59 on deadline day.
Deadline for applying: 20.11.2022.

 

Selection results: 25.11.2022.

 

PARTICIPATION FEE: NO PARTICIPATION FEE

 

If you have any questions don't hesitate to contact us at: office@bravo-bih.com
Who is BRAVO? Watch a video below and enjoy <3
On the video below you can hear very useful information for this mobility.