Open call for short-term training ''LEO'' in Sarajevo, Bosnia and Herzegovina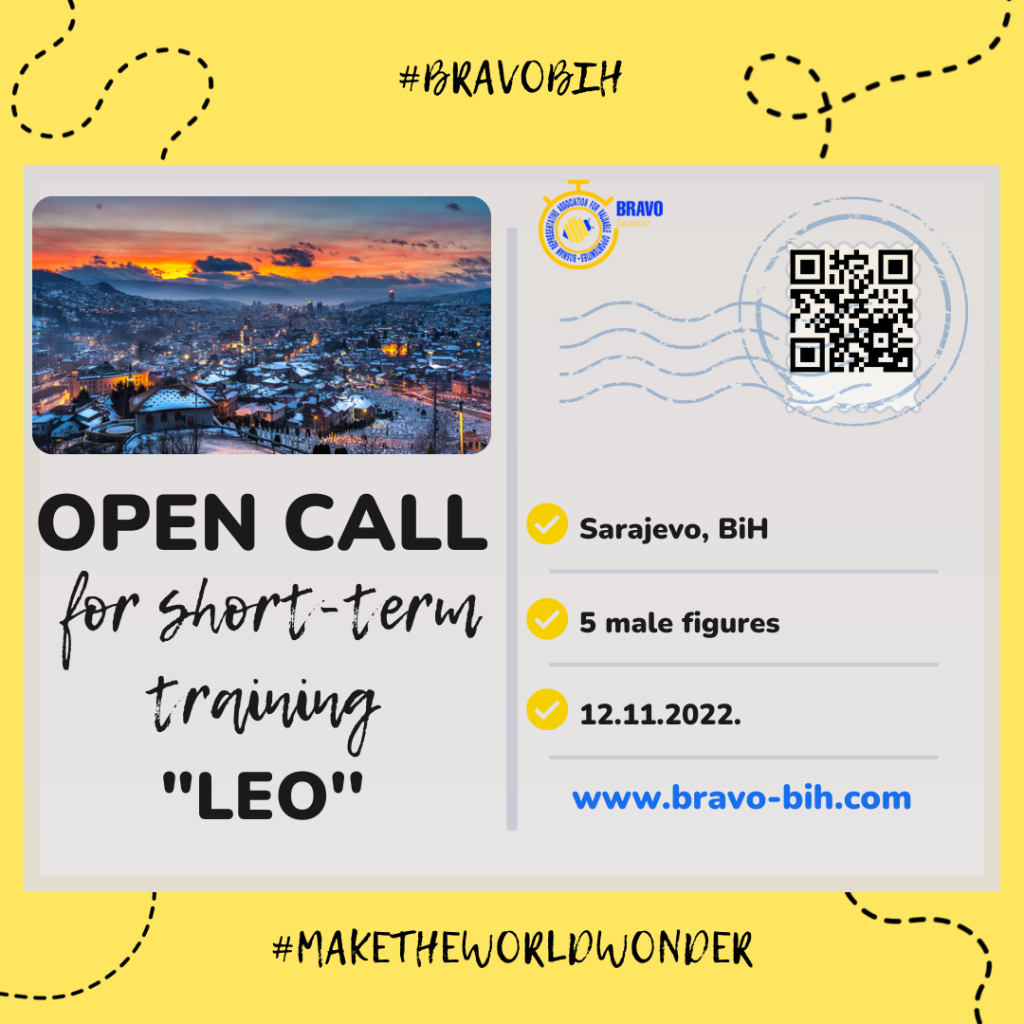 Name of the project: "Leadership for Everyone''
Date of Training: 12.11.2022.
Organization: "BRAVO"
Place: BM Hotel, Sarajevo, BiH
Participant's age: 18+
The number of participants: 5 male figures
Deadline for applying: 05.11.2022.
Women's economic empowerment is an essential asset to achieving gender equality. However, in most countries, worldwide men outnumber women in leadership positions in every sector globally, including business, non-profits, government, education, medicine, the military, and religion. This gender gap often referred to by the metaphor "glass ceiling", represents one of the most critical challenges to achieving gender equity and allowing equitable working opportunities to all genders. Given the urgency of achieving gender equity, which encompasses promoting women's leadership and including men in the process, the capacity-building project LEO – Leadership is for Everyone was created. The project aims to enhance women's leadership, develop NFE resources for youth workers and young people, promote men's involvement in women's empowerment, and strengthen the synergies between youth work and the labor market. LEO involves young men and women by creating opportunities for both genders to work together toward gender equality.
We are looking for 5 positive masculinity figures that would support the project and its objectives and challenge traditional sexist stereotypes in their communities.  The training will cover the following topics:
gender pay gap
unpaid labor and caregiving
disparities between education/work experience and leadership positions
The training will tackle the issues related to unpaid work and caregiving. Participants will also discuss the main challenges of women's leadership and gender equality. Selected participants will be trained on how to support young women who struggle to enter the labor market, and ways to be involved in their leadership and economic empowerment process so they can pass on the project's learnings and make an impact on the socio-cultural patterns of their communities in relation to gender equality. The selected male champions will be trained and supported in the realization and facilitation of local gender equality workshops.
IMPORTANT NOTE: All participants will get a certificate of participation.
More information about BRAVO you can see on the video below: