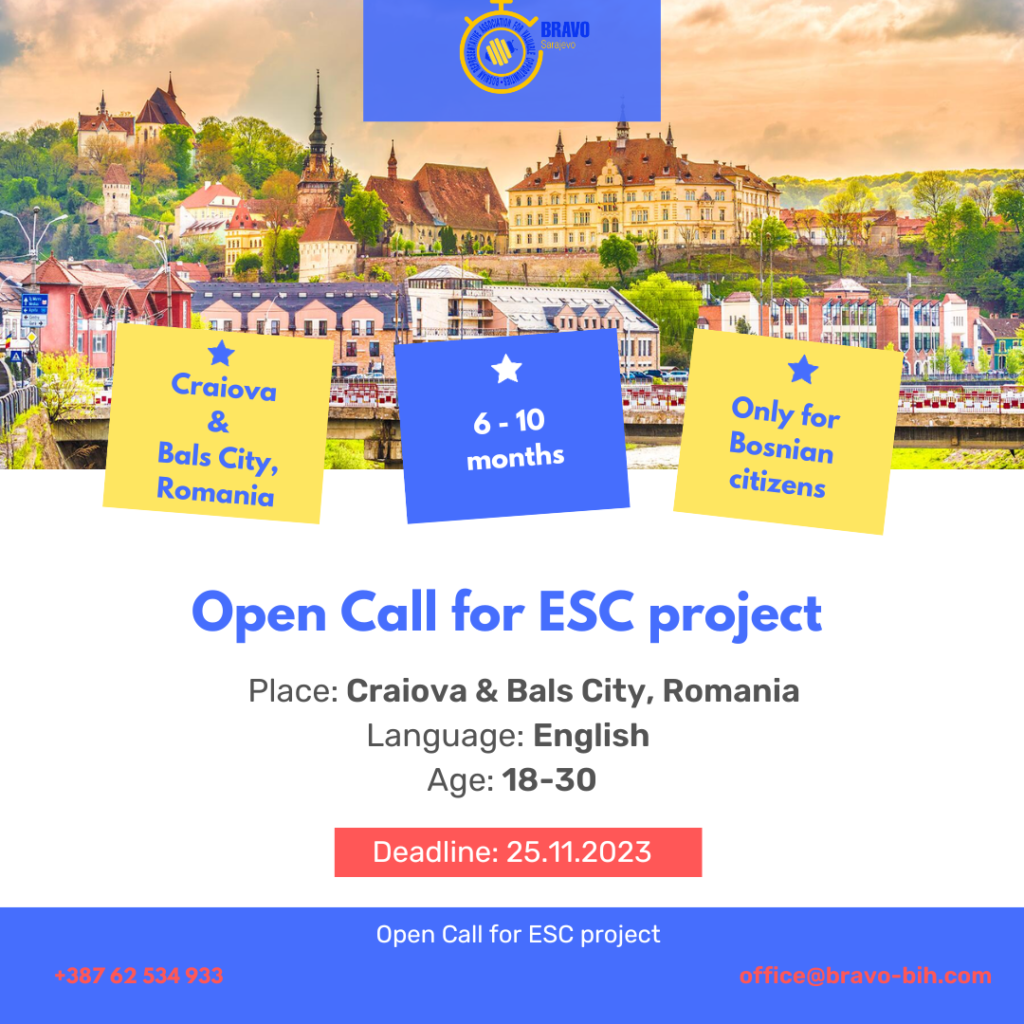 Name of the project:  Long-term ESC volunteering
 
Duration of the project:  6 – 10 months (starting in December of 2023)


Sending Organization: "BRAVO"

 

Hosting organization: "ANDCTR"

 

Place:  Craiova / Bals City, Romania

 

Participants age: 18-30

 

The number of participants: 3
Working language: English

 

Deadline for applying: 25.11.2023.
This project is supported and co-funded by the Erasmus+ programme. It means that your travel costs, accommodation, and food will be fully covered if you get selected for the project. The European Commission's support for the production of this publication does not constitute an endorsement of the contents, which reflect the views only of the authors, and the Commission nor EACEA can be held responsible for any use which may be made of the information contained therein.
The primary objective of this project is to cultivate a sense of civic responsibility and social engagement among young individuals. Volunteers will be tasked with office organizational work, aligning their efforts with the association's objectives and utilizing predefined templates. This structured approach allows volunteers to develop essential organizational and leadership skills while maintaining their creativity in executing daily tasks. Volunteers will be engaged in a variety of office organizational tasks, ranging from administrative duties to project coordination. These responsibilities are essential for the smooth functioning of the association and will expose volunteers to the practical aspects of running a community-focused organization. While volunteers are expected to be the creative brains behind their daily work, guidance and mentorship will be provided by experienced leaders within the association. This support system aims to foster a learning environment where volunteers can develop their skills and gain insights into effective community engagement.
In our commitment to nurturing a positive and empowering volunteer experience, each participant in our program is assigned a mentor who plays a multifaceted role. Your mentor serves as your guide, cheer pal, objective advisor, facilitator in learning, friend in the community, and a mentor to help you reach your full potential.
Your Guide: Your mentor is there to keep you motivated and focused on the positives as you work towards achieving your learning goals. They provide guidance and support, helping you navigate challenges and celebrate your successes.


Your Cheer Pal: During difficult times, your mentor acts as your cheer pal, offering encouragement and helping you stay resilient.


Your Objective Advisor: Your mentor plays a crucial role in setting your learning goals, defining your learning path, and facilitating the learning process. They provide objective advice based on their experience, helping you make informed decisions about your personal and professional development.


Your Facilitator in Learning: In addition to guiding your learning journey, your mentor introduces you to the local community and assists you in adjusting to the new environment. This support ensures that you feel connected to the community and can fully contribute to the projects you are involved in.


Your Friend in the Community: Your mentor is not just a guide; they are also your friend in the community. This relationship fosters a sense of belonging, making your volunteer experience more enriching and enjoyable. Your mentor can provide insights into the local culture, customs, and community dynamics.
OBJECTIVES OF THE PROJECT
Cultivate Civic Responsibility and Social Engagement: Foster a deep sense of civic responsibility among young individuals and promote active social engagement within the community.


Develop Essential Organizational and Leadership Skills: Task volunteers with office organizational work aligned with association objectives and empower volunteers to develop essential organizational and leadership skills.


Expose Volunteers to Practical Aspects of Community-Focused Organizations: Engage volunteers in a variety of office organizational tasks, including administrative duties and project coordination.


Maintain Creativity in Daily Tasks: Encourage volunteers to be the creative brains behind their daily work and foster an environment that values innovation and unique contributions.


Provide Guidance and Mentorship: Establishing a support system through experienced mentors within the association who will offer guidance to volunteers as they navigate their roles and responsibilities.
Young people aged 18 – 30 years old who did not do a long-term ESC project
Able and willing to manage living in a small community!
Fluent at a medium level in English, both speaking and writing
Knowledge of additional languages
Motivated to take part in the project and show involvement during the selection process
Able to assume all the tasks and rules of the project and to remain involved during the dissemination stage after the project ends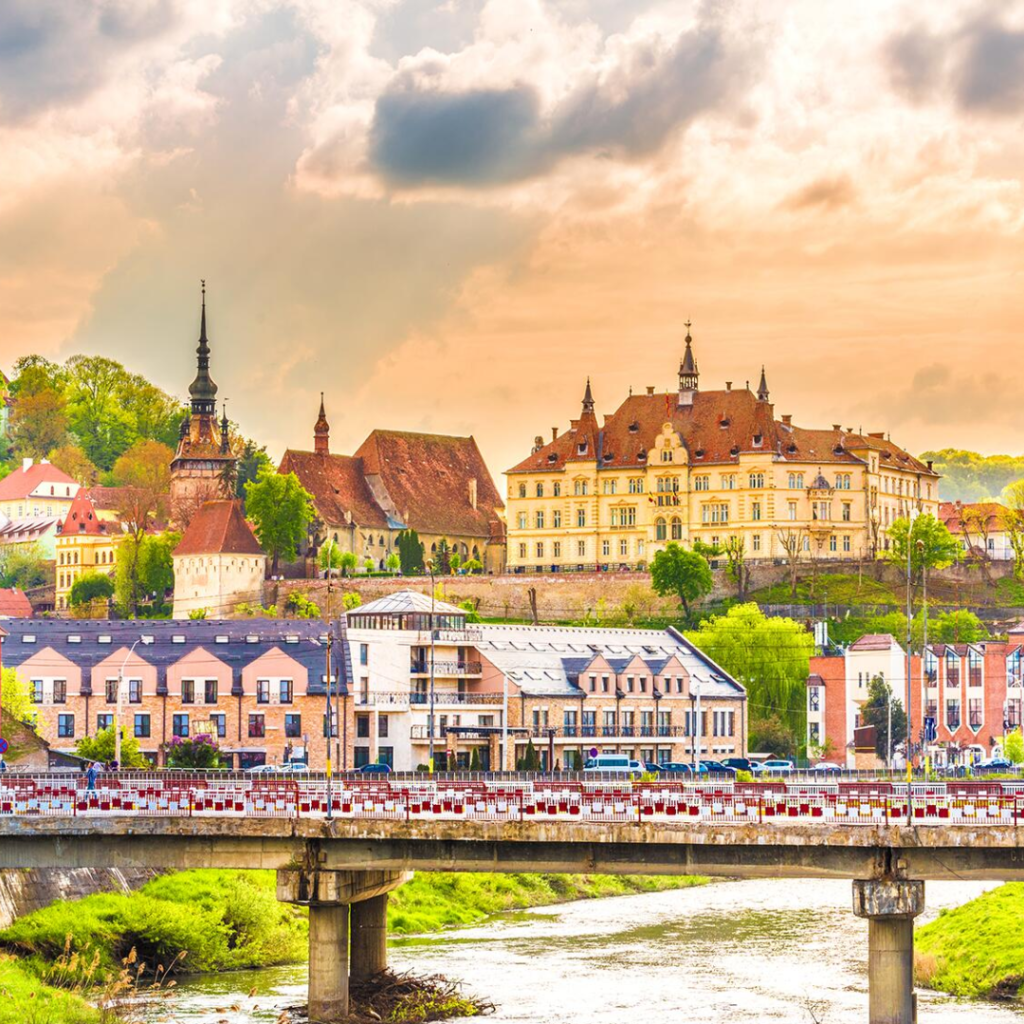 ABOUT HOSTING ORGANIZATION
The mission of the organization is to contribute to the personal and professional development of young people and children, as well as to their education and culture, especially the non-formal one so that they become active and responsible citizens. We aim to support and promote the socially responsible development of society and the environment, through social, cultural, and learning activities. Through our projects we intend to develop and exchange good practices in the youth work with other associations around the world, aiming to provide support for youngsters from our community in any type of social initiative that they will have, focusing more on developing awareness in relation with the negative environment changes, all by using non-formal education as a central key point in education. Our association is organizing community events like fairs, concerts, workshops, debates, etc, with the aim of providing youngsters with the opportunity to understand the community's reality and to empower them with tools in order to be able to be elements of change in the community.
ACCOMMODATION, FOOD & TRAVELLING
Volunteers will be accommodated in apartments, same gender rooms, and will share a kitchen and bathroom. Living with others is challenging, so all volunteers need to be open and compromise to be able to peacefully live together. Volunteers will receive a monthly food allowance of 150 euros and 3 euros/day pocket money in Lei (Romanian currency) at the monthly rate of the project signing. A monthly local travel bus pass will be provided for each volunteer for volunteers opting for Craiova opportunity.
Bosnia and Herzegovina – Fully Covered 
Complete the BRAVO- APPLICATION FORM with in English title as following "name of the project you are applying for" until 23:59 on deadline day.
Deadline for applying:

25.11.2023.

Selection results: 

28.11.2023.

PARTICIPATION FEE: 

NO PARTICIPATION FEE

If you have any questions don't hesitate to contact us at: office@bravo-bih.com
Who is BRAVO? Watch a video below and enjoy <3
On the video below you can hear very useful information for this mobility.