Open Call for 6 Participants for Youth Exchange in Yerevan, Armenia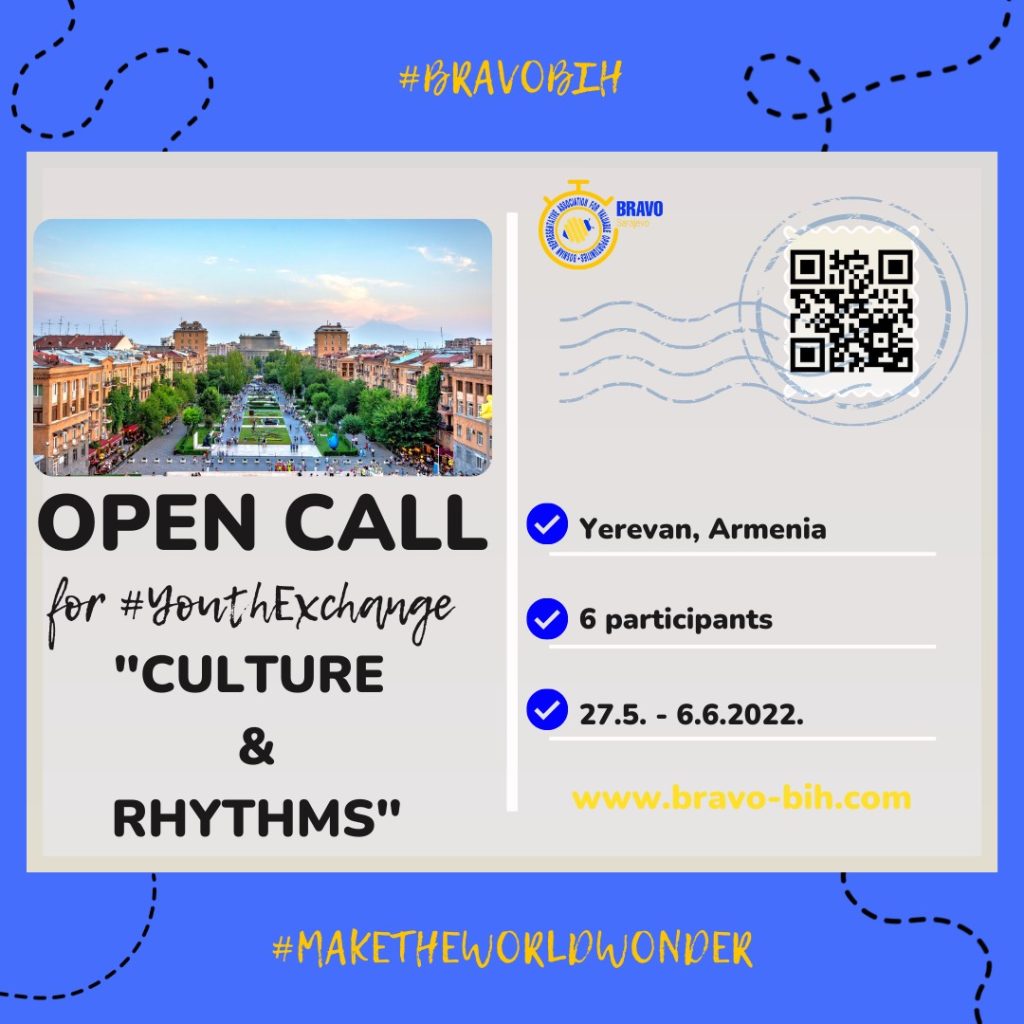 Name of the project: "CULTURE & RHYTHMS"

 

Date of Project: 27.05.2022. – 06.06.2022.

 

Sending Organization: "BRAVO"

 

Place: Yerevan, Armenia

 

Participants age: +18

 

The number of participants: 6

 

Working language: English

 

Deadline for applying: 07.05.2022.
Cultural exchanges have a significant role in bringing people from every religious, economic and social background together, so through this project we want to combine both preservation of cultural heritage and work on social integration of people and in particular youngsters and artistic groups within the creative sector who usually get less attention via the media and other networks in their local communities and to develop active citizenship among all groups of people, especially the creative sector.
This YE is focused on fostering development of basic and traversal skills, such as soft skills and multilingualism using innovative methods and two universal languages: Folk Music and Traditional Dance as tools of social inclusion. The overall aim of the project is to make participants aware of their culture and ancient roots through discovering similarities and sharing common problems and opportunities.
Age limit:  y/o *IMPORTANT: GENDER BALANCE
Good command of English 
Little experience in art (music, dance, photo)
Active and positive
Proactive mindset
Ability to attend the whole project 
Contribute to the multiplying effect
Ice – Breakers and activities to get to know each other 
Team – building and trust – building activities 
City games 
Cultural workshops 
Intercultural learning activties
Exploring problems and generating ideas 
Evaluations 
Evening activities and free time 
Erasmus+ informational workshops 
Festival 
Study visit
Tours
Future In Our Hands
Ballade
Pokhara
Greek Association Of Young Entrepreneurs
Youth Development Organization
Bosnian Representative Association For Valuable Opportunities
Reimbursement: Travel expenses will be reimbursed up to the reimbursement limit after the project by wire transfer to the organisation or a group leader (upon providing boarding passes and receipts) and also after sending the proves of dissemination activites.
Participants will sign at the end of their mobility a participant statement and the participants' list. A participant aborting the mobility earlier/not participating at least 80% of the mobility will cover all the costs himself/herself and no reimbursement will be realized. Also, at the end of the mobility, each participant must fill in the individual report, on Mobility tool website in maximum 7 days after the mobility ends, according to Erasmus+rules.
Be sure that you do have your health insurance for the period of the project for the emergency needs. Take your personal medicines, thus we will have First Aid Kit and some general medicines in case someone ask for it.
Upon arrival all participants need to have either vaccination certificate, recovery certificate or a Covid19 negative test (PCR) to be able to enter the country, either to pass it here and wait until the results will be ready.
To enter the country with the antigen test or a rapid test is not possible.
Please note, that this is not covered by the project as while applying no one even heard about it. Thus, if you will have budget left from your travels, we will try to include it. The PCR test costs around 25Eur (15000AMD) in Armenia. You can leave Armenia freely, but check the regulations of the country you are entering. Armenia and Georgia have the same status for Covid19.
passport
authorization for under-aged pax (discussed in advance)
tickets, boarding passes, invoices
insurance
Covid19 negative test/Vaccination certificate
comfortable clothes (temperature 15C-25C)
own hygiene accessories
swimming suites
indoor shoes
sunglasses and caps
national food and drinks, dresses
flags
1 laptop per group
cameras and phones
smile and good mood
Before you hop on a plane/bus/camel/private jet/submarine/Santa's sleigh check the following possibilites:
You should arrive to the venue before 19:00. The arranged bus will pick you up at the Republic Square next to the drinking fountains (latest 18:00 is possible).
Please note that we do not have public transportation connections to that location, so the only way to get there will stay a taxi (around 20EUR).
PLEASE pay attention to the check in time and do not come later than 19:00 since we have a night agenda prepared for you.
You can arrive either to Yerevan, Gyumri or Tbilisi. From Georgia/Gyumri is possible to arrive directly to the venue. Confirm tickets with us before purchasing.
In case you arrive to Yerevan there is a shuttle bus from the airport to Republic Square every hour (the price per person is 300AMD/0.60EUR).
From the Republic Square an arranged bus will take you to the venue and the price will be divided between the participants (around 5 EUR one way).
In case you arrive to Tbilisi or Gyumri we will arrange transportation depending on the number of participants. The price per person one way is around 12000AMD/25EUR.
You are allowed to stay in Armenia 2 days before or after the project, which costs are not covered by the project.
Do not exchange lots of money at the airport. The rate is low there. Do not take airport taxis. For Armenia you can download GG application instead and order one or we will help you.