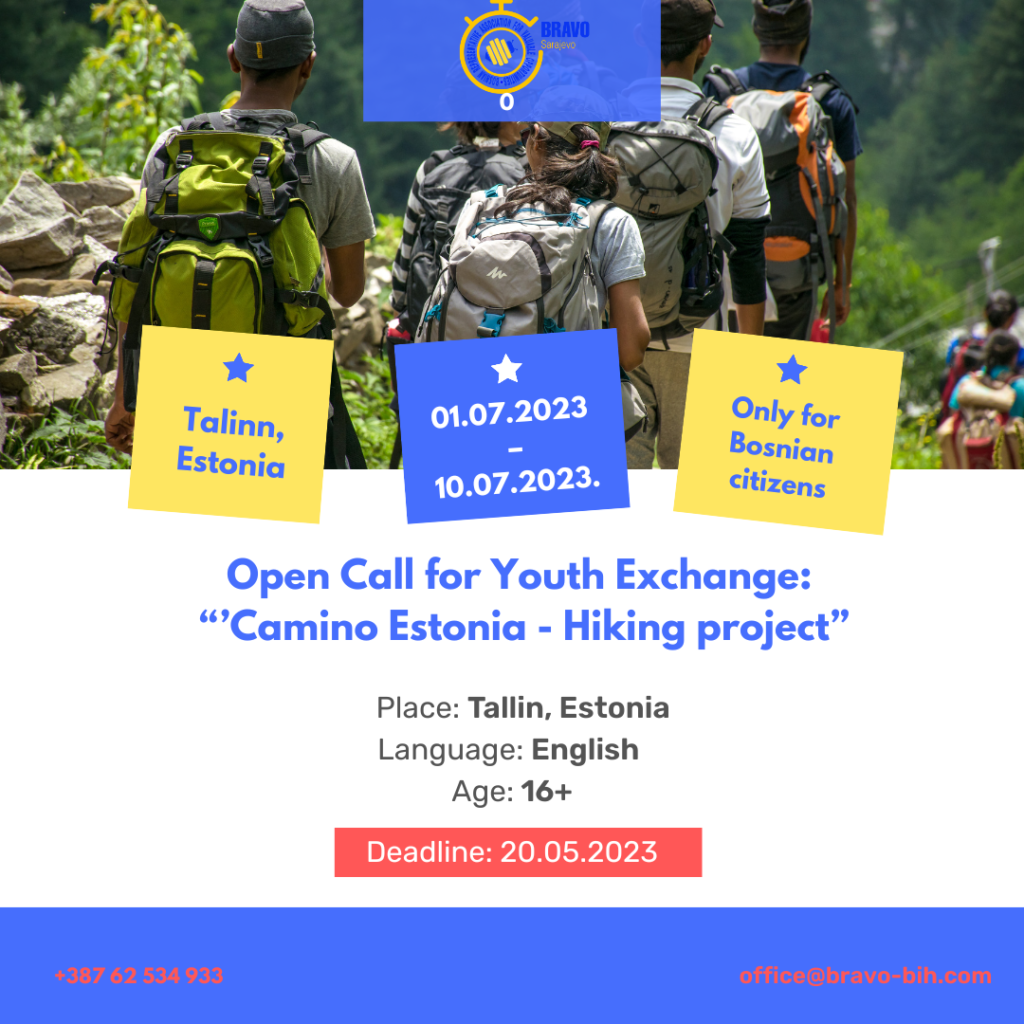 Name of the project:  Youth Exchange ''Camino Estonia'' – Hiking project


Date of Project: 01.07.2023 – 10.07.2023. 


Hosting organization: "Ethos Estonia"


Sending Organization: "BRAVO"


Place:  Tallinn, Estonia


Participants age: 16+


The number of participants: 5


Working language: English


Deadline for applying: 20.05.2023.
This project is financed by the European Commission through the Erasmus Plus Program. This publication reflects the view only of the author, and the European Commission cannot be held responsible for any use which may be made of the information contained therein. By Erasmus+ rules organizers will cover travel costs, accommodation and food. 
The aim of our project is to inform young people aged 18-30 about their own hiking capabilities, Camino de Santiago, and Camino Estonia hiking trails, all while using non-formal methods to teach about maintaining mental health, problems, and solutions.
The project aims to create a safe space where the difficulties (and successes!) of the participants can be discussed. The workshops look at negative thought patterns, core beliefs, and behaviors that interfere with daily life and provide tools to change them or alleviate symptoms
OBJECTIVES OF THE PROJECT
We want to carry out a cultural exchange in the atmosphere of a hike, as we consider it the most favorable and pleasant for this. On a hike, people are revealed in a completely different way.


We believe that while being all together inseparably for many days, people truly open up and this provides an opportunity for the best friendly and deep cultural exchange.


Camping is a life very different from normal, and we want to live it with completely different people from different countries, with different life stories, experience and outlook on life.
We are looking for participants who are willing to spend nights outdoors and hike relatively long distances (15-25 km per day). Youth which are in good physical conditions and are committed to walk along the whole way. There will be 27 people with different experiences in youth work and hiking, of different genders and ages.
Participants need to have at least a basic level of English and be ready to participate fully in the program and commit to the dissemination activities.
ABOUT THE HIKE
During the project, we are going to make part of the "Camino Estonia" path, which goes from North to South Estonia and goes through the whole of Europe to the famous "Camino de Santiago" in Spain. Tallinn, the European Green Capital of 2023, is the starting point, and Pärnu, the most famous resort town in Estonia, is the place of arrival. In the middle, there are large natural territories and trails, with charm and peace yet to be discovered. Participants will hike for 4 days which is 15-25 km per day.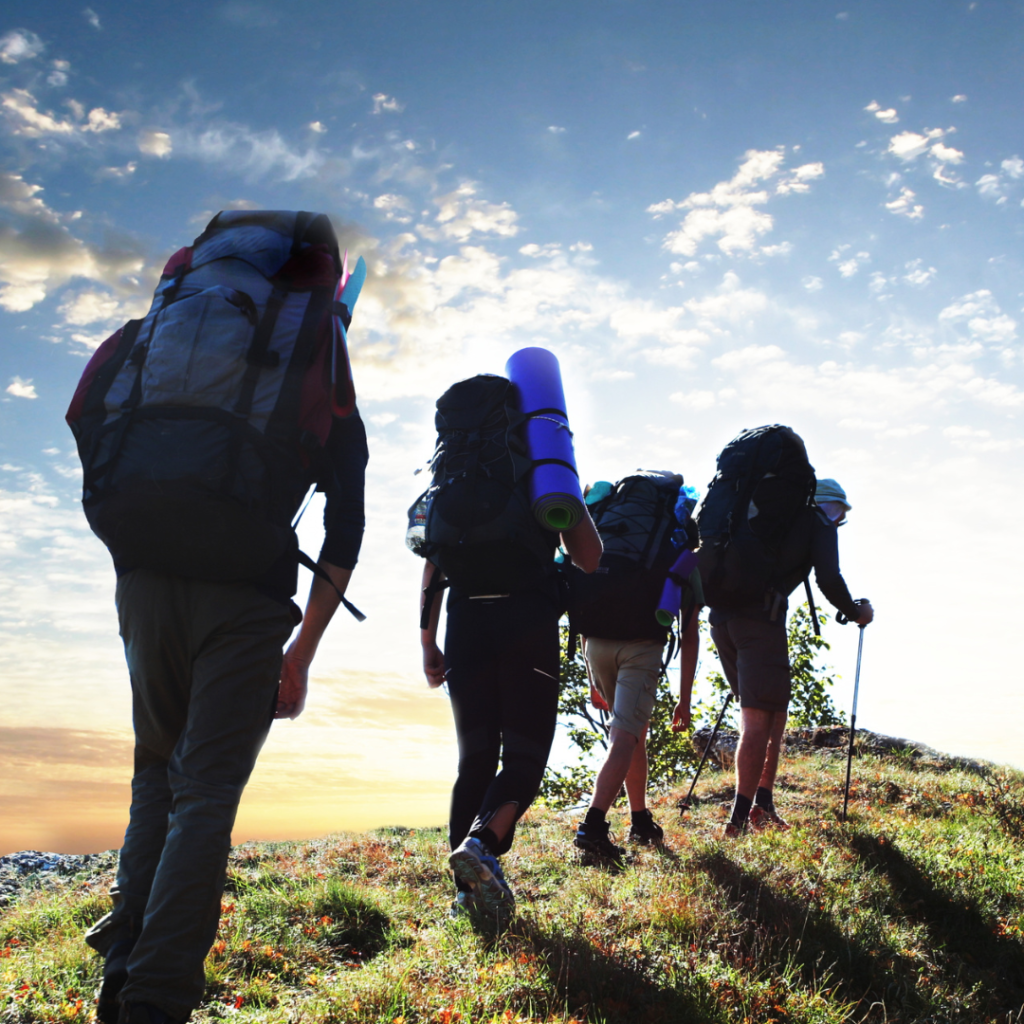 Travel, Food and Accommodation
Our project will start in Tallinn (on 2nd of July there is also a Song Festival happening), then we will be hiking and tenting for 4 days and we will finish close to Parnu hosted by the local Youth Center.
During 4 nights of the project we will sleep in tents. Participants will be accommodated three people per each tent, sorted by same gender and by different nationalities. Tents, matreses and sleeping bags will be carried by a car. (Backpacks no!)
From 1st to 4th of July we will stay in the hostel in the Old Town of Tallinn in shared rooms, so be prepared to share spaces with other people. Last 3 nights we will stay in the Youth Centre in Sauga, which is just 15 minutes from Pärnu!
All travel costs will be fully covered by BRAVO.
Complete the BRAVO- APPLICATION FORM with in English title as following "name of the project you are applying for" until 23:59 on deadline day.
Deadline for applying: 20.05.2023.

 

Selection results: 23.05.2023.

 

PARTICIPATION FEE: NO PARTICIPATION FEE

 

If you have any questions don't hesitate to contact us at: office@bravo-bih.com
If you have any questions feel free to contact
BRAVO TEAM
On the video below you can hear very useful information for this mobility.