Open Call for 5 Participants from Bosnia and Herzegovina for Youth Exchange
"STOP BULLYING",
Kruševo, North Macedonia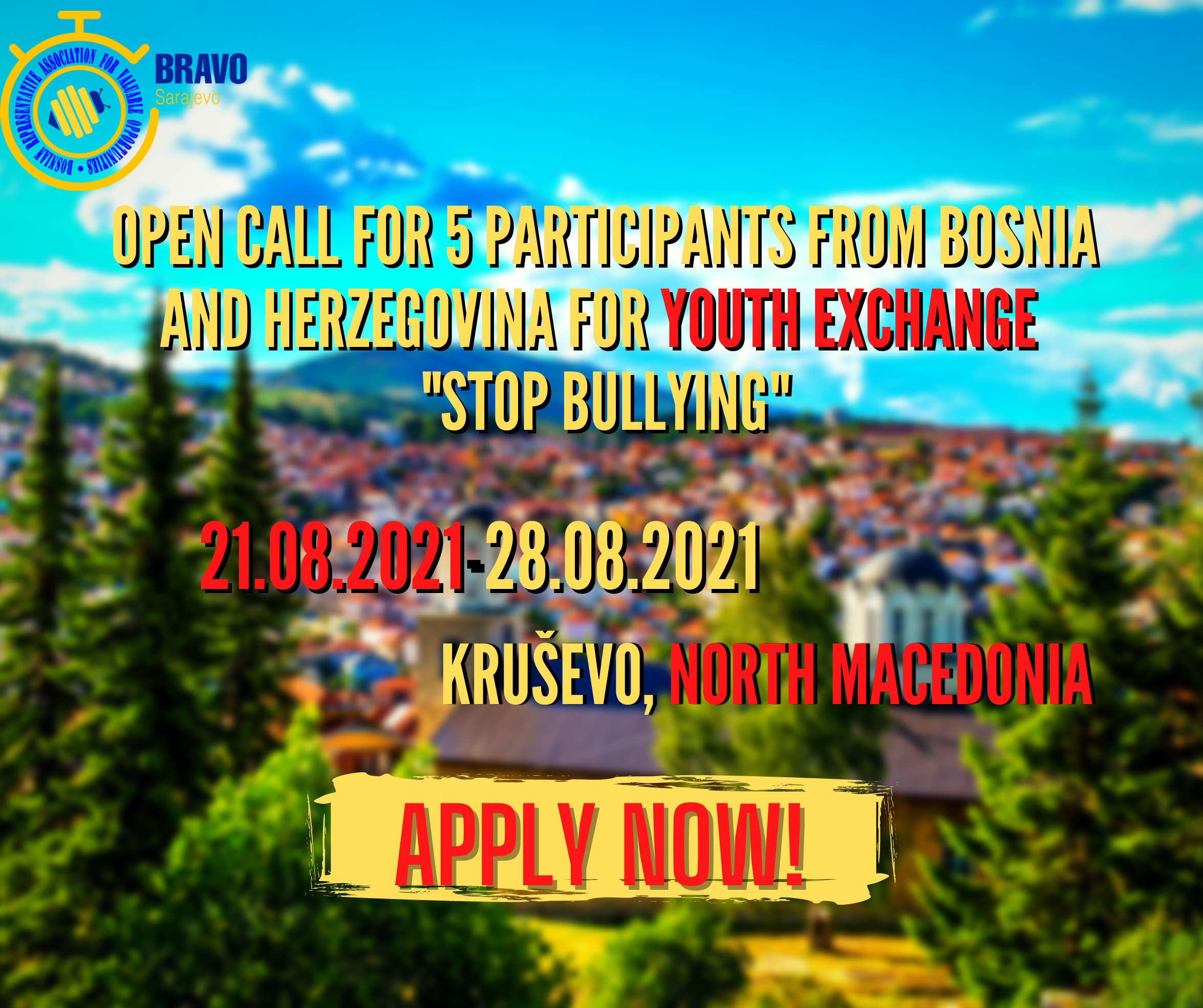 Name of the project: "Stop bullying"


Date of Project: 21.08.2021 – 28.08.2021.


Hosting organization: "Associoation for advanced contemporary education Volvox – Bitola"


Sending organizations: "BRAVO"
Place: Kruševo, North Macedonia


Participants age: 18 – 30


The number of participants : 4+1


Working language: English

Deadline for applying: 25.07.2021.
This project is financed by the European Commission through the Erasmus Plus Program. This publication reflects the view only of the author, and the European Commission cannot be held responsible for any use which may be made of the information contained therein. By Erasmus+ rules organizers will cover travel costs, accommodation and food.
This youth exchange will answer all questions as well as many others that are important to stop bullying people, especially to children and young people.
Schools and social networks are where bullying is most prevalent. In school desks and yards, between classes, on long breaks, but also outside educational establishments – swearing, beatings, humiliation, and ridicule from their peers. Peer violence is a daily occurrence, but there is little talk about it. Тhe phenomenon of bullying has an increasing incidence, the danger coming from its false impression of normality, most people accepting it as a common component of everyday life. Bullying does not only involve physical violence and does not always occur in the eyes of teachers, so opportunities for action are limited. Children and young people who are victims of violence from their peers can have serious and lasting effects on their mental as well as physical health. In the worst case, long-term bullying can also end in suicide for victims. The sooner the abuse is prevented, the better it will be for the victim, but the authorities believes that the system does not recognize the signs of bullying and that the authorities are responding when it is too late.
With the realization of this youth exchange, greater emphasis will be given to the youth people who will take part in the activities will expand the knowledge they will acquire, and thus will reach and will raise
Awareness of many other young people. They will learn that bullying is often considered a form of physical or psychological violence, and has some different root causes than other types of violence, and also may require different prevention strategies. Participants will understand how to compare bullying vs violence.
The objectives of the project are:
 To understand what bullying behavior may look like and how to take measures to prevent all forms of bullying


Improving strategies and responses to incidences of bullying that will address the causes of bullying and help avoid any recurrence


To learn to use specific strategies for addressing, reporting, and following up on bullying behavior when it occurs


Recognize the significance of bystanders in a bullying episode knowing how to intervene in bullying behavior when  it occurs;


knowing how to follow up and report on bullying behavior;


knowing how to make positive choices when witnessing or having an experience of bullying;
Association of advanced modern education Volvox work to improve the opportunities and conditions for early childhood development, innovative projects in primary, secondary and higher education, education for the European Union, working with gifted and talented children, lifelong learning and other aspects of the educational process Macedonia and beyond.

Partnership and cooperation with institutions, other similar organizations at national and international level and the interested society are the basic principles of the association.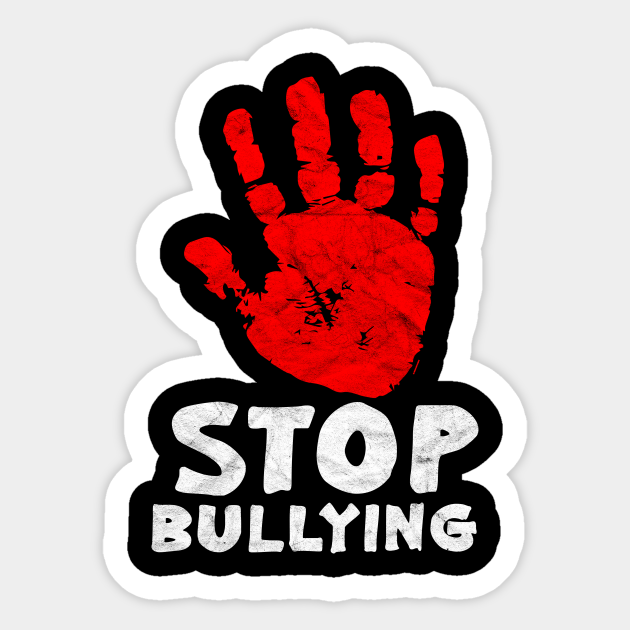 PROFILE OF PARTICIPANTS
In the Youth exchange "Stop Bullying" will be involved 7 countries: Republic of North Macedonia, Turkey, Spain, Slovakia, Italy, Bosnia and Herzegovina, and Lithuania. Together there will be 28 participants and 8 youth leaders.
We search motivated people who will contribute to this project with their knowledge. We will take into consider people who doesn't have too much experience, but are willing to learn about the topic of the project. Willingness to disseminate and multiply the results of the project in their community.
Be present and have an active participation on all sessions. Show initiative and interest in the topic and follow up activities.
The project will take place in Kruševo. Kruševo is the highest town in North Macedonia and one of the highest in the Balkans, situated at an altitude of over 1350 m (4429 feet) above sea level.
Vila Gora 1
Established in 2005, Villa Gora is a renowned and exclusive villa in Krushevo. It has 10 double, triple and four bed rooms, a restaurant and social places. Located in a hotel area on the edge of a pine forest near Kruševo woodland, Villa Gora offers comfortable accommodation and delicious food, easy access by car and parking place, total relaxation in urban and yet natural environment and also many activities in your free time. A lot of cultural and historical monuments as well as many natural rarities are in the nearby surrounding, offering memorable walks, sport and recreation.
Vila Gora 2 
The team of Villa Gora does not stop, and to your satisfaction and new location opens a completely new object VilaGora2. VilaGora2 is located 100m from Vila Gora and offers 8 double, triple and four bed rooms, a beautiful day care and private parking. Welcome to Kruševo, the highest city in the Balkans VILAGORA will offer you comfortable accommodation, as well as professional, efficient and appropriate service, while offering a variety of natural beauties that will make your stay cost effective. Comfort and professionalism will deserve your trust so eagerly we will be waiting for your next stay.
Food, accommodation and youth exchange are fully covered. The project will cover only expenses during the project days (21.08.2021 – 28.08.2021) . 21st is arrival day and on 28th we are finishing with breakfast. The travel costs are reimbursed up to the limits. These limits are described in the table. Please note that to be able to reimburse your travel costs

we need all your original travel documents (tickets, boarding passes, invoices…)!!!

The reimbursement will be done via bank transfer after receiving all the original travel documents and proof of realized dissemination. Transfers by Taxi will not be refunded.
*NOTE: IF IS A PROBLEM TO FIND A TRAVEL WAY TO KRUSEVO WE WILL ORGANIZE A BUS FOR A WHOLE GROUP FROM THE CITY OF BITOLA!!!!! (YOU WILL BE INFORMED FOR A TIME AND PLACE )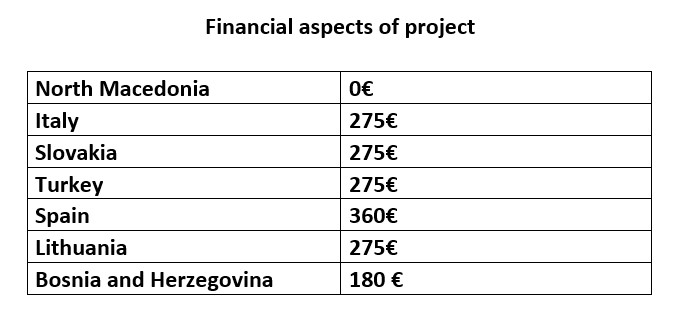 DIETARY, HEALTH&OTHER SPECIAL REQUIREMENTS
It is a highly recommended for all participants to provide their own health insurance. This should cover you for the full duration of your time in North Macedonia. The European medical insurance card is valid also in North Macedonia and all participants coming from EU country must bring it with them.
Please inform us as soon possible if you have any food allergies or special dietary requirements so that we can inform the caterers and so that they can prepare meals that are suitable for you. If you have any others allergies, need to take regular medications or for see a need for general medicines during your time in North Macedonia (for example headache tablets, travel sickness pills, etc.) please arrange these yourself as we are unable to provide them for you. If you have any health conditions , disabilities or mobility issues that you feel wended to be aware of that may affect your participation of the youth exchange activities, then please let us know what they are and how best to assist you.
We will create a Facebook Group to share information with you before, during and after the project. You can also use it to get to know the other participants before you arrive.
During the project we will have the intercultural evenings, where you will have the opportunity to present share with the group interesting things about your country. This is the time to put your creativity into action and to find fun ways to share your culture. You can bring traditional food, snacks with others.
What to bring ? 
Passport or other official identification
Insurance
Comfortable clothes for living outdoor & indoor
Something typical for your national evening (food, special it ems, etc.)
Medicine, if you take any
Research about the situation with bullying in your country
Smiles, willingness and good mood!
Contacts: 

Antonio Kolondjoski 
antonio_kolondzovski@hotmail.com 
+389 75 272 092

Elena Temelkovska  
elena.temelkovska@hotmail.com
+389 71 249511

Kristina Petrovska
kiki_petrovska@hotmail.com
+389 78 269022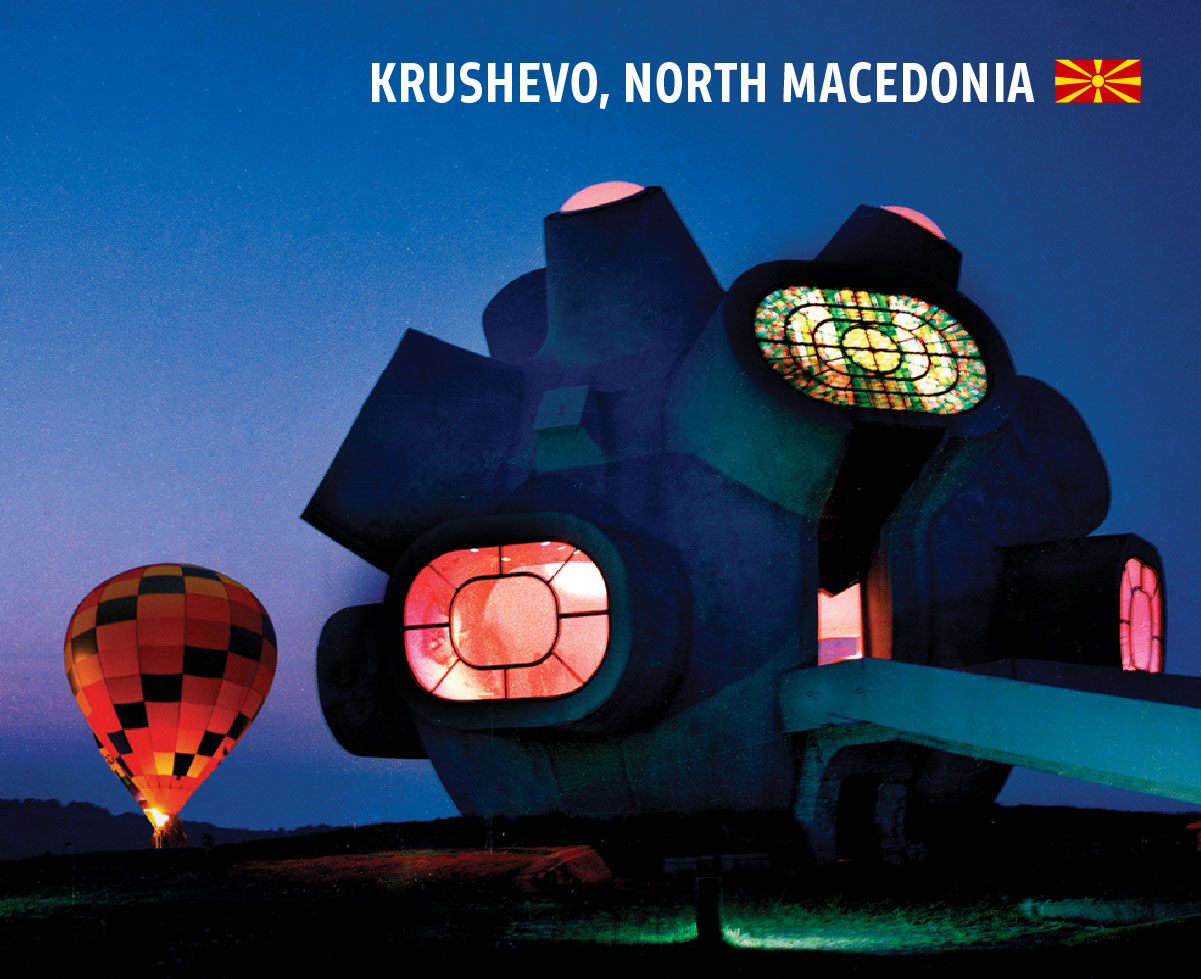 If you have any questions feel free to contact
BRAVO TEAM