Open Call for 5 Participants from
Bosnia and Herzegovina
for Youth Exchange in Italy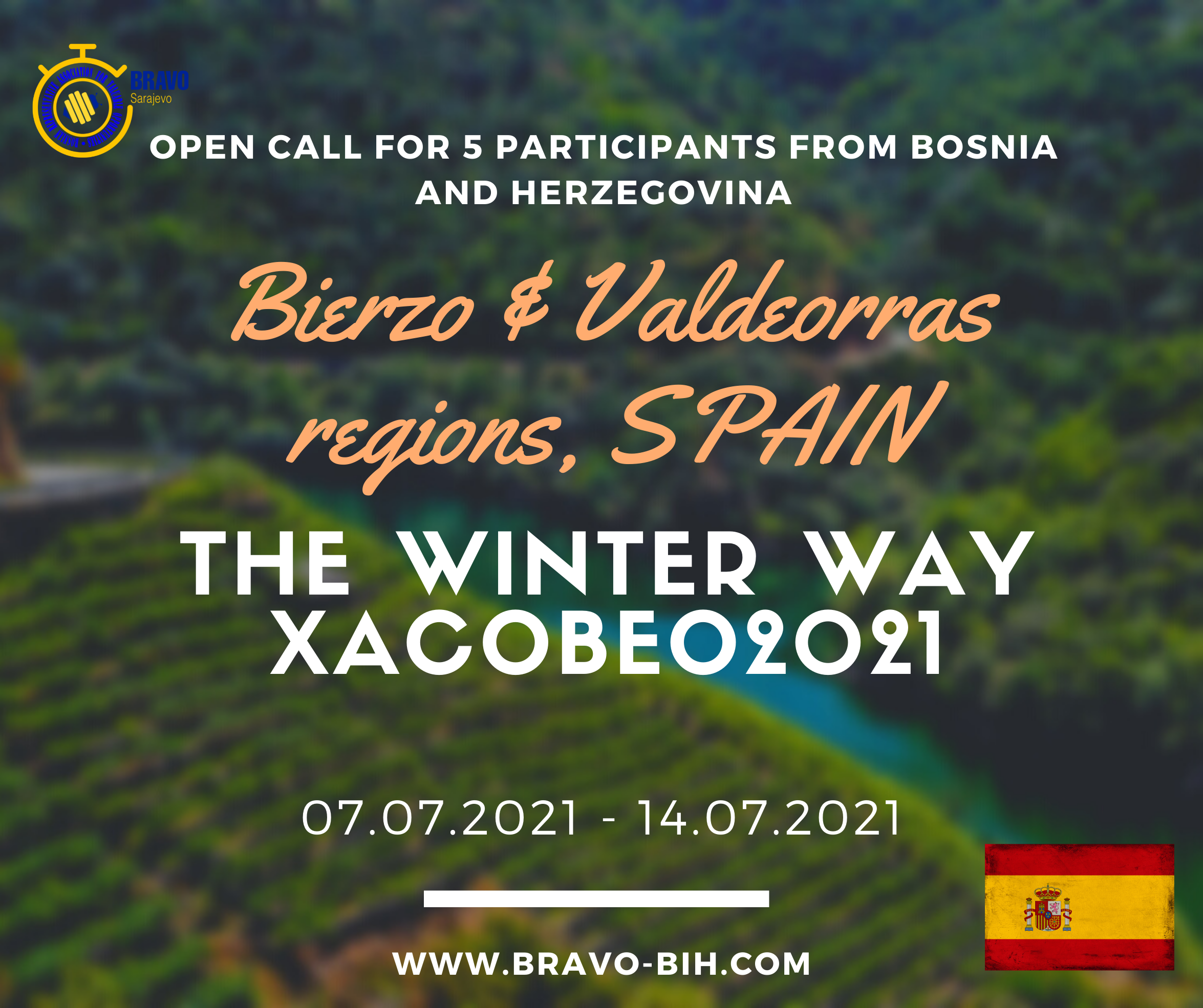 Name of the project: YE  " The Winter Way Xacobeo 2021"


Date of Project: 07.07.2021 – 14.07.2021.


Hosting organization: "Valdeorras Vive"


Sending organizations: "BRAVO"


Place: Bierzo & Valdeorras regions, Spain


Participants age: 18 – 30


The number of participants: 4+1


Working language: English


Deadline for applying: 05.06.2021.
This project is financed by the European Commission through the Erasmus Plus Program. This publication reflects the view only of the author, and the European Commission cannot be held responsible for any use which may be made of the information contained therein. By Erasmus+ rules organizers will cover travel costs, accommodation and food. 
WHAT IS THE WAY OF ST. JAMES?
is a network of pilgrims' ways or pilgrimages leading to the shrine of the apostle Saint James the Great in the cathedral of Santiago de Compostela in Galicia in northwestern Spain, where tradition has it that the remains of the saint are buried. It began in the 11th century and for centuries marked out the itinerary of
the routes that converged in Santiago de Compostela, their final destination. Many follow its routes as a form of spiritual path or retreat for their spiritual growth. It is also popular with hiking and cycling enthusiasts and organized tour groups.
The Winter Way (Camino de Invierno), a route originated as an alternative for those pilgrims who made the French Way during the winter months and wanted to avoid the huge snowfalls came down in O Cebreiro. It's one of the less busy Caminos you may find to reach Santiago de Compostela.


This alternative way is the natural entrance to Galicia from the central plateau, an access already used by the
Romans. It walks through historical regions full of personality such as Bierzo or Valdeorras. It starts in Ponferrada, where practically follows the natural course of the caudaloso River Sil through the Valdeorras region of Ourense.
WHAT IS XACOBEO 2021?
Galicia is preparing for the Xacobeo 2021, eleven years after the celebration of the last Holy Year. The Xacobeo is a period of time in which all the believers who visit the tomb of the Apostle in the Cathedral of Santiago receive the plenary
indulgence from the Church; that is, the forgiveness of all sins. 
Depending on the people, there are many reasons to follow these routes:
As a form of spiritual path or retreat for their spiritual growth

Leading to the shrine of the apostle Saint James the Great

Sportive trip for hiking and cycling through the nature
However, all of them end up as a way of meeting new people and enjoying an intercultural experience due to the big affluence of pilgrims from all over the world.


So according to this, The Way is a natural exchange of experiences between people from different countries which will help participants to understand how pilgrims use to feel and how relationships create quicker if you have an spiritual & hard-sportive activity on your back.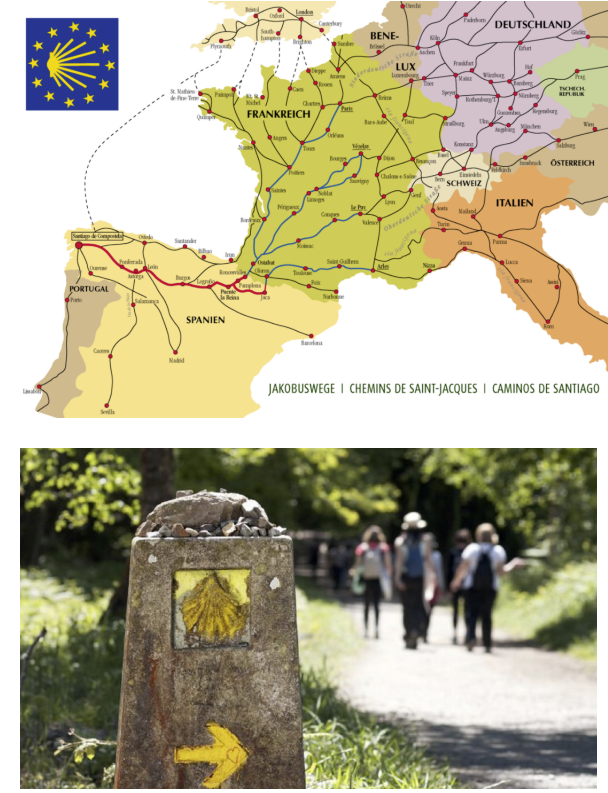 OBJECTIVES OF THE PROJECT
• Value the material and intangible heritage of our region and the unknown Winter Way to Santiago that crosses it

• Foster a critical look with the emerging tourism model that we want to build in the future of our region, based on the defense of heritage, respect for nature and thought to be sustainable

• Share cultural values linked to the pilgrim's experience,
discuss and share what the traveler or immigrant brings to the local culture and vice versa

• To reinforce understanding and interest in other cultures and their views, basic concepts and peculiarities through
intercultural learning

• To promote positive and respectful attitudes toward various cultures, people and their specialty

• To increase levels of tolerance, peace and cooperation. To
create strong, lifelong connections among the participants by deep understanding and sharing culture
MVNGO is part of 3 international networks such as YEE, ISCA and MV International.
MVNGO is an educational training provider at local, European and trans-continental level.
For our staff of professionals it means being social entrepreneurs and keeping the passion for social purposes, in a modern concept of NGO.
Total of participants: 20 young people
Total per country: 5 participants (4 participants + 1 group leader)
Age of participants: 18 – 30. Team leader without age limitations
Enthusiastic, interested in the topic and aware that we will be walking long hours for several days


Young people who are willing to contribute the project
 
Able to participate the whole project (participants will not be able to arrive after or to leave before the arrival/departure day is establish on the project) 


Good command of English language 


Eager to exchange thoughts with participants with other backgrounds and cultures
We are going to be pilgrims for 8 days so you
must come prepared as a pilgrim
As we will be pilgrims walking for several hours some of the days, bring comfortable clothes to do exercise: boots for hiking, tracksuits, comfortable pants… There will be washing machines or participants will wash their clothes by hand as the pilgrims do. Backpack is mandatory, suitcases are not allowed.

As we will be mainly outside enjoying outdoor activities in towns with streets made of stones, bring comfortable shoes for the activities as sneakers.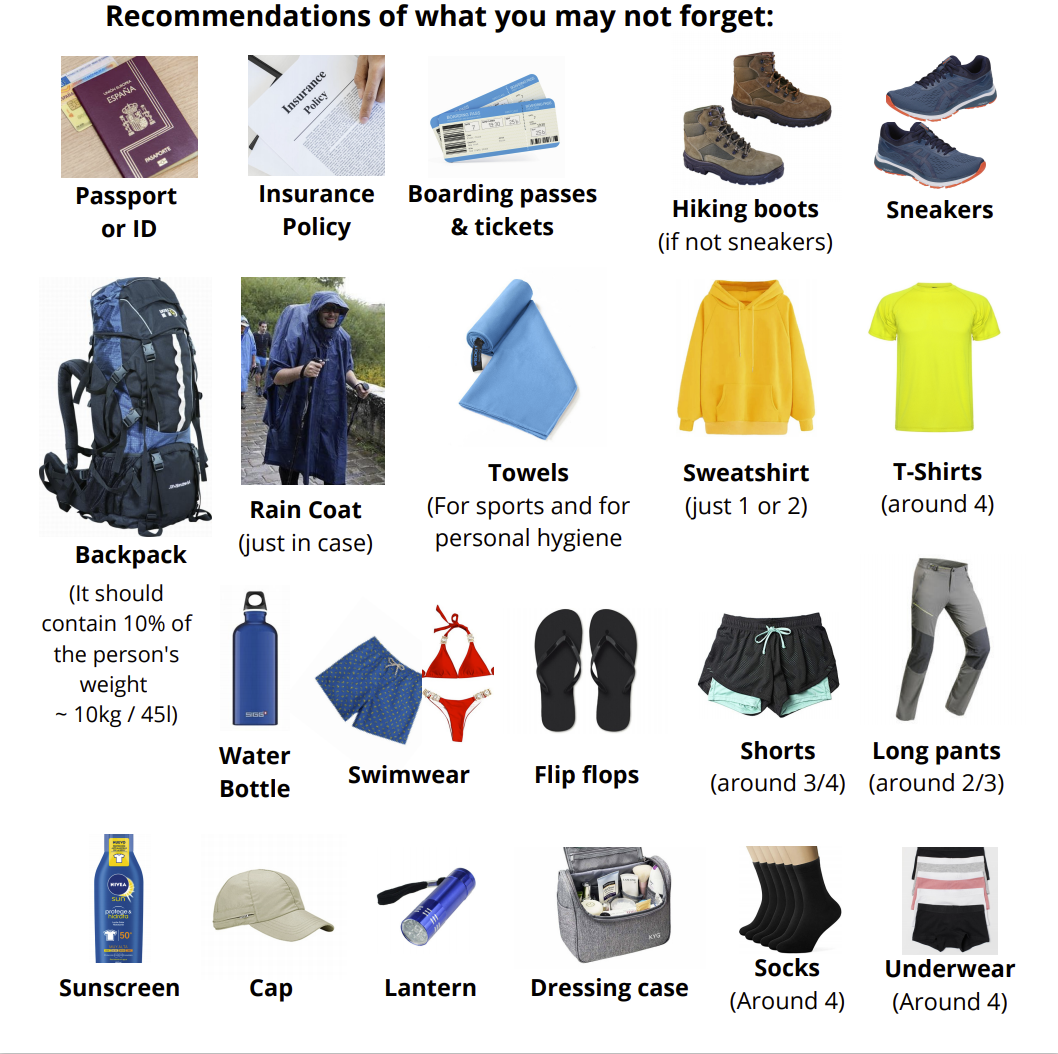 Participants will be hosted in different pilgrim hostels during the project enjoying the tradicional food from el Bierzo and Valdeorras.
Accomodation´s schedule is:
2 nights in PONFERRADA
3 nights in CARUCEDO
2 nights in SOBRADELO
2 nights in VILAMARTÍN DE VALDEORRAS
Moreover, participants will visit several towns throughout The Winter Way, but we will specially stop by CORNATEL, ORELLÁN, Las MÉDULAS and O BARCO DE VALDEORRAS.
Pilgrim hostels are usually bunk beds, so participants must be aware that both sexes will sleep in the same shared rooms. There will be a common room for participants to interact.
Participants will enjoy The Winter Way walking as a pilgrim by themselves a little part of it. Due to there are programmed
several workshops, discussion sessions and other kind of activities, we cannot travel that much, so that, participants will
experience the feeling of walking as a pilgrim only for 4 days.
All participants must look for the best price of their travel tickets to Madrid. First days of the project will be in Ponferrada,
so participants must arrange their tickets to Ponferrada.


**Tips to search your tickets from MADRID to PONFERRADA: Take the ALSA Bus from the Airport of Madrid to Ponferrada You can buy your tickets in www.alsa.es


From Madrid´s Airport
Take the ALSA Bus from the Airport of Madrid to Ponferrada
You can buy your tickets in www.alsa.es
Travel time: around 5 hours
Ticket price aprox.: 25 €
From Madrid city – Moncloa:

Take the ALSA Bus from the Moncloa to Ponferrada
You can buy your tickets in www.alsa.es
Travel time: around 5 hours
Ticket price aprox.: 25 €
From Madrid city – Estación Sur:
Take the ALSA Bus from the South Bus Station close to Mendez Álvaro
Metro Station to Ponferrada
You can buy your tickets in www.alsa.es
Travel time: around 5 hours
Ticket price aprox.: 25 €
PARTICIPANTS TRAVEL BUDGET:
SPAIN  – 20€
ROMANIA – 530€
BOSNIA & HERZEGOVINA – 360€
TURKEY – 530€
Let´s make this Youth Exchange unforgettable!
Complete the BRAVO- APPLICATION FORM in English title as following "name of the project you are applying for" until 23:59 on deadline day.


Deadline for applying: 05.06.2021.


Selection results: 10.06.2021.


PARTICIPATION FEE: 25€


If you have any questions don't hesitate to contact us at: office@bravo-bih.com
If you have any questions feel free to contact
BRAVO TEAM