BRAVO announces a call for 5 participants for a Youth Exchange in Slanic Moldova from 19.02. until 01.03.2020. for citizens of B&H and those living in this country.
Name of the project: "EMBRACING THE COLORS "
Date of Project: 19.02.2020 – 01.03.2020.
Applicant organization: ASOCIATIA PENTRU DEZVOLTARE ACTIVA ADA
Hosting organization: ASOCIATIA PENTRU DEZVOLTARE ACTIVA ADA
Sending organization: "BRAVO"
Place: Slanic Moldova, Romania
Participants age: 16 – 25
The number of participants: 4 + 1 leader (no age limit)
Working language: English
Deadline for applying: 20.01.2020
This project is financed by the European Commission through the Erasmus Plus Program. This publication reflects the view only of the author, and the European Commission cannot be held responsible for any use which may be made of the information contained therein. By Erasmus+ rules organizers have to cover travel costs, accommodation and food.
WHY? l CONTEXT

EMBRACING THE COLORS is an initiative of ADA's volunteers, who have decided to actively get involved in promoting human rights and to fight against discrimination of Roma young people. Europe is facing a surge of populism and radicalization of young people so that more and more young people are publicly positioning themselves against immigrants, often Roma, rejecting cultural and/or ethnic diversity, and amidst the lack of mass-endorsed information media, in school textbooks or other educational sources on Roma history and the events in Europe that transformed the Roma community into one of the poorest and marginalized ethnic minorities or on the culture and life of young Roma, the phenomenon of "anti-gypsyism" becomes stronger in EU member countries and beyond EU. In general, we witness a negative portrayal of the Roma community in the media and on social networks, which contributes to the perpetuation and reinforcement of prejudices, stereotypes and discriminatory attitudes that directly affect young Roma. The young Roma people's challenges are many and the high level of discrimination causes a deep impact upon their selfesteem and self-trust, leading to further stigmatization and exclusion.
WHAT? l PROJECT'S MAIN OBJECTIVES:

To fight against the "antigypsyism" and to improve the perception of the Roma community by the local communities through the involvement of 44 young people from 10 different countries in initiating and carrying out 10 online and offline awareness campaigns about Roma young people's challenges and Roma culture, promoting the cultural and ethnic diversity. To increase the degree of understanding, acceptance, tolerance and openness to the Roma community of 44 young people through non-formal education methods and different interactions between the young people and the young Roma people during the youth exchange. To develop the social responsibility and the civic attitudes of the 44 young people participants in the youth exchange, but also social inclusion opportunities for 23 young people with fewer opportunities, of which 5 young Roma people.
WHO? l PARTICIPANTS' PROFILE

The young people participating in the youth exchange must be pupils, students or NEET young people, interested in the project's topics, who would like to actively get involved in fighting antigypsyism and change the bad perception of the Roma community in their own local communities, but to be able to do this, they need to participate in this project so they can develop specific competencies and a proper motivation to become (all) human rights activists. The group leaders must be youth workers (volunteers' coordinators, facilitators, trainers, etc.), part of the partner organizations, with a high experience in youth working and European projects (especially youth exchanges). Each partner will be represented in the Youth Exchange by 4 young people with the age between 16 and 30 years old and 1 group leader with the age above 18 years old.
HOW? l PROJECT'S MAIN ACTIVITIES
The project's main activity is a youth exchange with participants from Partner countries to be held in Bacau, Romania, between 19th of February and 1st of March 2020, with the participation of 44 young people with the age between 16 and 30 years old and 11 group leaders with the age above 18 years old, from 10 different countries: Romania, Malta, Moldova, Bulgaria, Spain, Ukraine, Bosnia and Herzegovina, Italy, Greece and Turkey. EMBRACING THE COLORS is a carefully planned social inclusion project, which aims to contribute to the personal, professional and social development of 44 young participants, of which 23 with fewer opportunities (including 5 Roma young people) by developing a safe environment aiming to facilitate the involvement of all young participants in all project's phases. During the youth exchange we will organize: teambuilding sessions; working sessions aiming to develop the young people understanding about inclusion and exclusion; informing and sharing sessions about the Roma people's culture, history and challenges; a street debate in Onesti (Main topic: When did you fought last time for human rights?); an intercultural and study visit in a Roma community, where the young participants in the youth exchange will interact with the Roma community and they collect different stories which they will further tell through community journalism, media advocacy and forum theatre; specific sessions for the preparation of the 3 forum theatre roll plays; one forum theatre event in Onesti; training session in the field of media and social media campaigns; creative working sessions where the young participants will develop media content for their campaigns; intercultural evenings; sharing, reflection and evaluation sessions.
PARTNER ORGANIZATIONS
Bosnia and Herzegovina – BOSNIAN REPRESENTATIVE ASSOCIATION FOR VALUABLE OPPORTUNITIES BRAVO
Bulgaria – ASSOCIATION OF RUSE IN HELP FOR SOCIETY AND YOUNG PEOPLE
Greece – HELLENIC YOUTH PARTICIPATION
Italy – ASSOCIAZIONE CULTURALE JUMPIN
Malta – TERRA DI MEZZO (TDM) 2000 MALTA
Republic of Moldova – ASOCIATIA OBSTEASCA ALTERNATIVA
Romania – ASOCIATIA PENTRU DEZVOLTARE ACTIVA ADA
Spain – ASOCIACION XUVENIL AROUSA MOZA
Turkey – WORLDEST ORGANIZATION
Ukraine – MOLODIZHNI INITSIATIUI KROKYUT SVITOM MIKS
The project's main activity is a youth exchange to be held in Slanic Moldova, Romania, between 19th of February 2020 (arrival day) and 1st of March 2020 (departure day). Please remember that all the participants must arrive in Slanic Moldova (Bacau County, Romania) NO LATER than 19th of February 2020, at 23:59 (Romanian time, GMT+3) and must leave from Slanic Moldova (Bacau County, Romania) NO SOONER than 1st of March 2020, at 00:01 (Romanian time, GMT+3).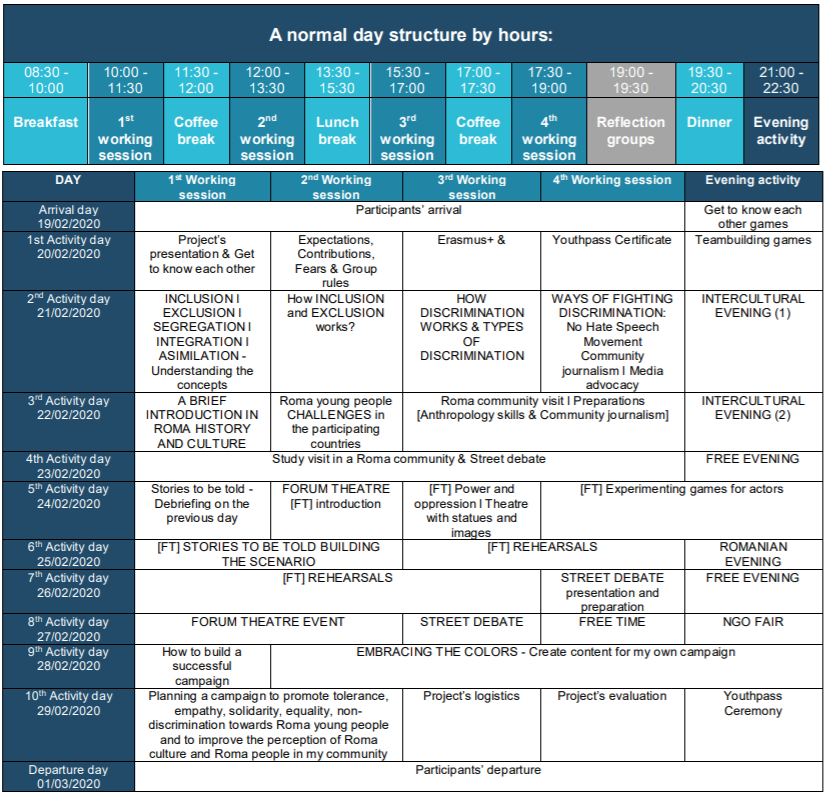 INTERNATIONAL TRAVEL – From your country to Romania
If you choose to travel by plane, you can search for flights to Otopeni Airport (Bucharest), Iasi Airport or even to Bacau Airport (on Bacau airport it is flying only Blue Air), which is the closest city to Slanic Moldova, the place where the training course will be held. It is better if you land in Romania in the morning on 17th of October and you depart from Romania in the evening on 1st of October, as the training course will be held in Slanic Moldova, Bacau county, and you need to take into consideration the internal travel, from the airport to the place where the project will be held. You can check for the tickets, but before buying them let us know about the price and the full schedule of your travel. Just after our approval you may buy your tickets. Please take in consideration the fact that only the bus and train tickets are allowed to be paid in cash. All flight tickets must be bought through bank (credit card, online transfer, payment order etc.) even if you are buying them online or directly from the airlines company of another travel agency. You can find attached also a Travel form. After establishing your travel plan and you buy the tickets, please fill in the travel form and send it to us no later than 5th of October 2019. We need it to be able to organize your internal travel to Slanic Moldova. The deadline for the participants to buy their travel tickets is 5th of October 2019. On 6th of October we will open the call for participants outside the consortium (the partner organizations) if there will still be free places. If you need help in the selection process, please let us know in time.
INTERNAL TRAVEL – How to get to Slanic Moldova

After receiving all your travel plans, we will help you to organize the internal transportation, from Bucharest/Iasi/Bacău to Slanic Moldova on 17th of October 2019 and from Slanic Moldova to Bucharest/Iași/Bacău on 1st of November 2019. There are 3 daily busses from Bacau to Slanic Moldova. At 7:30am, 12:30pm and 4:10pm. From Iasi, there is only one bus to Slanic Moldova that leaves at 2pm and arrives in Slanic Moldova at 6pm. From Bucharest there are no busses to Slanic Moldova. Still, there are plenty of transportation ways from Bucharest (even straight from the Otopeni Airport) to Bacau, including busses and trains (but keep in mind that the last bus from Bacau to Slanic Moldova is at 4 pm).

Here you may find some bus companies websites to check their schedule: www.massaro.ro l www.teisa.ro l www.apetrans.ro Here you may find the train company website to check their schedule: www.cfrcalatori.ro

Still, for the TC the easiest way to get to Slanic Moldova is to rent a bus to bring all participants from Bucharest straight to the hotel. The costs for the rented bus will be split among the participants using this bus. If more participants are using the bus, the costs will be shared and the price will be cheaper individually. Also the costs for this bus are part of your travel costs and will be reimbursed according to the already approved budget limit. If you choose this option, please let us know in time, to be able to organize everything (please check the travel form where you can add this option). The bus will leave from Bucharest after the last participant who chose to use this bus will land, but no later than 4 pm to be able to get in Slanic Moldova at least at 9 pm.
You will receive further information about the intern transportation as we centralize all your travel plans, with at least 7 days before your travel to Romania.
ABOUT THE GROUP LEADERS
It is very important for you, as partner, to choose wisely the group leader, as he/she will have a very important role during the entire project, especially in participants' preparation and during the youth exchange. The group leaders must be youth workers (volunteers' coordinators, facilitators, trainers etc.), part of the partner organizations, with a high experience in youth working and European projects (especially youth exchanges). The group leader must be above 18 years old.
Recommended group leader's profile:
Has interpersonal and communication abilities;
Has a strategic thinking and is focused on results thinking;
Has a positive and supporting attitude;
Has Team spirit; Pays attention to details and promotes a positive attitude among the participants;
Has coordinating, planning and organizing abilities;
Has English speaking skills (at least medium level);
Has experience in volunteering, non-formal education and youth work;
Is a good mediator;
Has facilitating abilities;
Has evaluating abilities.
ABOUT THE YOUNG PARTICIPANTS
Number and age of participants:
Every each partner will be represented during the youth exchange by 4 YOUNG PARTICIPANTS with the age between 16 and 30 years old and a group leader.
Participants' background:
The 4 participants from every each group should be young people interested in the project's topics, motivated to participate in the youth exchange by the learning process and also opened to get involved in the dissemination and follow up activities. They may be pupils, students or NEET young people, interested in the project's topics, who would like to actively get involved in fighting antigypsyism and change the bad perception of the Roma community in their own local communities, but to be able to do this, they need to participate in this project so they can develop specific competencies and a proper motivation to become (all) human rights activists.
Gender balance:
It is important that in the participants' selection process to take into consideration also the gender equality criteria. It is recommended that your group to be composed by 2 male and 2 female.
Participants with fewer opportunities:
Taking in consideration that Erasmus+ is a program that develop opportunities also for those with fewer opportunities, this project it is a good opportunity for you to involve also the youth workers with fewer opportunities from your own organization.
Thus, we highly recommend you that at least 2 participants from every each national group to be with fewer opportunities (financial difficulties, geographical difficulties, special needs etc.)
 Disability (i.e. participants with special needs): young people with mental (intellectual, cognitive, learning), physical, sensory or other disabilities etc.
 Health problems: young people with chronic health problems, severe illnesses or psychiatric conditions
 Educational difficulties: young people with learning difficulties, early school leavers, lower qualified persons, young people with poor school performance etc.
 Cultural differences: immigrants, refugees or descendants from immigrant or refugee families, young people belonging to a national or ethnic minority, young people with linguistic adaptation and cultural inclusion difficulties etc.
 Economic obstacles: young people with a low standard of living, low income, dependence on social welfare system, young people in long-term unemployment or poverty, young people who are homeless, in debt or with financial problems etc.
 Social obstacles: young people facing discrimination because of gender, age, ethnicity, religion, sexual orientation, disability, etc., young people with limited social skills or anti-social or high-risk behaviours, young people in a precarious situation, (ex-)offenders, (ex-)drug or alcohol abusers, young and/or single parents, orphans etc.
 Geographical obstacles: young people from remote or rural areas, young people living on small islands or in peripheral regions, young people from urban problem zones, young people from less serviced areas (limited public transport, poor facilities) etc.
 NEET category – young people not in employment, education or training.
ACCOMMODATION AND FOOD

The accommodation is 100% covered by Erasmus+ Programme, between 19th of February 2020 (Check in after 14:00) and 1st of March 2019 (Check out before 12:00).
During the Youth exchange participants will be hosted at Pensiunea Poiana Verde1 from Slanic Moldova. The rooms are for 3 people. Some of the rooms have 3 beds, others TWIN beds and a couch, others have a matrimonial/shared bed and a third bed or a matrimonial/shared bed and a couch.
The food and coffee breaks are 100% covered by Erasmus+ Programme.
There will be three meals per day (breakfast, lunch and dinner) and 2 coffee breaks per day. On the arrival day it is included just the dinner and on the departure day it is included both, breakfast and lunch. It is very important to tell us if you have any allergies or if is there something that you do not eat, if you are vegetarian or vegan, have a diet, etc. This is why it is important all participants to fill out carefully the application form and to not forget to send it to us before 31st of January 2020.
If any participant wants to stay longer in Romania, this is possible up to 2-3 days before and 2-3 days after the mobility. Still, all costs related to the extra days (for food, accommodation, trips, local transportation or other type of costs who were not made for the project) must be covered by the participant himself/herself.

TERMS AND CONDITIONS:

To be able to cover the costs for the accommodation and food, the participant needs to sign at the end of their mobility a participant statement and the participants' list. A participant aborting his/her/their mobility (leaving earlier) means covering the accommodation and food by himself/herself for the days he misses, as there is signed an agreement with the hotel and there are involved some costs meaning that we still have to pay for the days remaining from the project. Also, at the end of the mobility, each group leader must fill in the individual report, on the Mobility tool website in maximum 7 days after the mobility ends, according to Erasmus+ rules.
OTHER INFORMATION/LOGISTICS

We recommend you to have medical travel insurance before coming for your stay in Romania. The medical help might be expensive here if you do not have travel insurance. The travel insurance cost it isn't an eligible cost for the project budget so it cannot be reimbursed. We also recommend you to have you your personal medicines (during the activities we will have a First Aid Kit and some general medicines in case someone ask for it). Please bring comfortable warm clothes. The average temperatures are usually oscillating between 10 and 20 Celsius degrees during the day and 0 – 10 Celsius degrees during the night for the period when the project will be held. We will give you further information about the weather as the training course gets closer.10 Also, please bring your favorite music and anything else you consider necessary, including slippers, hairdryers (not all the rooms have a hairdryer) etc. At the hotel, there is internet access and towels. We also recommend some of the participants to bring a laptop.
TRAVEL COSTS

Travel costs are budgeted according to Erasmus+ conditions, using the distance calculator from the city where each sending organization it is registered to the city where the mobility will take place.

DOCUMENTS FOR REIMBURSEMENT:

For the reimbursement of the flight ticket:

– The electronic ticket with the travel plan or the e-mail confirmation of your flight (the e-mail received when the ticket was bought);
– All boarding passes;12
– An invoice from the travel agency/website/airlines company from where the flight ticket was bought.13
– The payment confirmation: If you paid through bank (credit card, bank transfer, online payment etc.) you need a bank extract or a printed statement released by your bank showing the payment/transaction.

For any other travel tickets (busses, trains, ferry etc.):
If you buy your tickets from an office, in cash, then you need the ticket in original, with the price on it or the ticket and a receipt (if the ticket has no price on it).
If you buy your tickets online, then you need the electronic ticket and the payment confirmation (same as above).

For the visa costs reimbursement: A copy of the visa and the original invoice.
IMPORTANT: Only the original travel documents are taken in consideration for the reimbursement. Please be sure that you have and bring all the requested documents with you in Romania during the activity, as without them we cannot make you the reimbursement. Aborting the mobility/leaving earlier means not receiving the return travel costs. Invoices must be released by official travel companies/offices and not by the sending organizations. The invoices released by any sending organization does not count, as the sending organization is not a travel agency.
REIMBURSEMENT PROCEDURES:

Step 1: All the return documents (return boarding passes, return bus tickets, etc.) or any other missing travel documents will be send by all participants by post. Deadline: 01/12/2019
Step 2: We will collect all your travel documents from you (including the return ones) and we will centralize them in one reimbursement document for every each participant. Then, we will send this reimbursement documents back to you, by email to sign them (also your sending organization – as the receiver of the reimbursement – will sign and stamp them). Deadline: 15/01/2020
Step 3: Your sending organization will send us by email the reimbursement documents, signed by all participants and by its legal representative. Deadline: 01/02/2020
Step 4: After receiving the signed reimbursement documents we will make the money transfer through bank in the bank account of the sending organization or in the bank account of the participant if he/she/they requests this and agrees to pay the bank transfer tax. Deadline: 15/02/2020
The deadlines can suffer changes, depending on how fast you send the documents. It can be much earlier, but not later than 13/04/2020, when the project officially ends and no payment is eligible anymore.
ABOUT ROMANIA
Romania's famous Peles Castle, located in Sinaia mountain resort, was the first completely electrified castle in Europe. The electricity was produced by the castle's own plant.
The Voronet Monastery, located in north-eastern Romania, is also known as the "Sistine Chapel of the East". Its frescoes feature an intense shade of blue also known as the "Voronet blue".
The Astra Museum in Sibiu is the largest open-air museum in Romania, and the second-largest museum of this kind in Europe.
Romania not only has rich gold resources but also hosts Europe's only museum dedicated to gold.
Romania joined NATO in 2004 and the European Union in 2007
Bucharest's Palace of Parliament, also known as the People's Palace, is the world's largest civilian building with an administrative function and the second-largest building in the world after the Pentagon in the US. It covers some 330,000 sqm.
Timisoara, in western Romania, was the first city in Europe to have electric street-lighting (1889).
Bucharest was the first city in the world illuminated by oil lamps (1895).
Romania is home to Europe's largest population of brown bears. According to a 2014 wild animal census, Romania's forests are home to some 6,000 bears. That is why, in some mountain areas, you may see bears searching for food through garbage dumpsters.
The Carpathian Mountains are home to one of the largest virgin forests in Europe.
The Danube Delta is the second-largest river delta in Europe and the best preserved on the continent. The delta hosts over 300 species of birds as well as 45 freshwater fish species in its numerous lakes and marshes.
The famous British auto show Top Gear shot one of its episodes on Transfagarasan in 2009, naming it "the best road in the world".
Romania is the twelfth largest wine producer in the world and the sixth largest in Europe.
Romanians enjoy some of the fastest internet speeds in the world. According to the Ookla Net Index, nine cities in Romania are among the top 15 cities in the world with the highest download speed of fixed broadband internet connections.
Romania has one of the happiest and unusual cemeteries in the world. The Merry Cemetery, located in the village of Sapanta, in Maramures County, became famous due to its colourful crosses and the satirical poetry written on them.
Romania also hosts some spooky places. One of them is the Hoia Baciu Forest, also known as Romania's Bermuda Triangle. Several paranormal activities and unexplained events allegedly took place there: from ghost and other unexplained apparitions, to UFOs sightings.
Romania inspired Bram Stoker's novel Dracula and Jules Verne's The Castle in the Carpathians.
Romanian Nadia Comaneci was the first gymnast to receive a perfect score of ten in an Olympic competition. She made history in Montreal in 1976.
Romanian Nicolae Paulescu discovered pancreatine, later named insulin.
Petrache Poenaru was the Romanian who invented the world's first fountain pen.
HOW TO APPLY?
Complete the BRAVO- APPLICATION FORM in English title as following "name of the project you are applying for" until 23:59 on deadline day.

Deadline for applying: 20.01.2020

Selection results: 25.01.2020.

PARTICIPATION FEE: 25€ (only for selected participants)

If you have any questions don't hesitate to contact us at:

[email protected]