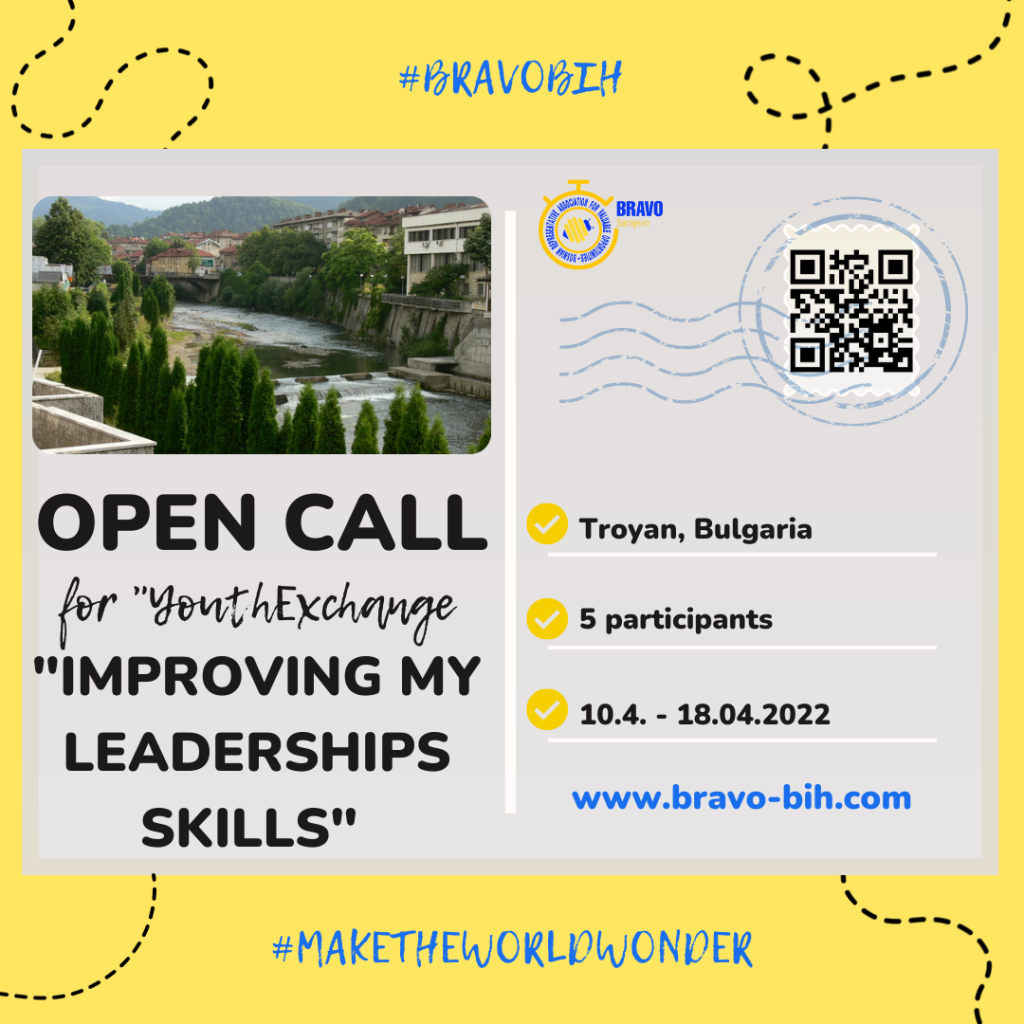 Name of the project: "IMPROVING MY LEADERSHIPS SKILLS"

 

Date of Project: 10.04.2022 – 18.04.2022.

 

Hosting organization: "Sdruzhenie:"ObzorArt""

 

Sending organizations: "BRAVO"
Place: Troyan, Bulgaria

 

Participants age: 18 – 25

 

The number of  participants : 5

 

Working language: English

 

Deadline for applying: 24.04.2022
This project is financed by the European Commission through the Erasmus Plus Program. This publication reflects the view only of the author, and the European Commission cannot be held responsible for any use which may be made of the information contained therein. By Erasmus+ rules organizers will cover travel costs, accommodation and food.
The youth exchange "Improving MY Leaderships skills" aims to provide to young people, leaders, participants with fewer opportunities and volunteers actively engaged in their communities an opportunity to develop and strengthen competencies necessary to perform their work tasks in high quality, as teamwork, leadership, problem solving and conflict management from participants to participants. This youth exchange will be an
 a) opportunity for the participants to get to know new tools, methods and techniques that they can implemented at their work and activities with young people including young people with fewer opportunities.
b) Increase the ability to address the needs of participants' target groups; Will provide participants an opportunity to strengthen their abilities to identify and address the needs of their local communities and especially to implement activities that are meeting the needs and interests of young people and leading to their empowerment. The participants will also get to know new tools that will help them to engage young people in innovative way and encourage to become active citizens.
c) Increase capacity of participants' organizations to operate at EU/international level and apply innovative programs and activities that are in line with needs and interests of their target groups.
Tasks:
Every national team is presenting: Exploring the Realities in Participants Countries – through Interactive Presentations of their realities with aim to provide the participants an opportunity to explore more about the work of others and their daily realities.
Place : Where: Family Hotel Ilinden, Shipkovo, Bulgaria – Booking.com
The project will take place in a hotel where only participants will be the only guests. Of course, the hotel has an indoor pool with hot water.