Open Call for 5 Participants for Youth Exchange in Pogradec, Albania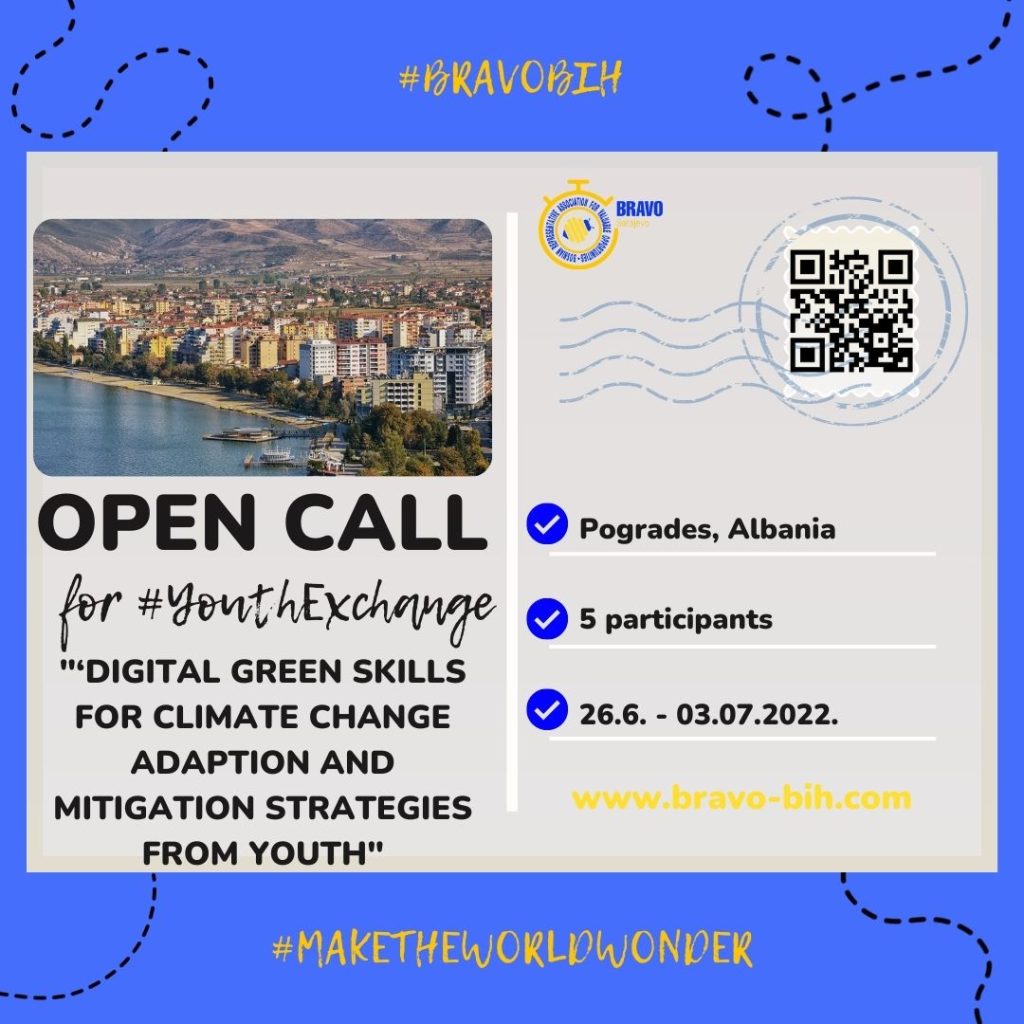 Name of the project: "Digital Green skills for Climate change adaption and mitigation strategies from youth"
Date of Project: 26.06.2022. – 03.07.2022.
Sending Organization: "BRAVO"
Place: Pogradec, Albania
Participants age: +18
The number of participants: 5
Working language: English
Deadline for applying: 21.05.2022.
This project is financed by the European Commission through the Erasmus Plus Program. This publication reflects the view only of the author, and the European Commission cannot be held responsible for any use which may be made of the information contained therein. By Erasmus+ rules organizers will cover travel costs, accommodation and food.
Youth Exchange activity: 26 Jun-06 July 2022
Arrival: All participants are obliged to arrive at the venue (Hotel Pogradec2) on 26st Jun 2022. Please be there if possible before 19:00 so we can have diner all together and start know each other.
Departure: The Youth Exchange will last till 03th of July in the morning (saying goodbye to each other). We would like to remind you that all participants are obliged to take part in the whole duration of the Youth Exchange. For any issues regarding your full staying please contact in advance the hosting organization. 
We are keen on having young people who:
are interested in learning more on climate change mitigation and adaptation, their strategies, indicators and digital tools.
has some previous experience or are eager to learn
are the age of 18 – 30years old. Please consider the country group will be 4participant (aged 18-30years old) + 1group leader (no age requirement). In total each country will have 5 representatives in the Youth Exchange.
have minimum an intermediate level of English.
are active and have high motivation to project activities.
can commit to stay for the whole duration of the project.
have abilities willingness to conduct presentations and actively participate during the training.
Tushemisht is a settlemen located on the shores of Lake Ohrid. At the 2015 local government reform it became part of the municipality Pogradec. The village is very close to the border with Republic of North Macedonia. More information follow the link: https://yomadic.com/pogradec-tushemisht-albania/
Food (breakfast, lunch, a coffee break and dinner), accommodation and travel expenses are all covered from the host organization. Participant will share rooms from other countries people. Room's type will be for 2, 3 or 4 persons. Rooms will be arranged at the time of the arrival of the participants. Good access of Wi-Fi will be available at the lobby of the hotel or at the Youth Exchange/ conference room during the whole time.
More information about the venue you can find at: http://hotelpogradeci2.com/

From the airport, you can get to Hotel Pogradeci 2 for approximately 3 hours.
Hotel Pogradec 2 is in Tushemisht, Pogradec. Hotel Pogradeci 2 is 4.9 km from the centre of the Pogradec City.
How do I get to Tirana from the airport? Bus to Tirana
LU-NA sh.p.k offers the passenger transport service from TIA (Tirana International Airport) to Tirana and vice versa. The service fee for a road is 300.00 Albanian Lek or 2.46 Euro.
Service hours:
Tirana – TIA: every hour starting from 07:00 until 23:00
TIA – Tirana: every hour starting from 08:00 until 24:00
In case you need more information, please contact the numbers below E-mail: bilbilrakipi@yahoo.com; lu_na@yahoo.com
Mobile: +355 69 57 27 261 / +355 69 29 82 128
How do I get from Tirana to Pogradec? Buses Tirana to Pogradec:
You can find a bus From the center of Tirana to Pogradec in:  Rruga: Arben Broci (Street: Arben Broci ) Behind the Stadium Air Albania, Square Mother Tereza
More info:  https://tirana.al/pika-interesi/terminali-i-autobuzeve-juglindje
The buses to Pogradec have a timetable as follows:
PM: 12:30, 13:30, 14:30, 15:30
AM: 06:30, 08:30, 09:30
How do I get from Pogradec city to Tushemisht?
Tushemisht is 6.1km from Pogradec city centre. You can use local transportation means as small buses from Pogradec city to Tushemisht, or the host organization can get you from there, in accordance with your sending organization.
Note: From Kosovo and Macedonia, there are direct lines to Pogradec. Please check within your country the best way to reached Pogradec.
If you encounter any problems at all please alert a member of the team and we will be happy to help.
Comfortable Closes that are suitable for outdoor activities as well as inside door activities. We expect good weather, average temperature 4°C – 22°C, but before you pack cheek the weather forecast for Pogradec city (

https://weather.com/sq-AL/moti/dhjetedite/l/Pogradec+Albania+ALXX2546:1:AL

)
Keep in mind that Pogradec can be windy in the evening (extra sweater/cloths is advised). Even so we expect good weather as it is official summer season in Albania and you can bring your swimwear as well. 
Personal hygiene things that you may need.
Something local from your country that you are proud of and why not has also an environmental connection. Do you have some traditional food that we can taste during the intercultural night? For example wine, cheese, jam etc. Does your local region produce an interesting organic product? Is there some locally made crafts you can show or tell us?
This will help to create an amazing intercultural evening, tasting different food from different country and sharing interesting facts and information from each country.
Note: Please tell as in advance if you will need kitchen tools (plates, glasses, spoons, cooking stoves, etc).
Please bring information to present your Organization (NGO) for the NGO fair session. Do not forget to bring materials about your organization (leaflets, posters, photos, videos… etc.) You can share your projects, best practices etc. Each country will have their respective time for presentation.
Starting from May 1, 2022, for all trips to Albania, whether by sea, land or air, no specific document is required under the terms of Covid-19.
All passengers who are allowed to enter the territory of the Republic of Albania, in addition to respecting the protocols of international standards that airlines apply anywhere in the world, must also apply these rules:
Only travelling passengers will enter the airport building, avoiding being escorted by their family members;
Passengers must respect the social distance of 1.5 meters during the entire stay at the airport;
For more info:

https://www.tirana-airport.com/c/116/measures-and-rules/
The current rules that are in force in Albania related with the Covid-19:
Wearing the mask indoors as well as on public transport is mandatory.
It is recommended to wear the mask wherever social distance cannot be maintained, as well as for those who have not yet done the two doses of the vaccine.
Participants of the Youth Exchange will be reimbursed for their travel expenses. Here below the table will help you to see the maximum amounts you will be reimbursed.
If participants spend more than the calculation of the Distance Calculator, it will be participants' responsibility to pay the rest of the traveling cost. If participants will spend less than the below mentioned amounts, they will be only covered for the amount they spent.
According to the restrictions of the Erasmus+ Programme, we can only refund the travel cost, if the following points are fulfilled:
Your travel dates are according to the programme:
Arrival Date: 26 Jun 2022
Departure Date: 03July 2022
Your travel route is from your place of residence to the venue in Pogradec (Albania) and back.
You have to choose reasonable and economic means of transportation (e.g. cheap airlines, buses ect.)
You can travel between your country and Albania 1 days prior or after the youth exchange. Explanation can be for example cheaper travel costs. In addition, in this case, the programme does not provide lodging and accommodation for the extra days; it will be the responsibility of the participants
In case of longer stays or indirect travel (holiday, travel, etc) there is no chance of reimbursement
You have and provide us all documents to prove your travel (Invoices and tickets for flight, bus, train, boarding passes for flight). To reimburse your ticket in your country for local transportation to your own city you have to buy the tickets before coming to project, to show us the ticket and invoice.
Tax/ Vat and other kind of fee will not be reimbursed.
Travel insurance is participants' responsibility.
Note: We need all receipts, tickets and boarding passes (for both ways). So when participants are coming, keep them. After returning to your home country these documents should be send to us (scanned by email and originals by post) all the tickets and boarding passes of the travel back home from Albania (for flight you must bring invoice + ticket + boarding pass, without one of them you will not be reimbursed).
TRAVEL REIMBURSEMENT PER PERSON