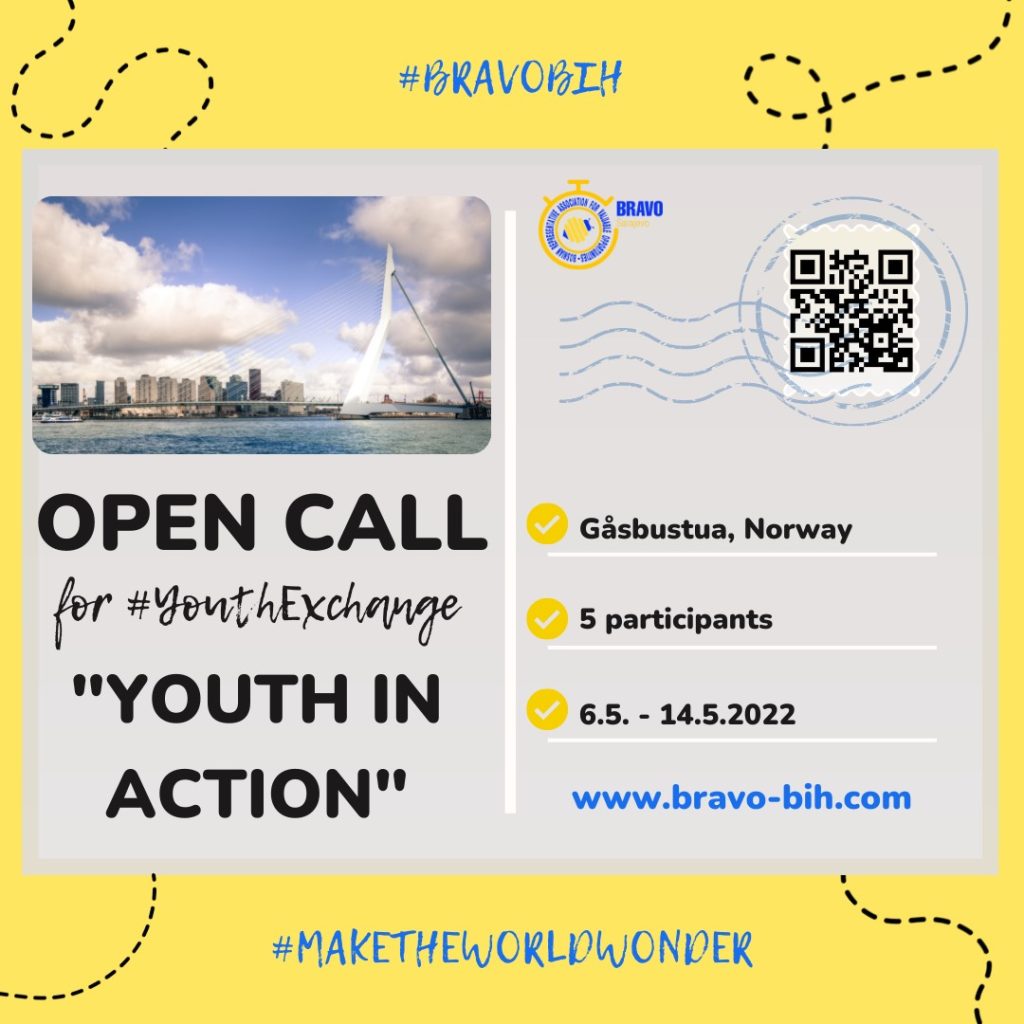 Name of the project: "Youth in Action"

 

Date of Project: 06.05.2022 – 14.05.2022.

 

Hosting organization: " Intermezzo Ungdomsorganisasjon "

 

Sending organizations: "BRAVO"


Place: Gasbustua, Norway

 

Participants age: + 18

 

The number of  participants : 5

 

Working language: English

 

Deadline for applying: 25.03.2022
This project is financed by the European Commission through the Erasmus Plus Program. This publication reflects the view only of the author, and the European Commission cannot be held responsible for any use which may be made of the information contained therein. By Erasmus+ rules organizers will cover travel costs, accommodation and food.
The youth exchange has a main aim to give an opportunity to young people and young people with fewer opportunities to take part in outdoor-based activities and develop skills for life (problem-solving, teamwork, or conflict management). Also the youth exchange focuses on enabling these young people facing challenges and obstacles, and make them gain self – confidence and self-esteem by participating in outdoor-based events in a multicultural environment and inspire them to exchange their experiences with their peers and contribute to progress in their surroundings.
PROJECT'S OBJECTIVES AND WORKING METHODS
Increasing knowledge of the participants on outdoor education;
Supporting sharing of practices, experiences, methods and techniques of outdoor education and increasing the quality of youth work targeting young people with fewer opportunities in participants' organizations;
Providing outdoor learning experiences and to nurture awareness, appreciation, and stewardship for the environment;
Motivating participants to develop positive attitudes toward learning through varied experiences in the natural environment
Working Methods: The youth exchange will be based on a holistic experiential education model – experiential learning cycle described by Kolb (1984). First, participants will be asked to undertake an activity. Next, they will reflect on what happened and why, how. Follow up by reflecting on transferring these experiences in their practices and realities. The youth exchange will contain behavioral simulations, activities based on theatre technique, role plays, outdoor exercises, case studies and problem-solving, group discussion, small groups, displays and field trips, etc.
Regularly, the youth exchange will be also included feedback and reflection activities (group meetings, mid-term and final evaluation, individual assignments). These activities will provide them with an opportunity to develop their competencies to receive and give feedback as well as to reflect on the self-learning process, meeting the settle learning objectives.
Participants of the youth exchange will have the following profile:
Age 18 to 30 residence of participant's countries; aware of the positive impact of outdoor education on youth development and are strongly interested to gain deeper insight into the influence of outdoor education on self-esteem, self-awareness;
strongly interested to explore the topic of outdoor education and how to deal with challenges connected with it.
interested to get to know outdoor education practices from other countries and learn from their peers how to work with outdoor activities in an effective way e.g. in increasing awareness on certain issue/topic that is applying for them;
ready to work in a mix-intercultural learning environment, to contribute to successful project implementation;
motivated to work on the development of their personal and professional competencies in an international setting (communication, teamwork, problem-solving, conflict management, facilitation, and presentation);
motivated to take part in Erasmus + project, work in an international team and share their experiences in follow up period;
You can fly to Gardermoen Airport or Torp/Sandefjord Airport.
If you come to Gardermoen Airport, you can take train to
Hamar Sentral Station (https://www.vy.no/) and then take
bus to our venue.
If you come to Torp/Sandefjord Airport, you can take
Larvik-Lillehamar train to Hamar Sentral Station and than
take bus to project place. https://www.vy.no/
Participants will be accommodated in 3 or 6 people each room. The main activity room is located in the hotel. Wi-Fi internet connection is available.  We strongly recommend each participant to inform BRAVO about any special dietary needs in advance.
Travel cost for participants from Bosnia and Herzegovina – 275 EUR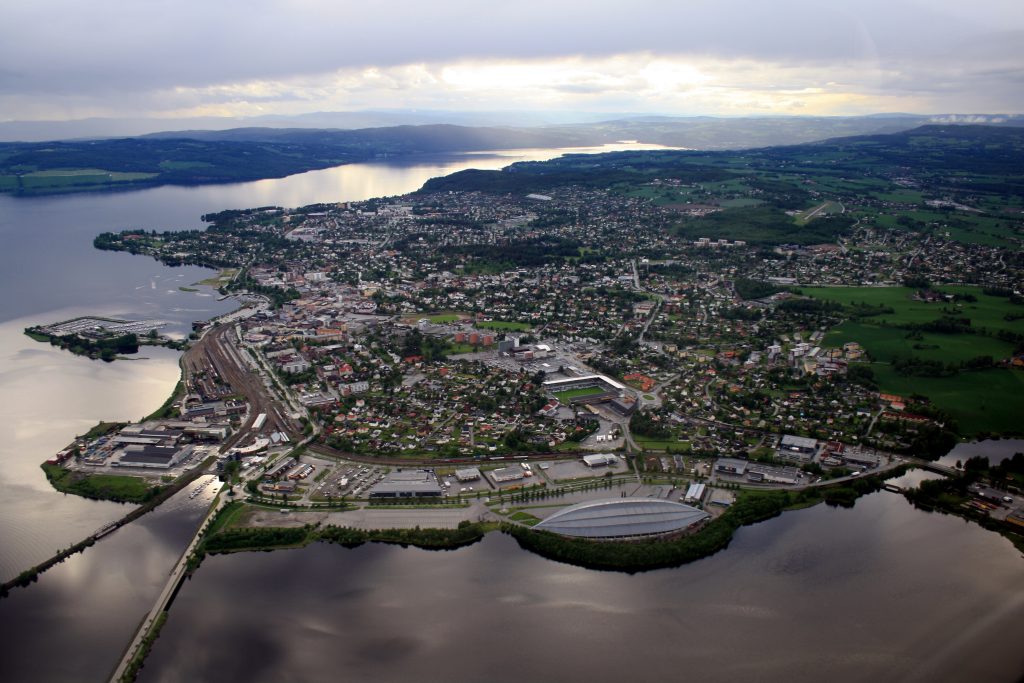 Hamar  is a town in  Innlandet county, Norway. It is part of the traditional region of Hedmarken. The municipality of Hamar was separated from Vang as a town and municipality of its own in 1849. Vang was reincorporated into Hamar on 1 January 1992. The town is located on the shores of Mjøsa, Norway's largest lake, and it was the principal city of the former Hedmark county. It is bordered to the northwest by the municipality of Ringsaker, to the north by Åmot, to the east by Løten, and to the south by Stange.