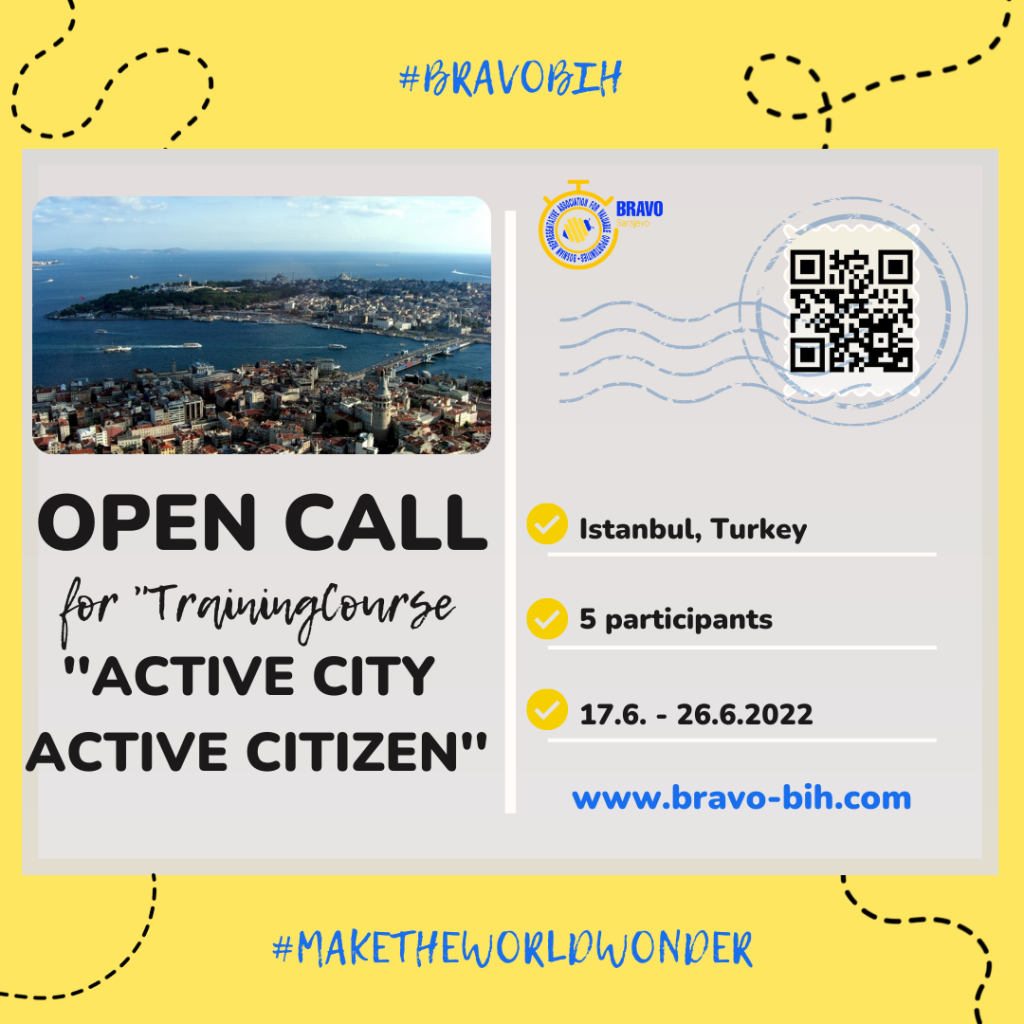 Name of the project: "Active City Active Citizen"


Date of Project: 17.06.2022 – 26.06.2022.


Hosting organization: "Active Cities Association"


Sending organizations: "BRAVO"


Place: Istanbul, Turkey


Participants age: + 18


The number of  participants : 5


Working language: English


Deadline for applying: 25.03.2022
This project is financed by the European Commission through the Erasmus Plus Program. This publication reflects the view only of the author, and the European Commission cannot be held responsible for any use which may be made of the information contained therein. By Erasmus+ rules organizers will cover travel costs, accommodation and food.
SUMMARY AND OTHER INFORMATION
"Active City Active Citizen" is a training course that connects 6 countries. Studies conducted shows that green areas have gained great popularity in recent years and people spend up to 80% more time in parks, beaches and public areas.
From this point of view, active citizenship should be encouraged by establishing interactive mechanisms for the participation of the public in physical activities in open spaces, allowing young people and society to take a more active role in the design and monitoring of facilities provided for physical activity and recreation, public institutions and policies must have a real impact, and the need to address physical inactivity levels.
Our project has great potential in this context and will address the solution of increasing sports activities by helping cities find ways to encourage exercise and fitness.
Participant Profile
Every country will be represented by 5 participant. Two participants should be with fewer opportunities.
The participants should be between 18-30 years old.
The project language is English, the participants should have enough level of English to actively participate and contribute.
Gender balance is required. Partners should contact with applicant to create the gender balance.
Participants should be prone to active citizenship, green life, and basic knowledge of the project theme.
The participants should make dissemination activities.
Travel cost for participants from Bosnia and Herzegovina – 275 EUR
The project will be held in 4 Stars Family Resort Hotel.