Open Call for 4 Participants from Bosnia and Herzegovina for
Training Course in
Zagreb Croatia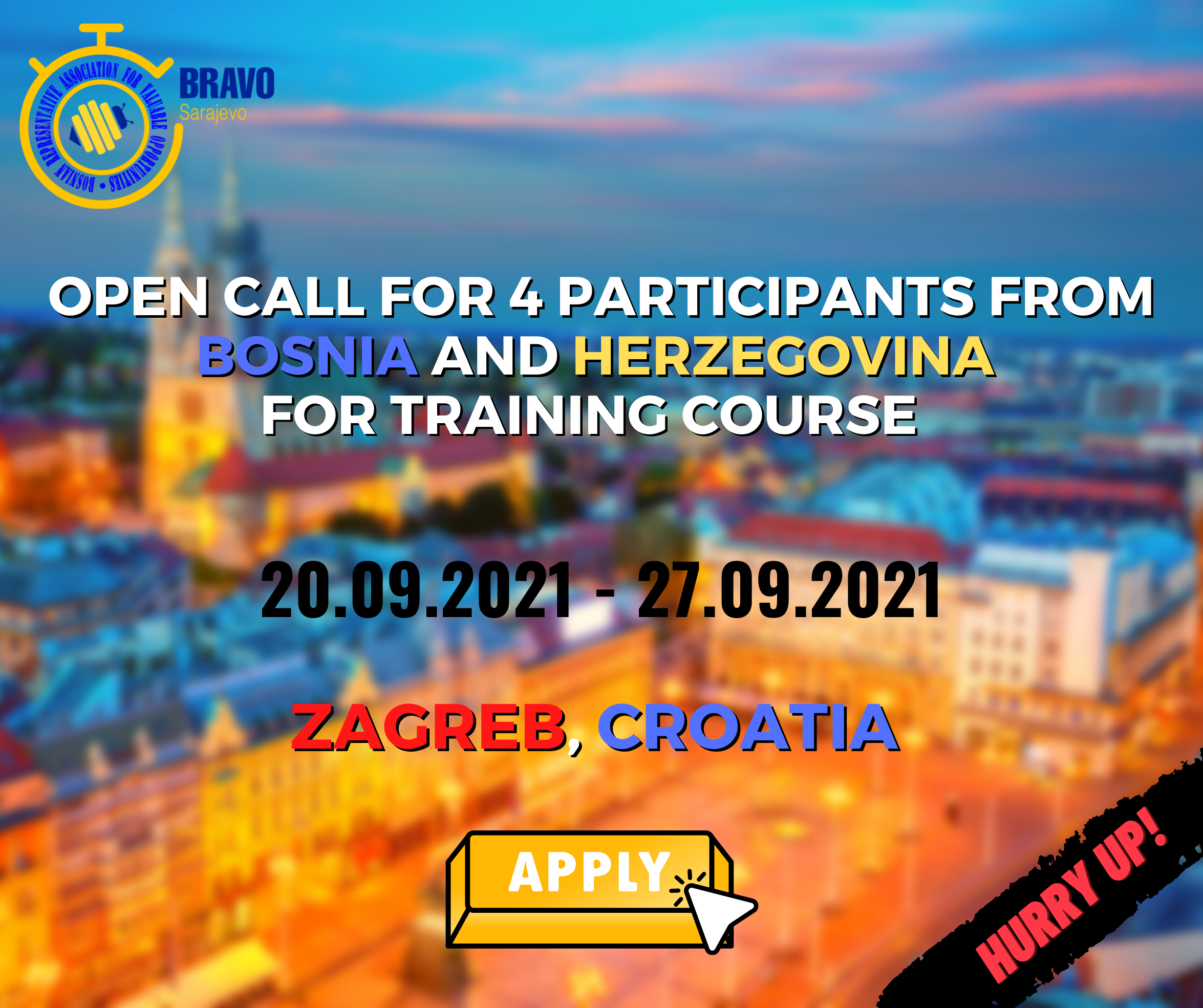 Name of the project: "SR-net"


Date of Project: 20.09.2021 – 27.09.2021. 


Hosting organization: "The Croatian Institute for Corporate Social Responsibility (IDOP)"


Sending organizations: "BRAVO"


Place: Zagreb, Croatia


Participants age: + 18 


The number of  participants : 4


Working language: English


Deadline for applying: 23.07.2021.
This project is financed by the European Commission through the Erasmus Plus Program. This publication reflects the view only of the author, and the European Commission cannot be held responsible for any use which may be made of the information contained therein. By Erasmus+ rules organizers will cover travel costs, accommodation and food.
The scope of the proposed cooperation among 7 partners from 6 countries, is offering an empowering cooperation between NGOs and association active in the field of youth and community oriented work, with a particular referent to enhance their ability to cooperate with local actors and propose high quality services to disadvantaged youth.
The cooperation envisaged will address the needs youth disengaged and unable to connect with their community, by fostering youth workers capacity to facilitate their reconciliation process while increasing the awareness of the community and getting them ready to assist and support the young citizens in the personal development process and social inclusion.
This facilitation process would require a broader skills also in the NGOs managers along with youth operators, sustained through all stages of the programme and a more EU oriented approach to the subject, requiring competences, expertise and views from different point of view, offered indeed by the strategically formed consortium.
An innovative character of the project stems from increasing youth workers and NGOs operators communication skills and ability to network with local actors using key elements of Corporate social responsibility –CSR- such as finding ways for motivating companies in being more active at local level – such as: more efficient and sustainable ways that economical actors can adopt to "give back and have a positive impact on their communities" (which is one of the key message in CSR discourse).
The partners' staff will also get more information on topics such participatory planning and fund raising as  powerful tools to make local community more cohesive, resilient and better prepared to include youth in their plans for the future. The partners are going to use those concepts and prepare a program that they can use to plan local activities with a stronger support by local community and offer youth more sophisticated non-formal education activities better in line with their needs.
Young people taking part in the local activities or being part of the activities organized by partners in the future, will be beneficiaries of an opportunity increasing their skills and motivation in getting involve in their local community's affairs, thanks to:
Facilitated access to information and better support by local community key stakeholders
Improved public and private service providers ability to catering for young women and men;
Creation of local networks more aware of the social, educational and economic needs of youth, better prepared to support them when they are ready to participated and have a positive discourse with the community
The products created by the partners will be free of charge and available in digital format in English and the other languages of the partnership, to share the lesson learned with other organizations and NGOs in the West Balkans and in all EU countries too.
SR-NET is based on a solid partnership between 7 organizations in possession of a good experience in community development, human rights and youth empowerment, all devoted to initiating and maintaining collaboration for active social inclusion and participation.
An innovative character of the project stems from adding concepts typical of the business field and adapting them to a non-formal/youth environment. Topics such as sustainability, participatory planning and fund raising can be powerful tools to make local community more cohesive, resilient and better prepared to include youth in their plans for the future. The partners are going to use those concepts and prepare a program that they can use to plan local activities with a stronger support by local community and offer youth more sophisticated non-formal education activities better in line with their needs.
The WBs NGOs will learn how to use:
CSR to communicate better with local economic actors, to involve and motivate local actors in sponsoring youth oriented activities
participatory planning techniques to make sure that the whole community is involved in the process
non-formal education techniques, to engage and motivate youth in following the propose activities and get a real benefit from it.
In this respect, the project addresses the needs of youth operators working regularly in support of disadvantaged youth with low education and skills, by offering a week long training in Croatia aimed at refining their capacity for using participatory planning and CSR as motivators for SME involvement. 
Participatory planning and communication tips will be adapted to fit WBs youth operators, based on their local needs and most importantly made culturally acceptable for the very different Countries, in order to respect their sensitivity and national tradition and culture.
The cooperation is composed of a balanced and complementary mix of organizations including NGOs experienced in non-formal learning, association specialized in CSR and participated planning and evaluation. They all have experience in working with the target group. The complementarity of the consortium maximises mutual benefit and transfer of good practices.
Date of arrival: 20.09.2021.
Date of departure: 27.09.2021.
Planned Accommodation: Hostel 63
Address: Vlaška ul. 63, 10000, Zagreb
Web site: https://www.hostel63.eu/en-us
Reimbursement is calculated based on the distance calculator of the European Commission. At the arrival, all participants must provide flight reservation, all original tickets and boarding passes. They must send by post the return tickets and boarding passes to an email address which will be provided. Travel costs will be reimbursed only for the cheapest means of transportation. Acceptable means of transportation for the project are: plane, bus, train, metro or ferry, not taxi.
Local currency is kuna. 1 kuna is cca 7,5 euro. Check Google currency converter.
Travel per person from Bosnia and Herzegovina is 180€
You can take Airport transfer "Pleso prijevoz", ZET Bus, Taxi, Uber or Bolt.
Also please check this web sites for more info:
https://www.expatincroatia.com/how-to-get-to-from-zagreb-airport/
You will eat at a lot of delicious Croatian food. In case that you have any dietary requirements, please, let us know (i.e. Vegetarians, Vegans, no beef, no pork, etc.).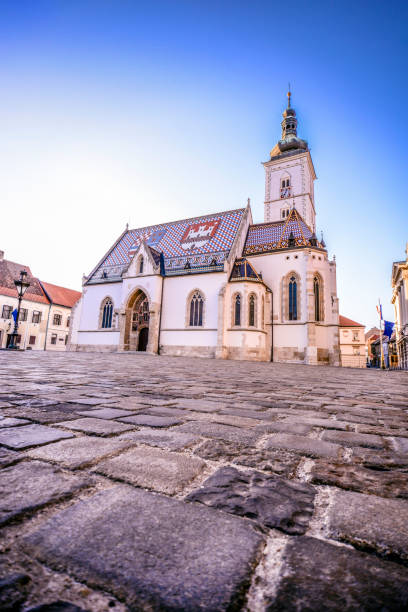 In June and July in Zagreb is real summer time! Bring summer clothes, however because of climate change check daily forecast for Zagreb. 
Beside that bring with you also: 
Information about topic in your country
Materials of your organization
Good mood
Medicines and insurance;
Original travel e-tickets and invoices like train tickets, bus tickets etc.
Laptop, (or/and) camera
Covid-19 restrictions
Entry to Croatia will be allowed with:
negative PCR or rapid antigen test – RAT on SARS-CoV-2, where the RAT test must be listed in the Common list of rapid antigen tests recognized by the Member States of the European Union, published by the European Commission. If the RAT test findings were made abroad, the manufacturer and/or the commercial name of the test must be visible and the test must be issued by a health institution / laboratory and signed / confirmed by a doctor. If otherwise, it will not be accepted as credible for entering the Republic of Croatia. The PCR test result must not be older than 72 hours and the RAT test result must not be older than 48 hours, counting from the time the test was taken until the arrival at the border crossing point;
certificate that they have received two doses of vaccine against COVID-19, provided that 14 days have passed from the time they received the second dose or from the time they received the first dose if the vaccine is administered in a single dose (Janssen/Johnson&Johnson;
certificate showing that they have recovered from COVID-19 and have received one dose of vaccine within six months from contracting the disease, provided that the vaccine was administered less than 180 days from their arrival at the border crossing point;
presentation of a positive PCR or rapid antigen test, confirming that the holder recovered from the SARS-CoV-2 virus infection, which was performed in the previous 180 days, and older than 11 days from the date of arrival at the border crossing point or upon presentation of amedical certificate of recovery;
or the person is obliged to perform PCR or rapid antigen testing on SARS-CoV-2 immediately upon arrival in the Republic of Croatia (at their own expense), with the obligation to stay in self-isolation until the arrival of a negative test result. If testing cannot be performed, a measure of self-isolation is determined for a period of ten (10) days;
Check the latest news regarding entry to Croatia here.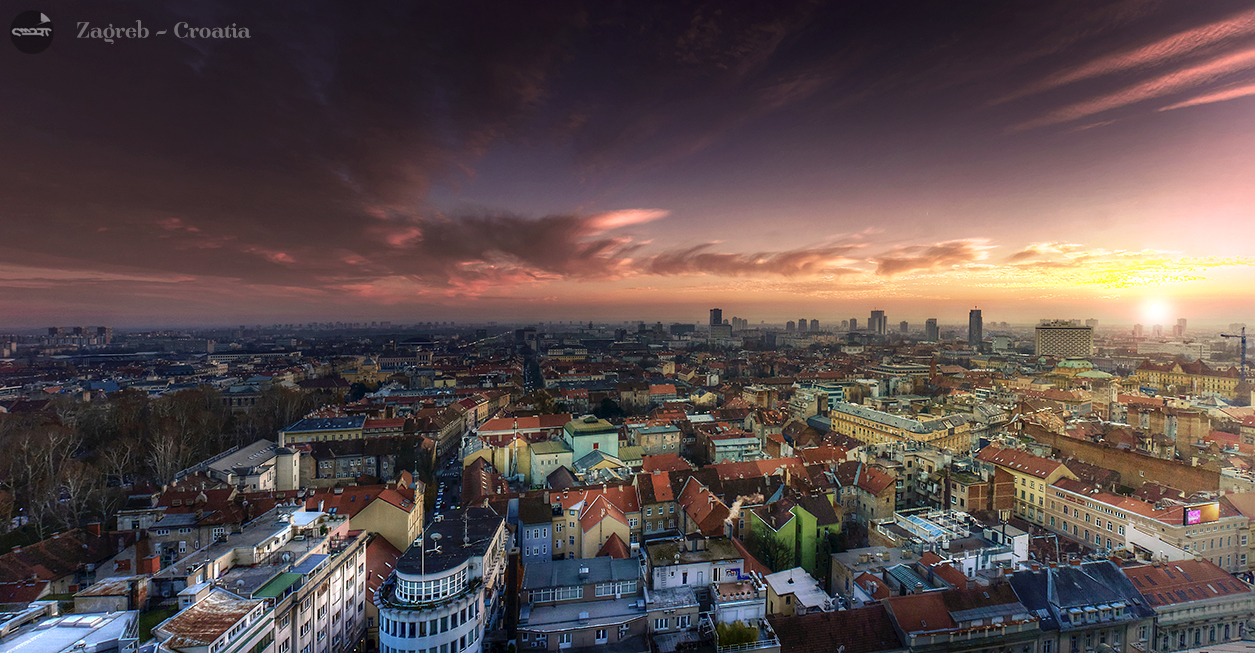 If you have any questions feel free to contact
BRAVO TEAM