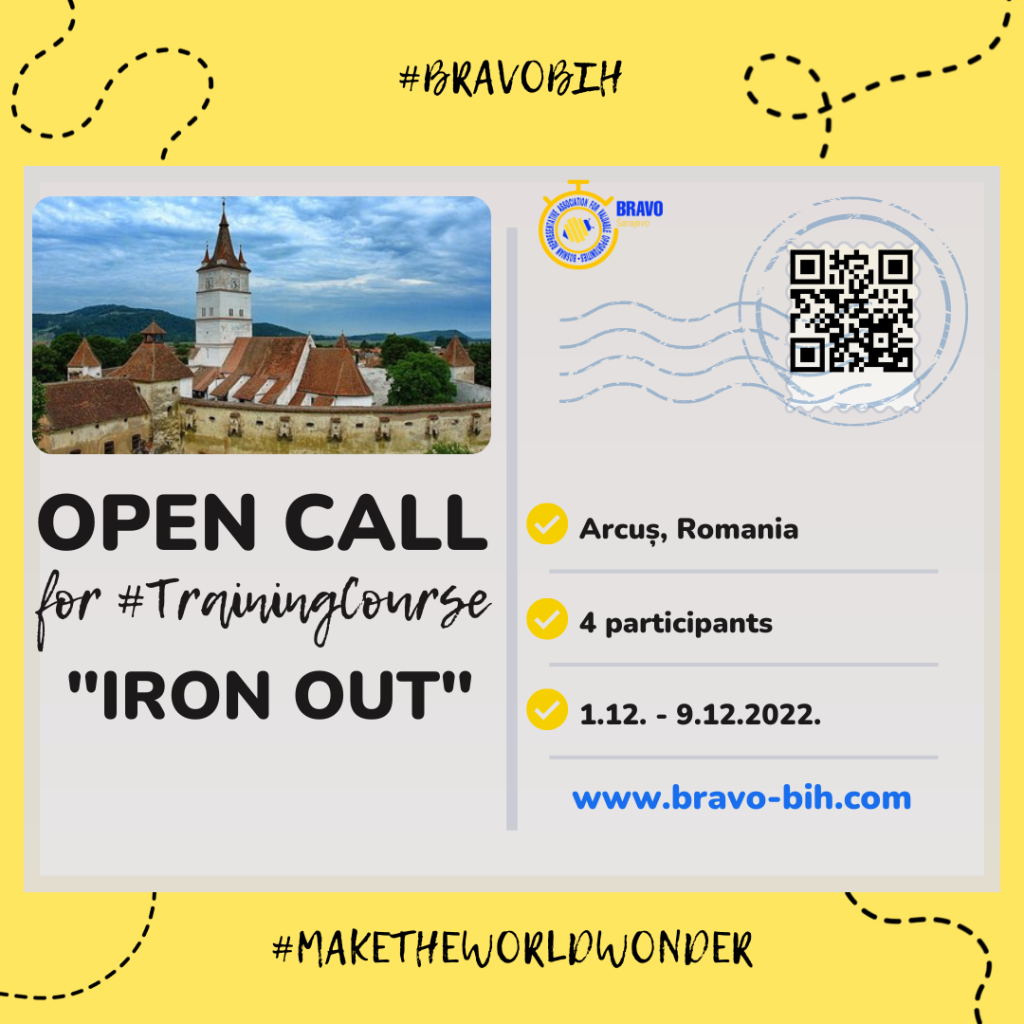 Name of the project: "Iron Out''


Date of Project: 1 – 9 December 2022


Sending Organization: "BRAVO"


Place: Arcuș, Romania


Participants age: 18+


The number of participants: 4 participants


Working language: English


Deadline for applying: 25.10.2022.

This project is financed by the European Commission through the Erasmus Plus Program. This publication reflects the view only of the author, and the European Commission cannot be held responsible for any use which may be made of the information contained therein. By Erasmus+ rules organizers will cover travel costs, accommodation and food. 
Our project is aimed at EU, Western Balkan and EECA countries to develop and improve the conflict management competencies with a special focus on emotional intelligence and communication of youth workers in order to become able to prepare, run and evaluate high-quality youth work activities targeting young people with a different cultural background such as refugees, migrants, minorities, Roma, etc. according to the principles of conflict prevention and resolution. We live in multicultural, cross-cultural and intercultural societies. Our local communities are not homogeneous anymore thanks to the free European mobility, the open borders and markets for  European citizens, and the hosting of refugees and migrants from other parts of the world.
As youth workers, we have to deal with:
– different cultural young people whose behavioral norms, values and schemes could be different than the local ones;
– young people with refugees background from an absolutely different culture, even still traumatized by their previous life experiences;
– the 2nd generation of migrant kids who don't belong to the culture of their parents, however, don't find their place in the culture of the majority.
OBJECTIVES OF THE PROJECT
Reflecting directly on necessary competences of 44 youth workers in the areas of emotional intelligence, conflict management and communication;
conflict management and communication;
experiencing methods and techniques to increase competences in the areas of emotional intelligence, conflict management and communication;
supporting participants in mastering experienced techniques and methods and transferring these methods and techniques to their work with young people, including young people with fewer opportunities;
METHODOLOGY OF THE PROJECT
The methodology of the training course was built up based on the Inclusion and Diversity Strategy: our training course will be based on experiential learning process according to the requirements of non – formal educational settings. Experienced trainers' team will challenge participants to step into their stretching zones in order to experience and practice creative and innovative learning approaches and methods then make them able to adapt the newly gained competence into their daily work and lives.
Youth workers, youth leaders,  mentors, supervisors,  coordinators, tutors, etc.
Able to communicate in  English.
StartUp Covasna was founded in 2021 with the main general objectives such as: to promote entrepreneurship; to raise awareness on formal, non-formal and informal education; to develop professional training; to sustain the startup ecosystem; to promote economic, social and tourism development.
We are giving instruments and opportunities to people on regional level that want to use entrepreneurship as a tool to have an impact on the society.
We are dedicated to develop the startup ecosystem of our region.
We provide our members from Covasna county with the network, knowledge, and expertise to produce real results, and we create toolkits, host and organise events, and much more – giving all the support that our members need to reach their goals.
VENUE OF THE TRAINING COURSE
Participants will stay at Education Center Arcus.
Adress: Str. Szentkereszthy Bela, nr. 168, Arcus, Covasna, 527166 Arcuş, România 
Away from the noise of the city, yet within easy reach of the sights Covasna County has to offer. Our location awaits you and your loved ones with comfortable and warm rooms accompanied with tasty food in a peaceful oasis. In your free time you can enjoy relaxing walks, bike rides, cultural programs and visiting the museums in the surroundings.
Website: https://educationcenter.ro/ 
Bosnia and Herzegovina – 275€ per participant
How to get to Sfântu Gheorghe?
We encourage you to use green transport (train, bus, car sharing, …)
Airports: 
Sibiu International Airport

Bucharest "Henri Coandǎ" International Airport (formerly Otopeni Airport)
"Transilvania" Târgu Mureș Airport
Cluj "Avram Iancu" International Airport
Complete the BRAVO- APPLICATION FORM with in English title as following "name of the project you are applying for" until 23:59 on deadline day.
Deadline for applying: 25.10.2022.

 

Selection results: 28.10.2022.

 

PARTICIPATION FEE: NO PARTICIPATION FEE

 

If you have any questions don't hesitate to contact us at: office@bravo-bih.com
Who is BRAVO? Watch a video below and enjoy <3
On the video below you can hear very useful information for this mobility.