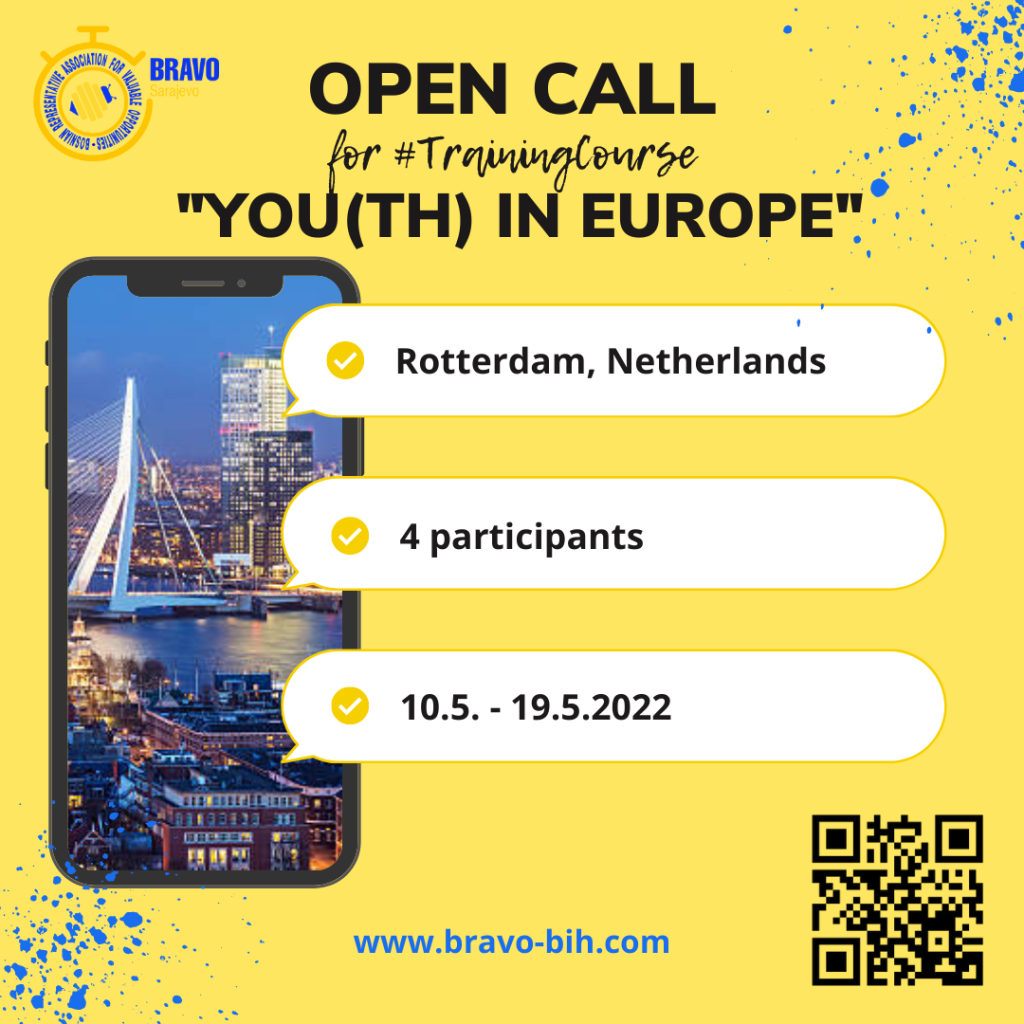 Name of the project: "You(th) in Europe!"

 

Date of Project: 10.05.2022 – 19.05.2022.

 

Hosting organization: "Millennium Peacemakers"

 

Sending organizations: "BRAVO"
Place: Rotterdam, Netherlands

 

Participants age: + 18

 

The number of  participants : 4

 

Working language: English

 

Deadline for applying: 15.03.2022
This project is financed by the European Commission through the Erasmus Plus Program. This publication reflects the view only of the author, and the European Commission cannot be held responsible for any use which may be made of the information contained therein. By Erasmus+ rules organizers will cover travel costs, accommodation and food.
AIM AND OBJECTIVE OF THE PROJECT
Aim of the project : 
To train youth workers and youth leaders on using media (jokes, short movies and advertisements) as tools on
antidiscrimination.
To make them aware of their own cultural background, and how it influences them towards different cultures.
To foster understanding the reasons behind their reaction, stereotypes and prejudices, and to recognize discriminations around and by them.
To learn usage of new media technology on antidiscrimination with for and by young people they work with.
Project objectives :
To raise awareness on culture, cultural diversity and own cultural identity;
To explore and adapt the 3rd Youth Goal "Inclusive societies" of European Youth Strategy "Investing, Connecting and Empowering young people" to youth work context;
To make assessment on stereotypes, prejudices and discrimination in general and self – assessment;
To use modern technologies for antidiscrimination;
To be able to prepare, realize and evaluate jokes, short movies and advertisements on antidiscrimination;
To create new partner network among organisations.
Our training course will be based on the needs and expectations of our participants, so absolutely learner centred. We will improve communication skills, digital competences, cultural awareness and expression, management and organisational skills
and self – esteem as attitude of our participants. Methods are self – assessment, theoretical and practical background, working in small groups, pairs, national and mixed groups, role plays, group building activities, research, creative and interactive methods.
We are an organisation, not a travel agency. That is why,
participants should regularly check the entry requirements of
the Netherlands on the official websites:
https://www.government.nl/topics/coronavirus-covid-19/visiting-the-netherlands-from-abroad
https://reopen.europa.eu/en/map/HUN/7011

We don't cover travel insurance. To keep everyone safe, all
participants must be fully vaccinated. Corona test will be paid
only if it is a must to return back to your country, agreed in
advance with the host organisation – Millennium Peacemakers.
Participants can stay 2 extra days in the Netherlands on their
own cost. If more, we cannot reimburse at all.
Travel cost for participants from Bosnia and Herzegovina – 275 EUR
Participants will stay at – Parc de IJsselhoeve – Address: Klein Hitland 10, 2911 BR Nieuwerkerk aan den IJssel,
Netherlands one of the most comfortable holiday homes on a water-rich holiday park. With the many facilities, and next to the great city of Rotterdam. Fresh and high quality product meal 3 times per day at the restaurant, coffee break and accommodation are fully covered by the project with the support of the European Commission's Erasmus+ Programme.
There is no participation fee for the host organization.
What to bring with you?
Flyers, brochures, promotional materials and etc. to present your organization to other participants;
√ Drinks and food from your country and region and any other items that may will help you to present your country during the intercultural evening;
√ Medicines, which you need regularly;
√ Health insurance documents;
√ Green Covid Card;
√ Your slippers, towel, toothpaste, toothbrush, and personal care items.
√ All invoices, tickets and boarding passes related to your travel!
1. Read carefully the project call
2. Read carefully the project tasks and requests
3. Check "participants profile", maybe you are fitting perfectly
4. Fill out the BRAVO Application Form by 11.03.2022.