Open Call for 4 Participants for Training Course in Alghero, Italy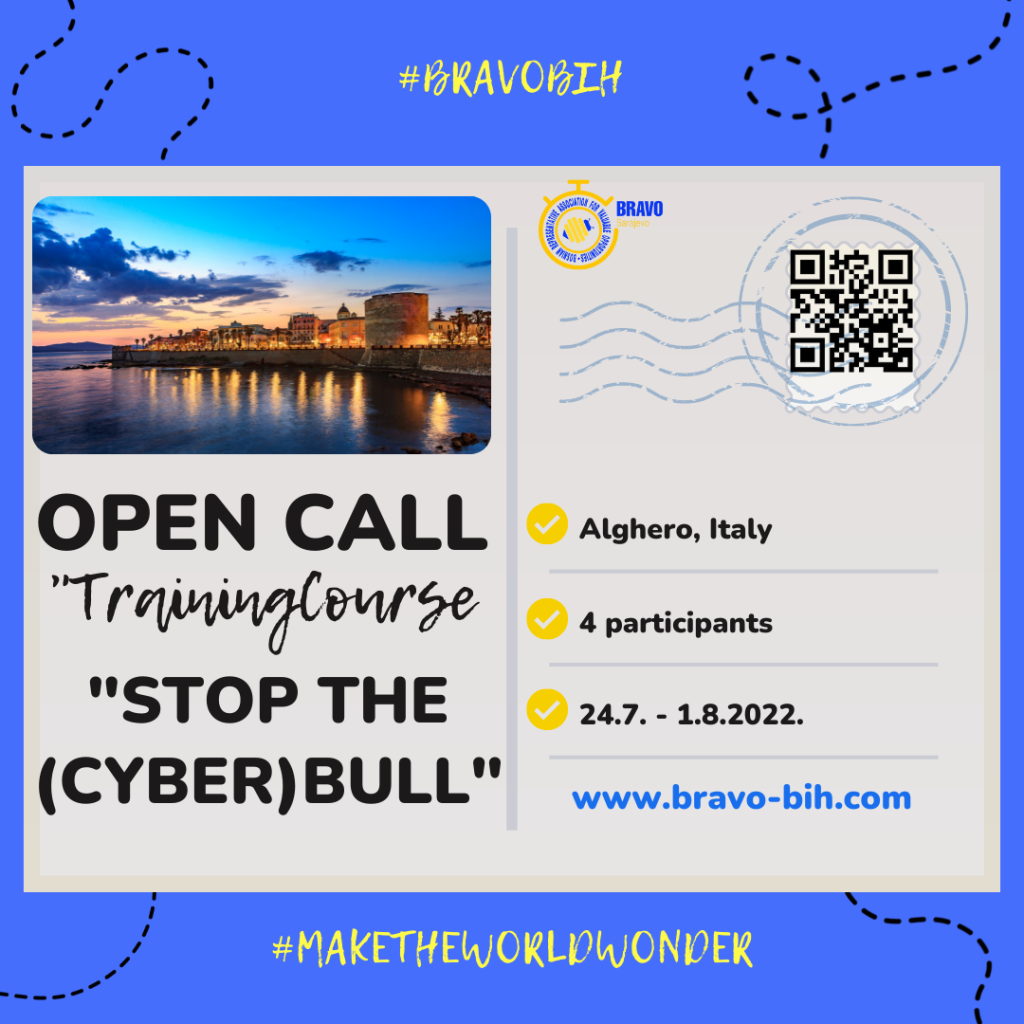 Name of the project: "STOP THE (CYBER)BULL"


Date of Project: 24.07.2022. – 1.08.2022.


Sending Organization: "BRAVO"


Place: Alghero, Italy


Participants age: 18 – 25


The number of participants: 4


Working language: English
This project is financed by the European Commission through the Erasmus Plus Program. This publication reflects the view only of the author, and the European Commission cannot be held responsible for any use which may be made of the information contained therein. By Erasmus+ rules organizers will cover travel costs, accommodation and food.
STOP the (cyber)BULL project is the result of the consortium's desire to provide educators, teachers and youth workers with competences and methods needed in carrying out activities with youngsters (aged 11-17) to prevent, intervene when necessary, and raise awareness of the causes, risks and effects of bullying and cyberbullying.
Objectives of the project are:
To give and share inputs and tools to be used to implement non-formal and informal activities aim at reaching out to marginalized young people, such as victims of bullying and perpetrators.    
To promote the values of equity, social cohesion and active citizenship among participants as fundamental values of the Youth Sector Strategy 2030. 
To equip youth workers with competences and methods needed for transferring common European fundamental values, such as tolerance, intercultural dialogue, equality and respect to the policy system where they will operate and especially to young people as a tool to prevent their violent radicalization. 
To provide a concrete and equal opportunity for young workers in the field of education as a trigger to first encourage young people to actively participate in society (EU Youth Strategy) then to properly adapt it to their professional needs.
Direct target group of the project: Educators, youth workers and teachers working with young people and schools in the social.
Indirect target group of the project:
Young people aged 11-17;
Schools;
NGOs and public bodies working with young people
Hosting Organization: MV International
The European Non-Governmental Organization (ENGO) MV International (MVI) is non-profit "association of associations" ENGO-MVI intends to carry out social involvement and community building activities for its members and stake holding (third) parties encouraging participation, freedom and dignity of its members. MVI takes a full role in the public debate on civil society engagement in its topics of interest and strives to influence policies in these areas.
In line with forgoing values and objectives, thanks to its role as advisor for public and private bodies – well served by participation to European programmes (Erasmus+, EYF) – the co-founder established a serious network and Youth platform of ENGO partners around Europe and beyond. ENGO-MVI is coordinated from its office in Sassari (Italy). The two main pillars of MVI structure are the Permanent Board and the Operative Committee.
The Permanent Board is in charge of administration and overall strategic direction of the Network. The election of the Operative Committee takes place on a yearly basis during a meeting (virtual or physical) of all member NGOs convened for the purpose, as foreseen in the Chart of the Network.
OBJECTIVES OF the mobility


The training course will allow participants to improve theoretically and empirically the concepts of non-formal and informal education and will be provided with the necessary tools to propose an adequate intervention to support formal institutions, such as schools, in their commitment toward the prevention and intervention toward bullying and cyberbullying. Particularly, the mobility will improve participant's skills in team building, conflict management, intercultural awareness, and diversity management. It will help them to improve their selfempowerment and self-esteem and to use such methods during their professional work with disadvantages school-aged children. The mobility will equip participants with specific knowledge regarding the phenomenon of bullying and cyberbullying, specifically regarding what is, how it is manifest, how it can be prevented and how it is possible to intervene.


Participants


Youth workers and/or volunteers aged 20 – 35 years old who are interested in getting experience on school-related issues and solutions to tackle bullyism and cyber bullyism.


Venue City: ALGHERO


Alghero is a town on the northwest coast of Sardinia, Italy. Surrounded by ancient fortifications, it is famous for its old centre with cobbled streets. Alghero is a city of about 45,000 inhabitants in the Italian insular province of Sassari was the 10th most visited city by tourists in Italy in 2012.
ACCOMODATION AND FOOD
The exact location of the accommodation will be provided to participants further in the selection process. *With the option for each group to experience few nights in a boat!  
Food will be covered by the project. In case that you have any dietary requirements, please, let us know (i.e. Vegetarians, Vegans, no beef, no pork, etc…).
What to bring with you?
1) a short description of the organization in English for the presentation to other participants and/or photos, brochures, newspapers or anything that can present activities of your organization;
2) medicine and health insurance (+optional travel insurance);
3) original e-tickets aid invoices, train tickets, boarding passes, bus tickets etc. which will be fundamental in case of reimbursement;
4) your personal care products (shampoo, shower gel, hair dryer);
5) comfortable clothes and shoes adequate for the season of the year. Weather You can check the following website: https://www.ilmeteo.it/meteo/Sassari
In Italy the unit of currency is Euro (€). It is not convenient to go to currency exchange offices at the airport because their exchange rates are higher. You can exchange money in exchange offices in the city, postal offices and banks which generally offer the best rates. It is better not to drink water from the sink. Usually shops close at lunch time (around 13:00/13:30) and reopen in the afternoon (between 16:00 and 17:00) and close around 20:00 or 20:30. Some shops or supermarkets do not do the lunch break. Lunch: approximately from 12:30 to 15:00. Dinner: approximately from 19:30 to 22:30. Breakfast: typical Italian breakfast is sweet, usually with milk and coffee and a croissant