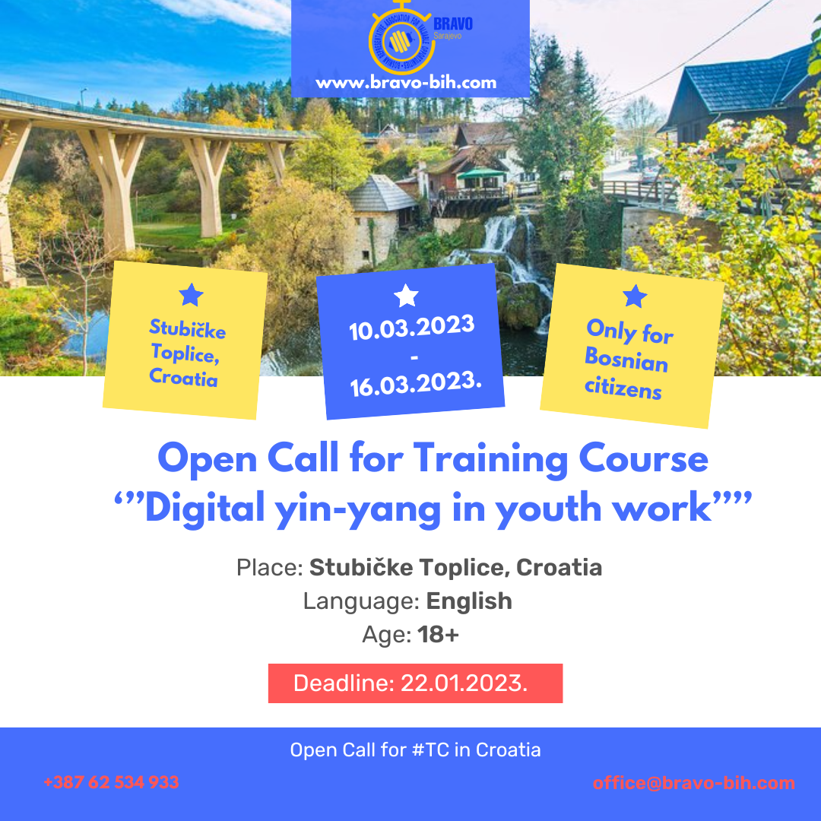 Name of the project:  Training Course ''Digital yin-yang in youth work''


Date of Project: 10.03.-16.03.2023.
Hosting organization: HUKI
Sending Organization: "BRAVO"


Place:  Stubičke Toplice, Croatia
Participants age: 18+
The number of participants: 4
Working language: English


Deadline for applying: 22.01.2022.
This project is supported and co-funded by the Erasmus+ programme. It means that your travel costs, accommodation, and food will be fully covered if you get selected for the project. The European Commission's support for the production of this publication does not constitute an endorsement of the contents, which reflect the views only of the authors, and the Commission nor EACEA can be held responsible for any use which may be made of the information contained therein.
Digital yin-yang in youth work" is a 5 days long training course in Croatia focused on increasing the awareness of experts about the importance of creating a yin-yang, a balance of online and offline activities for young people, and to offer them an opportunity to create a strategy by which this can be done.
While having a rationally critical assessment of the digital world, participants will work on finding a way of how to combine modern technologies in their youth work in a way that would benefit young people they are working with, while reducing potential harm to the minimum.
With the project, we want to tackle the questions: "How do online activities affect young people?", "What is the best ratio of online and live activities?", "How to use digital tools in a way that complements live activities instead of replacing them?", "Which digital tools to use and how?"
It is created for youth workers over 18 years old who would like to:
-better understand the balance between digital and offline activities,
-become more competent and have practical tools in their inventory to use with young people,
-learn within the intercultural environment,
-participate in all 5 days of the training
-and who are coming from the following countries:
Croatia, Estonia, Slovakia, Portugal, Bosnia and Herzegovina, Greece, Germany, Bulgaria
ABOUT HOSTING ORGANIZATION
Croatian Office for Creativity and Innovation (Hrvatski ured za kreativnost i inovacije) is a non-governmental organisation dedicated to promoting entrepreneurial culture and education about creative and innovative approaches to solving real-world challenges in local communities.
Our motto is: Think, Innovate, Solve!
Through a large portfolio of workshops, seminars and conferences we provide non-formal education with a focus on topics connected to entrepreneurship, employment,
ACCOMMODATION, FOOD & TRAVELLING
Hotel Matija Gubec is situated in Stubičke Toplice and serves as one of the most famous wellness places in Croatia with thermal waters.
Participants will be accommodated in rooms with two or three beds.
During the day three meals will be provided as an open buffet, as well as two coffee breaks. Access to the hotel pool will be free of charge. The Internet is available.
The travel budget is 180 Euros.
Bosnia and Herzegovina – The travel budget is 180 Euros.
Complete the BRAVO- APPLICATION FORM with in English title as following "name of the project you are applying for" until 23:59 on deadline day.
Deadline for applying: 22.01.2023.
Selection results: 23.01.2023.
PARTICIPATION FEE: NO PARTICIPATION FEE
If you have any questions don't hesitate to contact us at: office@bravo-bih.com
Who is BRAVO? Watch a video below and enjoy <3
On the video below you can hear very useful information for this mobility.