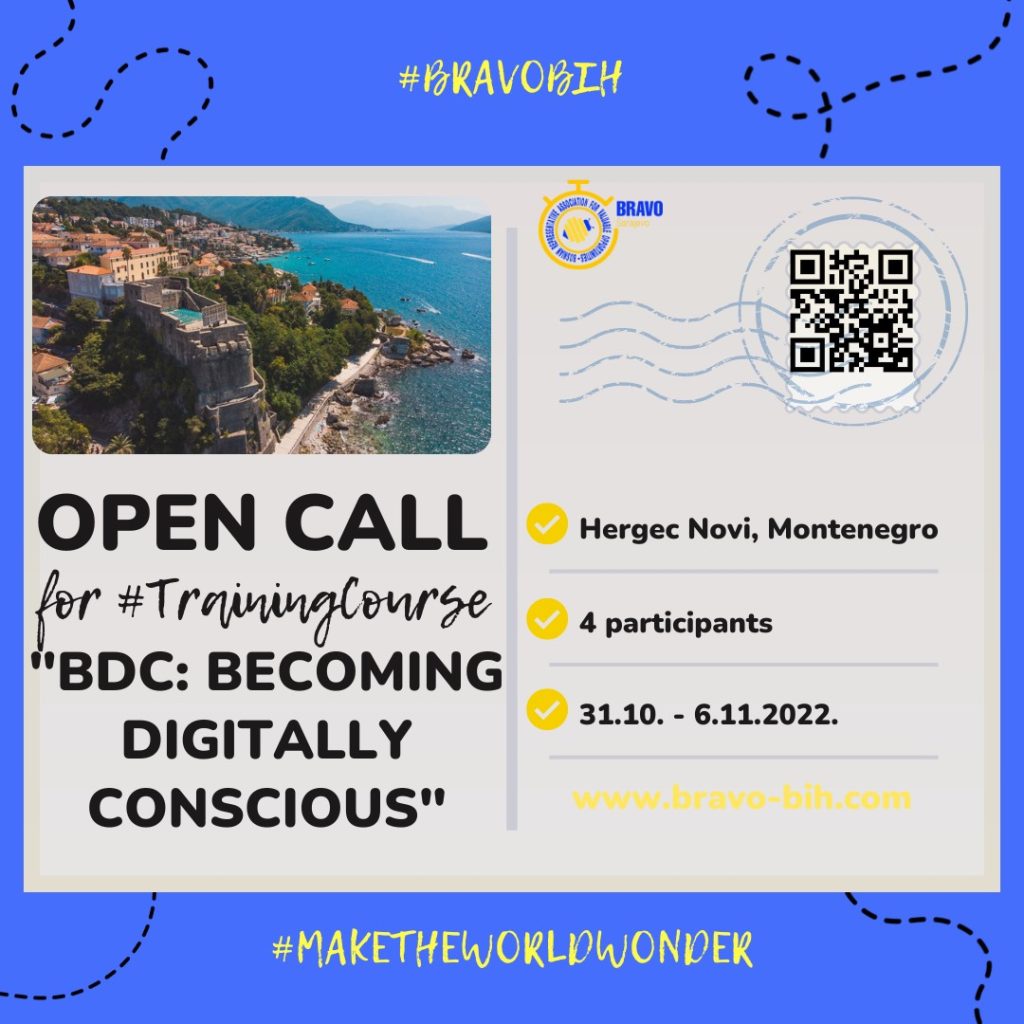 Name of the project: "BECOMING DIGITALLY CONSCIOUS''


Date of Project:  31.10.-6.11.


Sending Organization: "BRAVO"


Hosting organization: ''Mladiinfo Montenegro''


Place: Herceg Novi, Montenegro


Participants' age: 18+


The number of participants: 4


Working language: English


Deadline for applying: 19.10.2022.
This project is financed by the European Commission through the Erasmus Plus Program. This publication reflects the view only of the author, and the European Commission cannot be held responsible for any use which may be made of the information contained therein. By Erasmus+ rules organizers will cover travel costs, accommodation and food. 
"Becoming Digitally Conscious" is a Capacity Building project targeted to the promotion of healthy digital habits among young people (between 18 and 25 years old) living in the European and Western Balkans area. European society is progressively incorporating digital devices in all areas of life, which is leading to the spread of pathological internet use. With the development of non-formal tools that support youth workers in the promotion of digital competencies the idea is to make young people aware of the potential dangers of mag excessive use of digital devices, and how incorporating physically active and expressive activities in their routines can reduce their screen time and benefit their mental health and overall wellbeing.
This training aims to prepare trainers and youth workers to deliver the educational program at different contexts, using the non-formal methodology. Participants will learn about restrictions on the digitization of education and how to overcome them, the positive and negative effects of technological innovations in the teaching process, how to organize a high-quality workshop, digital transformation, digital devices: how to integrate them into the learning process and in the education system, positive and negative effects of technological innovations in the teaching process, etc.
– L'ORMA, Italy
– MLADIINFO MONTENEGRO, Montenegro
– NGO NEST Berlin, Germany
– NEW VISION, Albania
– CENTER FOR SOCIAL INNOVATION – CSI, Cyprus
– BRAVO, Bosnia and Herzegovina
ABOUT HOSTING ORGANIZATION
Mladiinfo Montenegro (m!M) is a youth-led NGO founded in 2011 in Podgorica, Montenegro. The organization`s mission is to improve the position of young people in Montenegro, and through information and education stimulate their active participation in the society. The vision of m!M is "Young people as key actors for development of Montenegrin";. 
m!M has significant experience in informing and educating youth. Through the web portal www.mladiinfo.me and social media
channels, m!M informs youth about different learning possibilities, but also about grants, scholarships, internships etc. As part of its activities, it also educates youth about journalism, media, youth work, entrepreneurship, human rights, addictions prevention, anti-discrimination and active participation.
Venue Training will be held in Bijela, Herceg Novi. Herceg Novi is a city you cannot love. Many consider it the most beautiful city on the Adriatic shore and always come back because of it's pleasant climate, beautiful sea and iconic architecture that is almost endemic in a way, because numerous different civilizations had control of the city during the centuries and all left a distinguished footprint on all spheres of society, including architecture. The city itself is located between the mountain Orjen and the
entrance to the Bay of Kotor. Herceg Novi is recognizable by the abundance of mimosa trees and its numerous flights of stairs. It's often called 'The City of the sun', thanks to the large number of sunny days all year round. The centre of Herceg Novi is its Old Town (Stari Grad), decorated with buildings dating back to the epochs of Sahat – Kula (1667) and Kanli – Kula (1483). Fortress Spanjola (1538) and Fortress Forte Mare (1687) are only a part of the cultural heritage of this renowned town. Carine Hotel Park: At the entrance to the Boka Bay, surrounded by ancient trees, they built a new hotel, but kept original name. Besides the outstanding location near the sea, the content of each offer something, they offer you the opportunity to enjoy organic food from farm Pišče, prepared in the traditional way by team of chefs. For guests who want to discover the beauty of our country, we offer various kinds of
excursions throughout Montenegro, as well as activities such as riding bikes, hiking, rafting on Tara, diving locations around the bay. 
You can read more about the hotel here: https://carinehotels.me/en/carine-hotel-pak
WEATHER IN HERCEG NOVI
The weather for the 31 October to 6 November is expected to be cloudy and not so cold, withž temperatures around 10 °C to 17 °C.


Please check the weather forecast before arrival and wear suitable clothes: https://www.aladin.info/sr/crna-gora/herceg-novi-dugorocna-prognoza-vremena
Do not forget to bring some traditional music, food, drinks and other stuff representing your country
and culture in some way.

What to bring?
◦ warm shoes and clothes
◦ Swimsuit for the pool
◦ And a lots of good mood!

Note 1: Participants that don't participate at 80% of the program will have to pay for their participation
costs by themselves.

Note 2: You are recommended to bring at least one laptop per group
Complete the BRAVO- APPLICATION FORM with in English title as following "name of the project you are applying for" until 23:59 on deadline day.
Deadline for applying: 19.10.2022.


 

 

Selection results: 22.10.2022.


 

 

PARTICIPATION FEE: NO PARTICIPATION FEE


 

 

If you have any questions don't hesitate to contact us at: office@bravo-bih.c
If you have any questions feel free to contact
BRAVO TEAM
On the video below you can hear very useful information for this mobility.