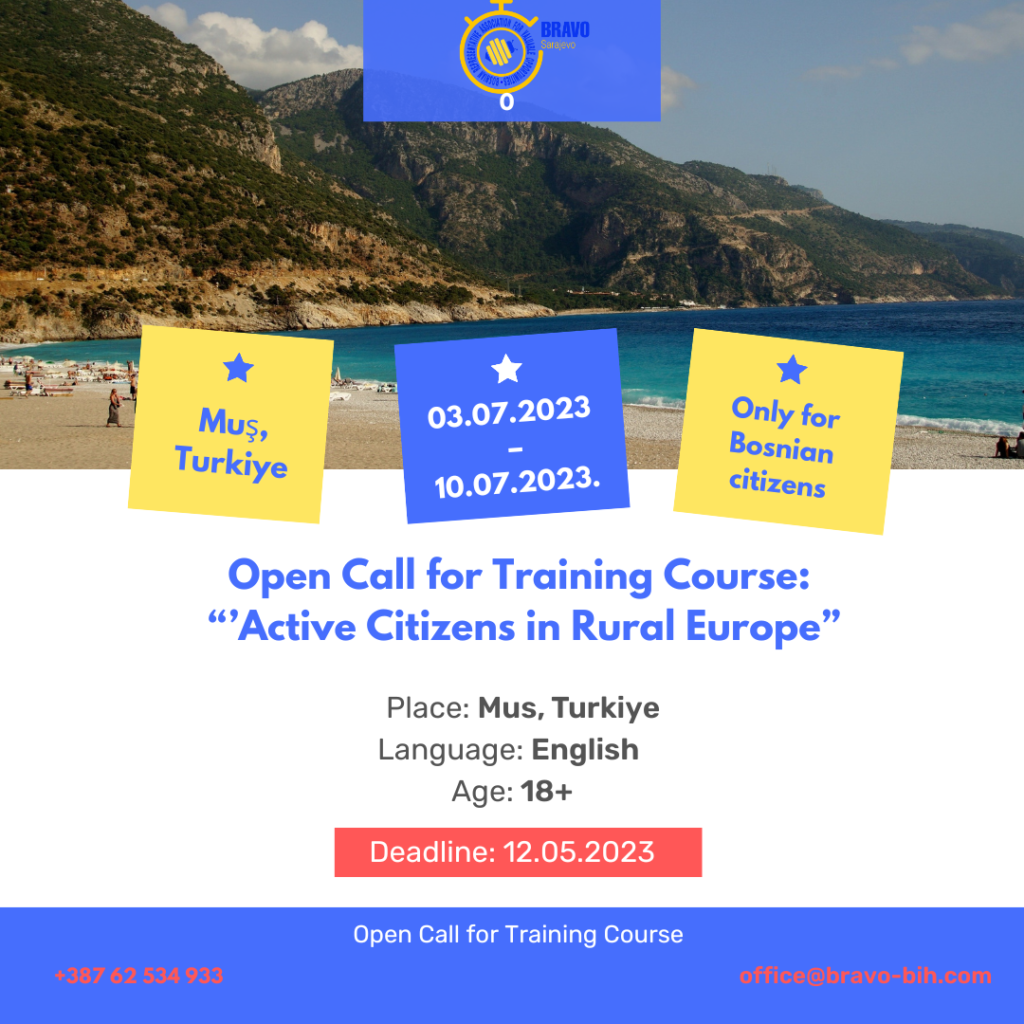 Name of the project: Training Course ''Active Citizens in Rural Europe"

 

Date of Project: 07.2023 – 10.07.2023.
Hosting organization: "Genc Birikm Dernegi"

 

Sending Organization: "BRAVO"

 

Place:   Mus, Turkiye

 

Participants age: 18+

 

The number of participants: 4

 

Working language: English

 

Deadline for applying:12.05.2022.
This project is supported and co-funded by the Erasmus+ programme. It means that your travel costs, accommodation, and food will be fully covered if you get selected for the project. The European Commission's support for the production of this publication does not constitute an endorsement of the contents, which reflect the views only of the authors, and the Commission nor EACEA can be held responsible for any use which may be made of the information contained therein.
One of the European Youth Goals is ''Moving Rural Youth Forward'' that aims to create conditions which enable young people to fulfill their potential in rural areas. Another one is ''Space and Participation for All'' that aims to strengthen young people's democratic participation and autonomy as well as provide dedicated youth spaces in all areas of society. Our project is in line with that both goals. The main aim of the project is to empower youth workers in active citizenship issues in rural areas by using non-formal and informal learning.
Active Citizens in Rural Europe is an Erasmus+ Professional development of activity – Training Course that will take place between 3-10 July. The project will bring 28 participants from 7 different countries. The target groups is youth workers who are interested and motivated to work on citizenship issues in rural areas. The working methods will be based on non-formal education such as case studies, simulations, role plays, group sessions, discussion, debates, field visits, outdoor activities, reflection groups, etc.
Youth Workers
Minimum 18 years old and can communicate in English
Work with young people in rural areas and have interest and ideas to work on active citizenship
Have high motivation to participate in all phases of the project
ACCOMMODATION, FOOD & TRAVELLING
Project will be held in Mus, Turkiye. The participants will stay in the Dap Hotel. Participants will stayin triple rooms. The link of the hotel: https://tr.hotels.com/ho1042382304/dap-otel-mus-turkiye/
During the activity, food will be prepared by experienced cooks, and provided at the venue. Three meals and two coffee breaks per day will be provided.
Complete the BRAVO- APPLICATION FORM with in English title as following "name of the project you are applying for" until 23:59 on deadline day.
Deadline for applying: 

12.05.2023.

Selection results: 

15.05.2023.

PARTICIPATION FEE: 

NO PARTICIPATION FEE

If you have any questions don't hesitate to contact us at: office@bravo-bih.com
Who is BRAVO? Watch a video below and enjoy <3
On the video below you can hear very useful information for this mobility.