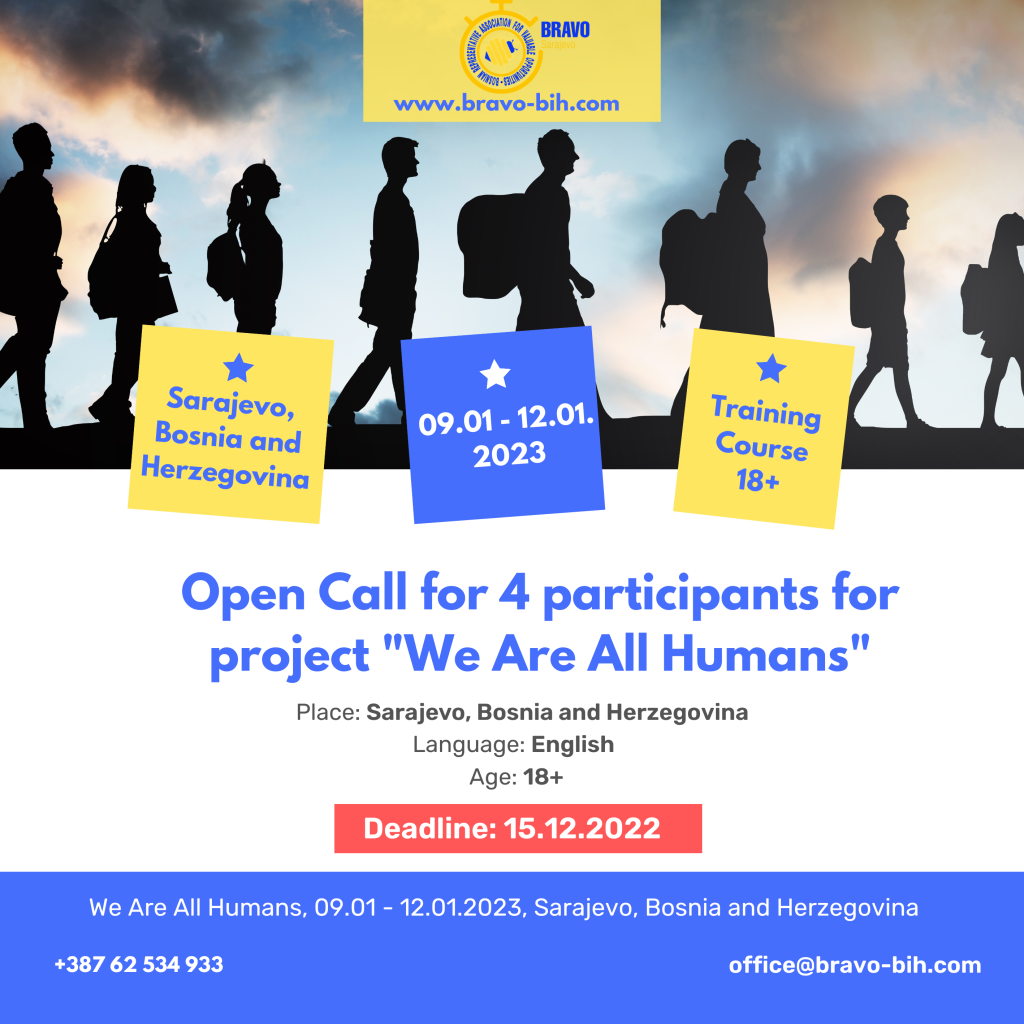 Name of the project: "We are all humans'


Date of Project: 09.01.2023. – 12.01.2023.


Hosting Organization: "BRAVO"


Place: Sarajevo, Bosnia and Herzegovina


Participants age: 18 – 24


The number of participants: 4


Working language: English


Deadline for applying: 15.12.2022.
The European Commission's support for the production of this publication does not constitute an endorsement of the contents, which reflect the views only of the authors, and the Commission nor EACEA can be held responsible for any use which may be made of the information contained therein.
The call is open to select 4 youngsters (18-24 old) coming from Bosnia and Herzegovina,
The selection is based on a policy of equal opportunities and does not discriminate on any ground, with due regard to an appropriate balance of nationality and gender.


Participants are required to:
be between 18 and 24 years old
be resident of Bosnia and Herzegovina
be able to speak English
be interested in participating an intercultural and international project
All participants should be interested in project topics and their full motivation to participate in all activities will be expected.
The project is dedicated to young European citizens interested in sharing knowledge and perspectives about actual key themes relevant for their future, as well as for the European Unions' future:
civil and human rights
migration
environment
youth employability
The project will gather 30 youngsters (18-24 years old) from different EU Countries (Belgium, Bosnia Herzegovina, Italy, Romania, Serbia, Portugal, and Cyprus) according to their orientation towards EU policies related to the selected themes (Euro sceptics and Euro supporters).
Starting from knowing EU history and values, EU bodies and their functioning, participants will develop critical thinking on sensitive matters, debating and exchanging their thoughts with peers from other EU Countries, for finally developing a document containing all their ideas and recommendation to be presented in Brussels to the EU policy makers during the last event.
The Bosnian Representative Association for Valuable Opportunities (BRAVO) is non-profit and non-governmental organization. The things that make this organization outstanding and ready to assume responsibility are core principles: tolerance, democracy, diversity, voluntariness, and openness.
Our teams are working in the following fields/topics: Human Rights, Anti-Trafficking, People with disabilities, Reproductive health and STDs, Gender Equality and Combating Gender-Based Violence, Sports on a daily basis, Audio and Video production, People with fewer opportunities, Organizing events, Entrepreneurship, IT and ICT, Technology, Humanitarian actions, National and International projects, Support in fight against Criminal and Corruption, Accelerating start-ups, Industry 4.0, Entrepreneurship, Project management, Refugees and Migrants, Creative Actions, but at the same time we are working on publishing books, brochures, newsletters, flyers, affiliations, and other publications, and a lot of other activities.
Our general target group is youth within the age range of 15 to 35, but we focus on all people in need of help and our support. Bearing that in mind, we say that we care for people from 3 to 103. The focus of our organization is on international projects, including all sectors and topics mentioned above, but at the same time, working with people with fewer opportunities and taking care of European values and principles. We are working with institutions for people with disabilities, such as institutions for deaf and blind people. Through our activities, in cooperation with institutions and organizations led by people with disabilities, we are teaching silent language and doing sports activities with blind people. In our projects as coordinators or hosting organizations, we love to bring participants to one of these two institutions and give them an opportunity to learn something totally new.
We are working on the following fields:
Youth Empowerment
Education and training
Soft skills
Public speaking and communication
Employment Creation
Teaching importance of the Reproductive Health and STD-s
Combating Anti-trafficking
Environment
Youth and Non-Formal Education
Arts and Culture
Sport and Recreation
Hotel BM International ****
Pijačna 2, Sarajevo 71000, Bosnia and Herzegovina 

HOTEL BM INTERNATIONAL **** 
http://hoteli.bracamujic.com/en/hotel-bm-international.html
The hotel is located on the main road between the city center and the smaller down city center called Ilidža, has parking for guests, and two tram stops are only a couple of minutes away. Whether it's about individuals or entire families, the hotel offers tourists comfort and quality service, and business customers can even rent an office or business premises for several days as needed. Hotel BM International apartments have separate bedrooms, separate kitchen with dining area, mini-bar, and bathroom with toilet. Cable TV, telephone and free internet access over wireless network are just few of the details included in this offer.
Complete the BRAVO- APPLICATION FORM with in English title as following "name of the project you are applying for" until 23:59 on deadline day.
Deadline for applying: 15.12.2022.
Selection results: 20.12.2022.
PARTICIPATION FEE: NO PARTICIPATION FEE
If you have any questions don't hesitate to contact us at: office@bravo-bih.com
More about BRAVO check on the video below