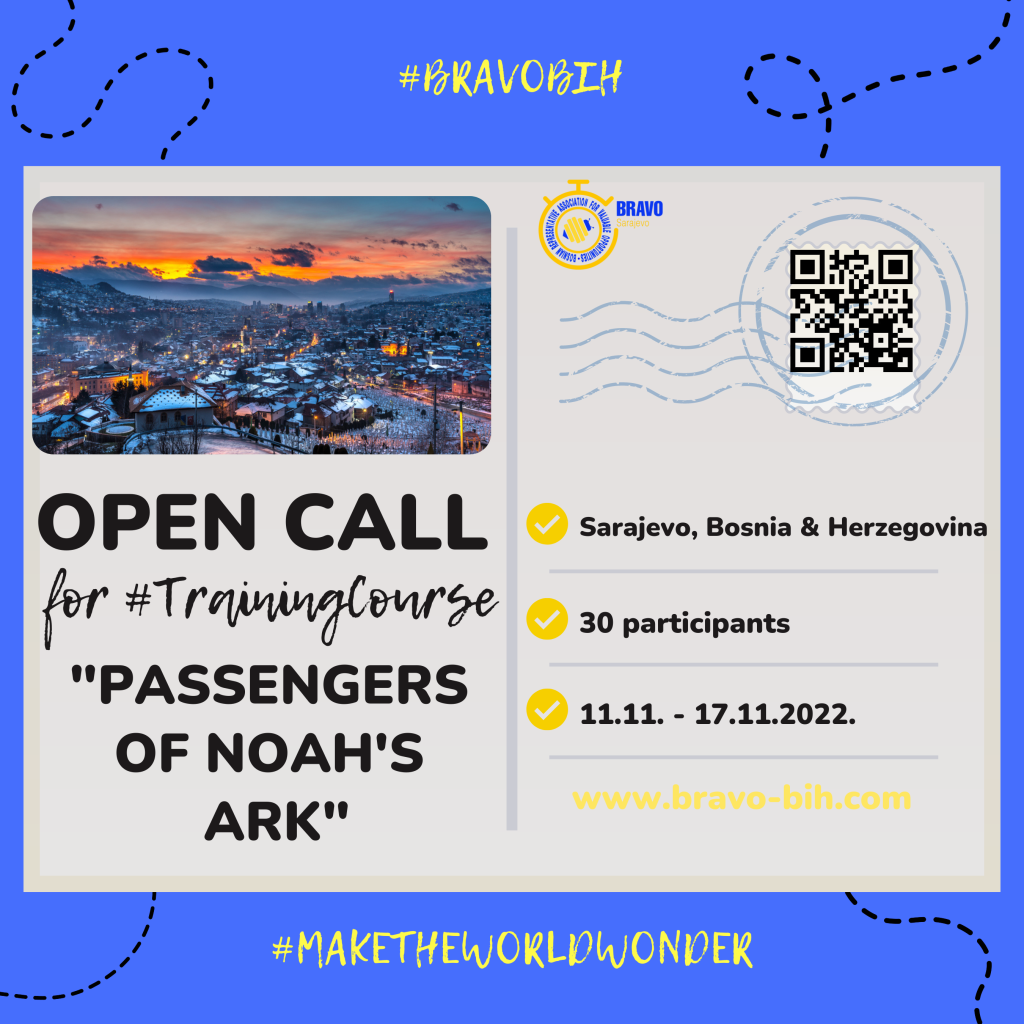 Name of the project: "Passengers of NOAH's Ark"
Date of Project: 11 – 17 November
Sending Organization: "BRAVO"
Place: Sarajevo, Bosnia and Herzegovina
 Participants' age: 16+
The number of participants: 
Türkiye or/and Turkish people living in Bosnia– 8 participants
Bosnia & Herzegovina – 5 participants
Macedonia – 4 participants
Norway – 5 participants
Romania – 4 participants
Morocco – 4 participants
Working language: English
Deadline for applying: 29.10.2022.
This project is financed by the European Commission through the Erasmus Plus Program. This publication reflects the view only of the author, and the European Commission cannot be held responsible for any use which may be made of the information contained therein. By Erasmus+ rules organizers will cover travel costs, accommodation and food. 
Migration affects not only migrants but also the communities of origin. Migration exists both in the past and in the present. According to the 2020 World Migration Report analysis of the International Organization for Migration, the number of immigrants worldwide has increased to 272 million, reaching 3.5 % of the world population. It shows that more than half of the refugees worldwide with 114 million live in Europe and North America, thanks to the level of development that the European Union has come from economically and socially. Although there were increases and decreases in the migration graph over time, migration continued to be a continuous phenomenon between countries. The drama, tragedies, troubles and tears of migration from the past to the present are talked about. We advise humanity, who has migrated for thousands of years, to close the doors, not to see or hear. However, now we must focus on the beauties of migration, talk about its contributions to our lives, and remember its spirit. We have to explain the emotion of migration, its art, how it unites people and how it enriches civilizations. We should focus on what a good engineer, a good doctor, a good artist, a skilled worker adds to our lives, we should not be afraid of our own truth, we should believe in our humanity. Since migration has existed for thousands of years and it has contributed to our lives, let's put aside the dramas and pains of migration and tell the beauties of migration, its contribution to culture and art, with art, let's tell the stories of European migration with art, let's make folk songs and films. Let's take the first step from here.
Developing / acquiring young people's intercultural learning, active learning, artistic and digital skills, creative thinking, design and implementation, empathy, social enterprise, active citizenship skills
To gain the awareness and skills of working together, team spirit, duty and responsibility, tolerance.
To break the prejudices, if any, against individuals from different cultures, religions, beliefs, history and geography, and to improve their knowledge and skills about differences.
Creating/performing 7 songs with short videos/films in different languages (in language of project partner countries) and delivering them to the World
Raising awareness of the importance of the impact of culture on one's behavior and identity
To draw attention to European citizenship, immigration, immigration issues, to raise awareness and to support participants and project beneficiaries in adopting these concepts
Supporting the visibility of E + programs
Developing our institutional capacity and international cooperation skills
interest in taking part in a multicultural experience (give priority to people who have had few or no opportunities to live experiences of this type and/or experience intercultural learning activities
We are expecting participants to be older than 16 years old and between 16 – 26 years old, participants who are under 18 years old need to get confirmation before coming to Sarajevo.
Group Leaders: preferably between 25 and 45 y.o and with previous experiences in Erasmus+ projects and a good knowledge of English. It is also requested to take gender balance under consideration while selecting participants. Please give priority to people who have had few or no opportunities to live experiences of this type and/or experience intercultural learning activities).
All participants should be interested with project topics and their full motivation to take part in all activities will be expected.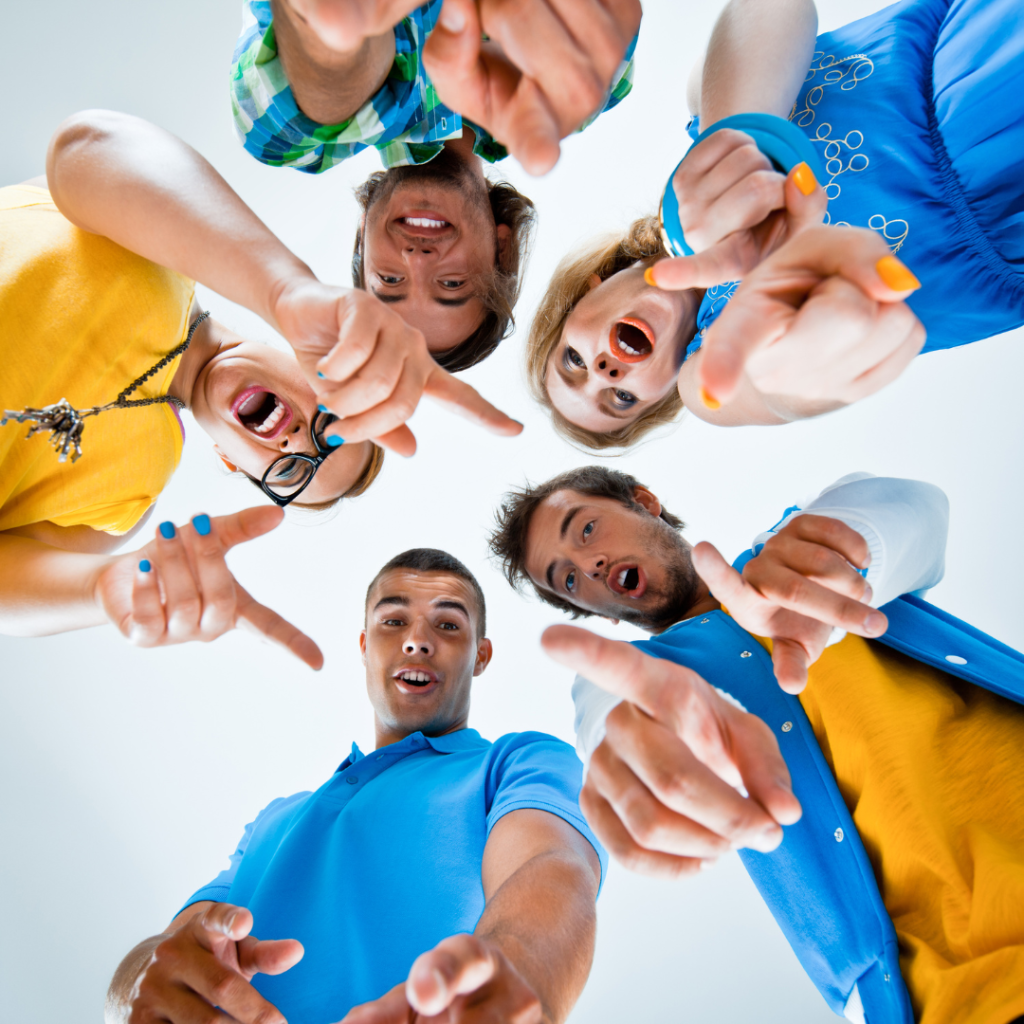 YouthPass is certificate of Erasmus+ Program, which is used as a tool to recognize non-formal education and achievements of participants through different programs where they take part. Each participant of the training course who would attend all workshops and respect rules which will be formed together with participants will receive YouthPass Certificate at the end of our project
The Bosnian Representative Association for Valuable Opportunities (BRAVO) is non-profit and non-governmental organization. The things that make this organization outstanding and ready to assume responsibility are core principles: tolerance, democracy, diversity, voluntariness, and openness.
Our teams are working in the following fields/topics: Human Rights, Anti-Trafficking, People with disabilities, Reproductive health and STDs, Gender Equality and Combating Gender-Based Violence, Sports on a daily basis, Audio and Video production, People with fewer opportunities, Organizing events, Entrepreneurship, IT and ICT, Technology, Humanitarian actions, National and International projects, Support in fight against Criminal and Corruption, Accelerating start-ups, Industry 4.0, Entrepreneurship, Project management, Refugees and Migrants, Creative Actions, but at the same time we are working on publishing books, brochures, newsletters, flyers, affiliations, and other publications, and a lot of other activities.
Our general target group is youth within the age range of 15 to 35, but we focus on all people in need of help and our support. Bearing that in mind, we say that we care for people from 3 to 103. The focus of our organization is on international projects, including all sectors and topics mentioned above, but at the same time, working with people with fewer opportunities and taking care of European values and principles. We are working with institutions for people with disabilities, such as institutions for deaf and blind people. Through our activities, in cooperation with institutions and organizations led by people with disabilities, we are teaching silent language and doing sports activities with blind people. In our projects as coordinators or hosting organizations, we love to bring participants to one of these two institutions and give them an opportunity to learn something totally new.
We are working on the following fields:
Youth Empowerment
Education and training
Soft skills
Public speaking and communication
Employment Creation
Teaching importance of the Reproductive Health and STD-s
Combating Anti-trafficking
Environment
Youth and Non-Formal Education
Arts and Culture
Sport and Recreation
VENUE - Hotel BM International ****
The hotel is located on the main road between the city center and the smaller down city center called Ilidža, has parking for guests, and two tram stops are only a couple of minutes away. Whether it's about individuals or entire families, the hotel offers tourists comfort and quality service, and business customers can even rent an office or business premises for several days as needed. Hotel BM International apartments have separate bedrooms, separate kitchen with dining area, mini-bar, and bathroom with toilet. Cable TV, telephone and free internet access over wireless network are just few of the details included in this offer.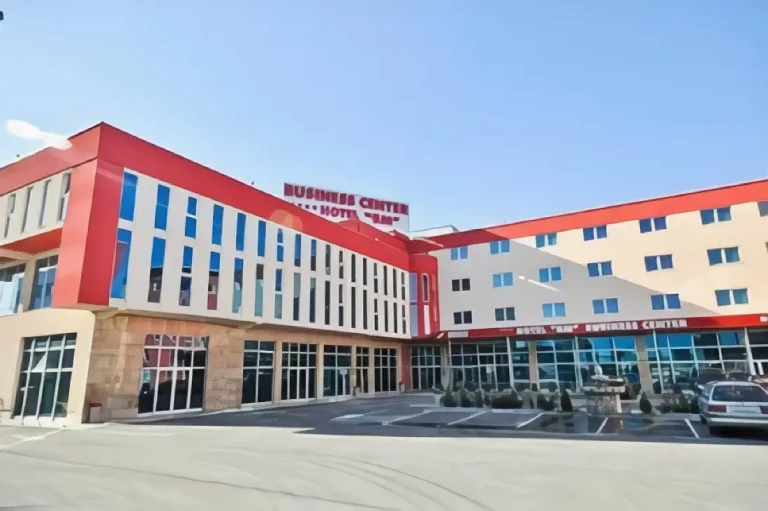 TRAVEL COSTS & REIMBURSEMENT AMOUNT (max.)
Reimbursement is calculated based on the distance calculator of the European Commission.
At the arrival, all participants must provide flight reservation, all original tickets and boarding passes. They must send by post the return tickets and boarding passes to an email address which will be provided.
Travel costs will be reimbursed only for the cheapest means of transportation. Acceptable means of transportation for the project are: plane, bus, train, metro or ferry, but NOT taxi.
✓ BRAVO (Bosnia & Herzegovina) – 23 € (max)
 ✓ "World of Change" (N. Macedonia) – 180 € (max) or 210 € for Green Travel
✓ TTB (Norway) – 360 € (max)
 ✓ Asociatia Youthland (Romania) – 275 € (max)
✓ Mediterranean Forum For Social Development (Morocco) – 530 € (max)
Participants will pay their own travel expenses before the project. After participating in the project and returning to their country within the time allowed for them (before, after or maximum 2 days before and after the project in total), they will receive their refund via bank transfer after they give / send all their travel documents to us. We will not make any refund by cash during or after the project. No payment will be made to the participants for travel tickets before the project, and no ticket purchase will be made by us on their behalf. Refunds can generally take up to 60 days after the Project mobility end.
The climate in Sarajevo is quite changing, it could be sunny and lovely and suddenly storming and raining, make sure to dress in layers and bring your raincoat and umbrella with you, and be prepared with them in your handbag when you go out.
At this time expect a bit of cold and wet weather during the day and cold weather during the night. So, be prepared.
FOOD Chefs of the hotel are preparing meals from 16 different kitchens. So every day for breakfast, lunch and dinner you will have the opportunity to choose various meals in the main dining area.
Photography: Partner organizations will take video and photograph throughout the duration of the activities. Pictures will be shared on partner social network sites. Please advise us If you are okay with sharing your pictures with you on it.
The participants are themselves responsible to get a travel & health insurance which is valid in Bosnia & Herzegovina & Schengen region. We strongly suggest participants to have travel and health insurance. If anyone who uses medicine should bring with themselves. ANTIGENIC/SWAB and/or PCR test will be covered with the limit of your travel costs. Please try to find as cheapest tickets as possible that we can refund all your travel and test costs. We kindly ask participants to buy an insurance, to cover the costs incase of quarantine. We will not be able to cover the costs of quarantine, but will support the participants to find an accommodation for the quarantine and help them in everything they will need.
Complete the BRAVO- APPLICATION FORM with in English title as following "name of the project you are applying for" until 23:59 on deadline day.
Deadline for applying: 29.11.2022.
Selection results: 01.11.2022.
PARTICIPATION FEE: NO PARTICIPATION FEE
If you have any questions don't hesitate to contact us at: office@bravo-bih.com
Who is BRAVO? Watch a video below and enjoy <3
On the video below you can hear very useful information for this mobility.