Open Call for 3 Participants from Bosnia and Herzegovina for Training
#YOUTHTOO
in Nea Makri, Greece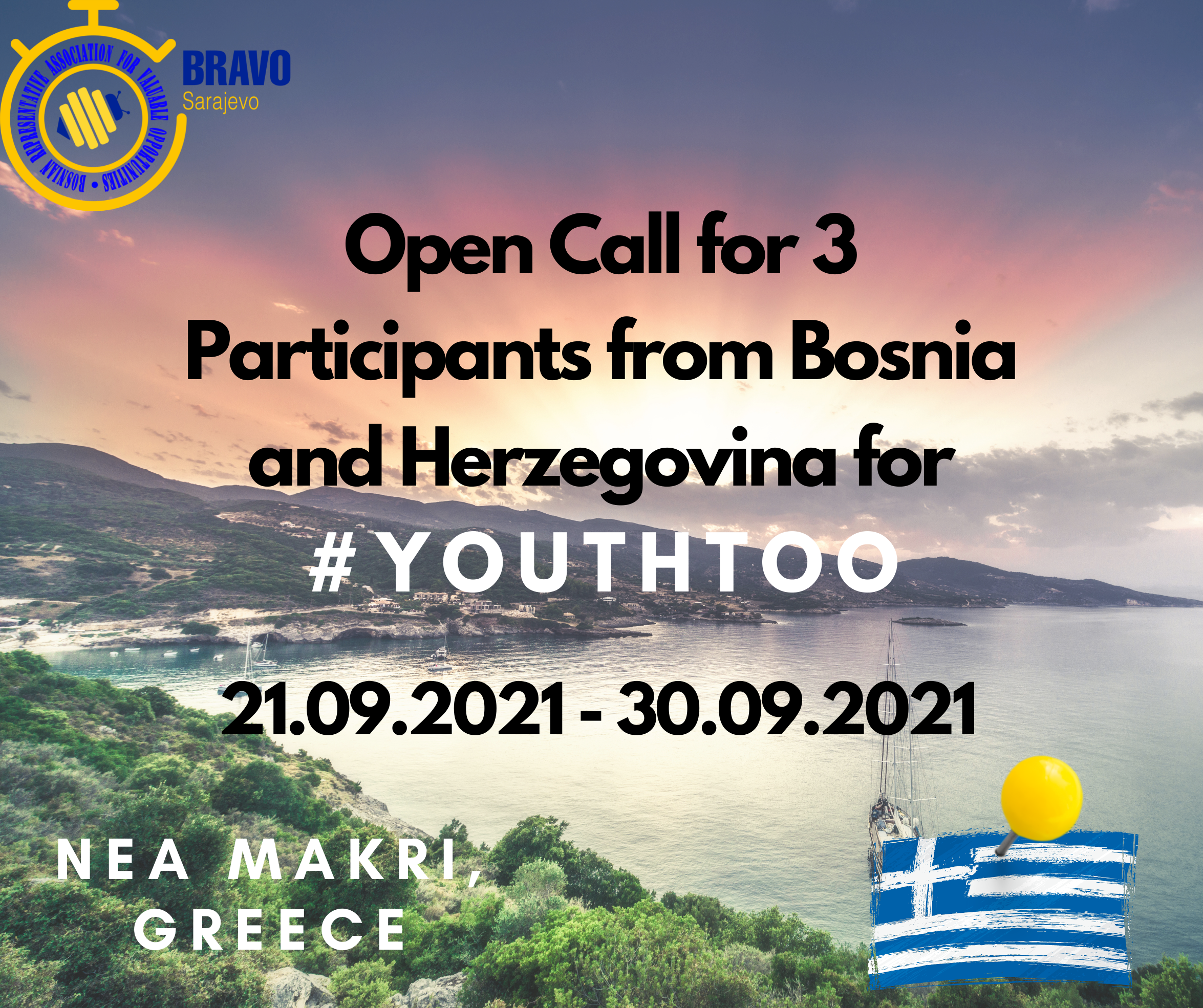 Name of the project: "Social Networks as a Tool for Online Campaign Prevention of Violence in Youth Love Relationships"


Date of Project: 21.09.2021 – 30.09.2021.


Hosting organization: "NVO "PRIMA" "


Sending organizations: "BRAVO"


Place: Nea Makri, Greece


Participants age: + 18


The number of  participants : 3


Working language: English


Deadline for applying: 05.09.2021
This project is financed by the European Commission through the Erasmus Plus Program. This publication reflects the view only of the author, and the European Commission cannot be held responsible for any use which may be made of the information contained therein. By Erasmus+ rules organizers will cover travel costs, accommodation and food.
ALL RELEVANT INFORMATIONS
ACCOMODATION
All participants will be accommodated in Thomas Beach Hotel in double or triple rooms.
Adress: Koufolouka 4 19005, Nea Makri Attiki, Greece
Tel: +30 22940 98887
E-mail: thomasb@otenet.gr
TRANSFER AND TRAVEL LIMITS:
Nea Makri is 20km away from Athens International Airport and 30km from the City Center. Nea Makri belongs to the Municipality of Marathonas where the ancient marathon competitions originated. The Hotel is located in front of the Evoikos seaside.
Organization will cover all expenses for food, accommodation and coffee breaks. Everything else that you order in hotel will be on your own expense.
Transfer from the airport to the Hotel, and from the Hotel to the airport will be arranged by the Organizers.
Travel cost for participants from Bosnia and Herzegovina – 275 EUR
Please keep all your invoices and receipts. Your travel costs will be refunded during training, upon providing us with all documents.
WHAT TO KNOW BEFORE ARRIVAL IN GREECE?
The only currency used in Greece is EURO (EUR).
Inform the organizers if you have any health issues that we should be aware of. All information will be kept in strict confidence!
All activities will be implemented strictly in accordance with the COVID19 prevention measures prescribed by the WHO and Greek public health authorities, which includes mandatory use of face masks, keeping physical distance, regularly washing/disinfecting hands and keeping all working spaces well ventilated.
All data you provided to us will be kept in confidence. However, in order to protect everyone's privacy, please ask other participants for their permission before posting some content online.
COVID - 19 PREVENTION MEASURES
WE WILL:
ARANGE WITH THE HOTEL TO ENABLE US TO KEEP PHYSICAL DISTANCE DURING ALL ACTIVITIES
PROVIDE ENOUGH MASKS AND DISINFECTION PRODUCTS FOR ALL PARTICIPANTS
BE AT YOUR DISPOSAL FOR ANY INFORMATION AND SUPPORT RELATED TO THIS TOPIC
ORGANIZE TRAINING IN A WAY THAT GUARANTEES MAINTAINING PHYSICAL DISTANCE AT ALL TIMES
YOU WILL:
WEAR FACE MASK ALL THE TIME WHEN YOU ARE INSIDE THE HOTEL
WASH YOUR HANDS REGULARLY AND USE AVAILABLE DISINFECTION PRODUCTS
KEEP THE DISTANCE OF AT LEAST 2 METERS FROM OTHER PEOPLE WHEN INSIDE
AVOID HANDSHAKING, HUGGING AND TOUCHING FREQUENTLY TOUCHED SURFACES IN THE HOTEL
FOLLOW THE COVID PREVENTION RULES AT ALL TIMES, EVEN DURING THE FREE TIME.
Tuesday, 21. 09. 2021.
– Arrival of the participants
Wednesday, 22. 09. 2021.
– Team building
Thursday, 23. 09. 2021.
– Violence in teen love relationships
Friday, 24. 09. 2021.
– Gender based violence
Saturday, 25. 09. 2021.
– Campaign strategy
Breakfast 8:00 – 9:30
Dinner 19:00 – 20:00
Sunday, 26. 09. 2021.
– Social media campaigns and tools
Monday, 27. 09. 2021.
– Social media campaign planning guide
Tuesday, 28. 09. 2021.
– Creative writing
Wednesday, 29. 09. 2021.
– Evaluation
Thursday, 30. 09. 2021.
– Departure of participants
Lunch 13:00 – 15:00
Coffee breaks 11:00- 11:30 ; 16:30 – 17:00
Nea Makri (Greek: Νέα Μάκρη) is a town in East Attica, Greece. Since the local government reform of 2011, it has been a municipal unit within the municipality of Marathon. The municipal unit has an area of 36.662 km2. It is part of the Athens metropolitan area.
Nea Makri is situated on the coast of the Petalioi Gulf, a gulf of the Aegean Sea, in the easternmost part of the Attica peninsula. It is 7 km north of Rafina, 8 km south of Marathon and 25 km northeast of Athens city centre. The municipal unit Nea Makri also contains the village Neos Voutzas, 5 km south of Nea Makri town centre. Greek National Road 83 (Athens – Marathon – Rafina) passes through Nea Makri. It is widely known and visited due to its coastline and its beaches are among the top 10 cleaner in the region of Attica.
Deadline for applying: 05.09.2021.
If you have any questions feel free to contact
BRAVO TEAM