Open Call for 3 Participants from Bosnia and Herzegovina for Training
#YOUTHTOO
in Sarajevo, BiH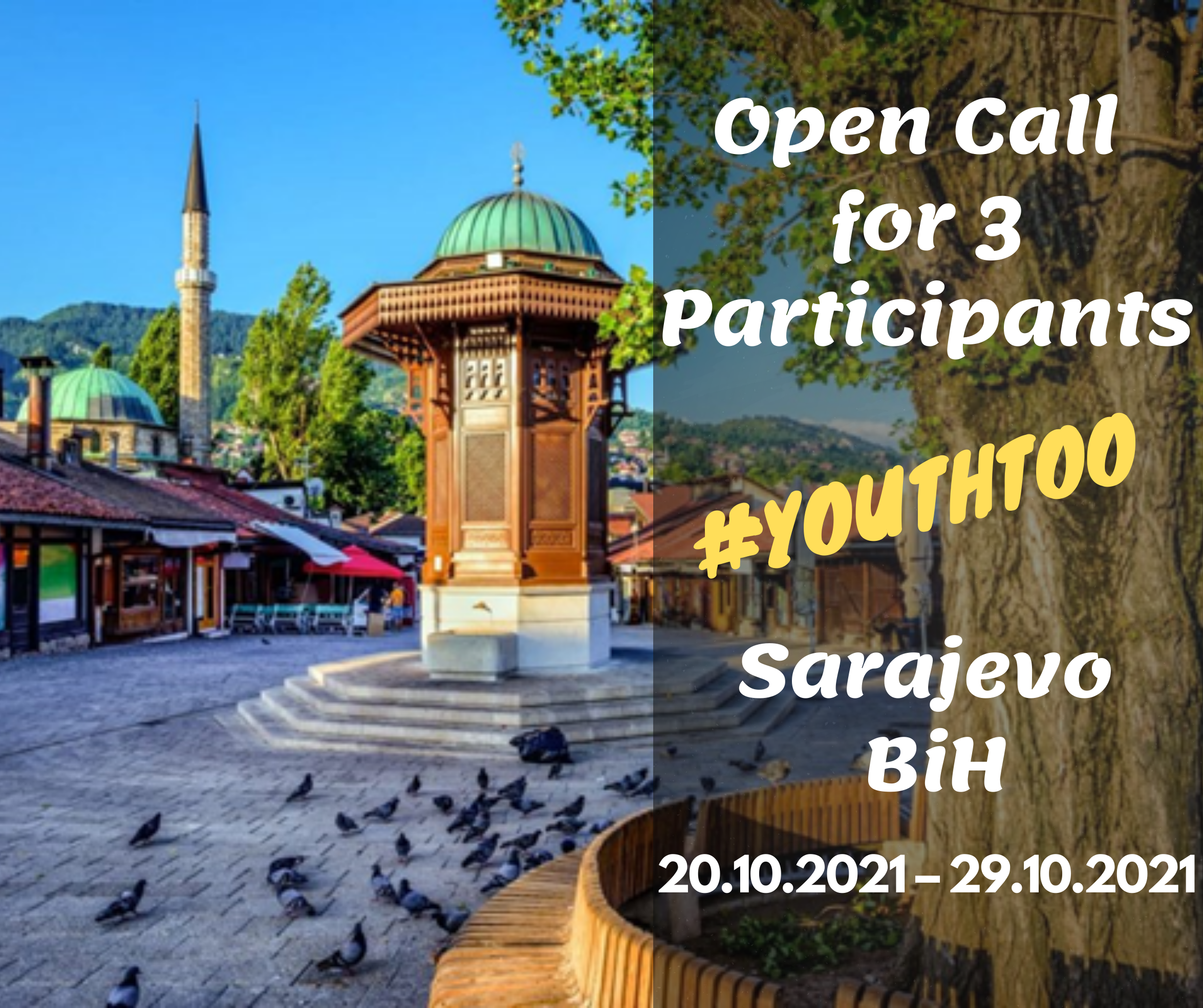 Name of the project: "Social Networks as a Tool for Online Campaign Prevention of Violence in Youth Love Relationships"


Date of Project: 20.10.2021 – 29.10.2021.


Hosting organization: "NVO "PRIMA"


Sending organizations: "BRAVO"


Place: Sarajevo, Bosnia and Herzegovina


Participants age: + 18


The number of  participants : 3


Working language: English


Deadline for applying: 16.10.2021
This project is financed by the European Commission through the Erasmus Plus Program. This publication reflects the view only of the author, and the European Commission cannot be held responsible for any use which may be made of the information contained therein. By Erasmus+ rules organizers will cover travel costs, accommodation and food.
ALL RELEVANT INFORMATIONS
ACCOMODATION
All participants will be accommodated in BM International Hotel: 3 or 4 people in the room. All expenses for food, accommodation and coffee breaks will be covered by the organization. Everything else that you order in hotel will be on your own expense.
Adress: Pijačna 2, 71000 Sarajevo
Tel: +387 33 774 630
E-mail: bc@hitelibm.com
TRANSFER AND TRAVEL LIMITS:
Sarajevo International Airport is located 12 kilometers from city center and 3 kilometers from the BM International Hotel. Hotel is located in quiet and newly built part of the city with easily accessible transportation means.
Please keep all your invoices and receipts. Your travel costs will be refunded during training, upon providing us with all documents.
WHAT TO KNOW BEFORE ARRIVAL IN BOSNIA AND HERZEGOVINA?
The only currency used in Bosnia is Marka (BAM) 1BAM=0.51EUR
Inform the organizers if you have any health issues that we should be aware of. All information will be kept in strict confidence!
All activities will be implemented strictly in accordance with the COVID19 prevention measures prescribed by the WHO and Bosnian public health authorities, which includes mandatory use of face masks, keeping physical distance, regularly washing/disinfecting hands and keeping all working spaces well ventilated.
All data you provided to us will be kept in confidence. However, in order to protect everyone's privacy, please ask other participants for their permission before posting some content online.
COVID - 19 PREVENTION MEASURES
WE WILL:
ARANGE WITH THE HOTEL TO ENABLE US TO KEEP PHYSICAL DISTANCE DURING ALL ACTIVITIES
PROVIDE ENOUGH MASKS AND DISINFECTION PRODUCTS FOR ALL PARTICIPANTS
BE AT YOUR DISPOSAL FOR ANY INFORMATION AND SUPPORT RELATED TO THIS TOPIC
ORGANIZE TRAINING IN A WAY THAT GUARANTEES MAINTAINING PHYSICAL DISTANCE AT ALL TIMES
YOU WILL:
WEAR FACE MASK ALL THE TIME WHEN YOU ARE INSIDE THE HOTEL
WASH YOUR HANDS REGULARLY AND USE AVAILABLE DISINFECTION PRODUCTS
KEEP THE DISTANCE OF AT LEAST 2 METERS FROM OTHER PEOPLE WHEN INSIDE
AVOID HANDSHAKING, HUGGING AND TOUCHING FREQUENTLY TOUCHED SURFACES IN THE HOTEL
FOLLOW THE COVID PREVENTION RULES AT ALL TIMES, EVEN DURING THE FREE TIME.
Sarajevo is the political, financial, social and cultural center of Bosnia and Herzegovina and a prominent center of culture in the Balkans, with region-wide influence in entertainment, media, fashion and the arts.
Due to its long history of religious and cultural diversity, Sarajevo is sometimes called the "Jerusalem of Europe" and It is one of only a few major European cities to have a mosque, Catholic church, Orthodox church and synagogue within the same neighborhood.
If you have any questions feel free to contact
BRAVO TEAM