Open call for Training for Youth Workers "ECONOMIC DE(GROWTH)"
Name of the project: "ECONOMIC DE(GROWTH)"


Date of Project: 09.08.2022. – 17.08.2022.


Sending Organization: "BRAVO"


Place: Wisła, Poland


Participants age: +18


The number of participants: 3


Working language: English


Deadline for applying: 10.06.2022.
This project is financed by the European Commission through the Erasmus Plus Program. This publication reflects the view only of the author, and the European Commission cannot be held responsible for any use which may be made of the information contained therein. By Erasmus+ rules organizers will cover travel costs, accommodation and food.
The impending financial crisis, the collapse of the world economy due to the pandemic of COVID19, the climate crisis,… We have all heard about this. More and more people realize that the word that we know it should be "reinvented". The idea of DeGrowth recognizes that the economic model that is promoted now as a point of discussion on ,unrestricted and continuous growth, degradations the environment and enormous inequalities between rich and poor. We are convinced that it is the young people who can become the generation that will introduce changes in thinking about the economy, development, and society. The question that arises, thus, is – how do young people, in the mass of information, including fakenews, crammed into the traditional model of teaching, can think beyond the imposed definitions – "out of the box"?
For this to happen – we must prepare youth workers to be able to work with young people on issues related to system solutions, advocacy and conducting debates, and at the same time having a basic knowledge of the concept of alternative forms of economic development and climate crisis. Furthermore, due to the COVID-19 pandemic, many non-governmental organizations had to reorganize their work and this online method of working with youth has been introduced. Therefore, an additional element of the training will be the ability to use online tools to conduct training and other activities in the field of youth work, i.e. competencies regarding work with young people in the digital space. An essential part of the training program is the creation and running of a webinar through participants – it will not only be an important element of disseminating knowledge, but also a very practical dimension of the event and the implementation of one of the main principles of non-formal education, which is learning by doing.
Aims of the training:
Conducting training of youth workers in the field of:
Encouraging young people to reflect on European issues, including economic and climate issues;
Challenging views that perpetuate inequality or discrimination;
Respect for cultural diversity
Conducting advocacy activities

2. Development of knowledge of youth workers participating in the project in the field of
models of economic development
methods and tools to combat the climate crisis
Development of digital skills and remote work with young people
Disseminating the results of the project in the form of 8 webinars (one in each country).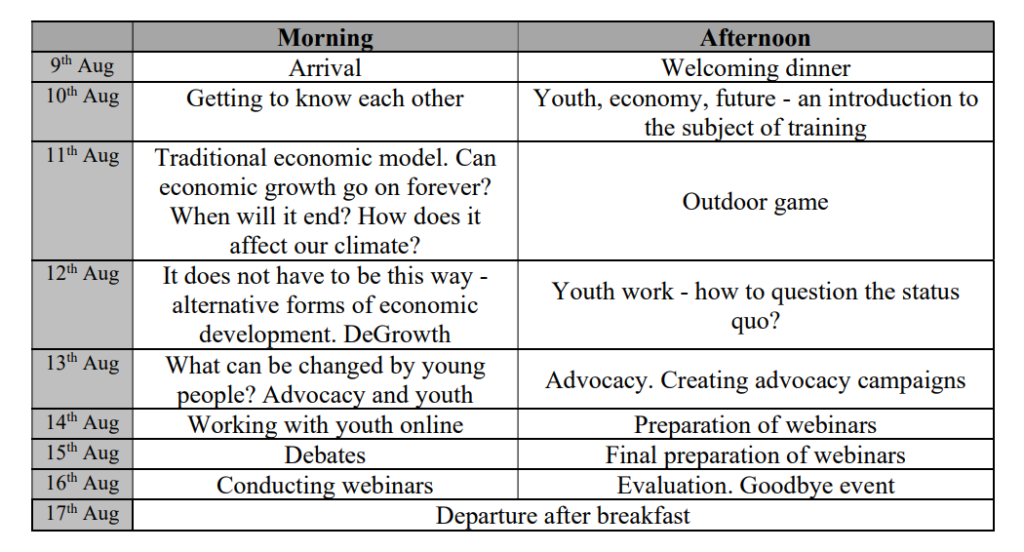 This is extremely important for us that participants from each country will share gained knowledge. Therefore, after the training, the group from each country will be obligated to conduct a dissemination event dedicated for other youth workers in your organization and / or your local environment. During such dissemination event, you will share with them your skills and knowledge gained during the training. It can be a workshop for your peers, a meeting in your organization or any other activity sparking discussion about the topic in your community.
The dissemination event needs to be stationary (conducted face-by-face) and cannot be replaced with online activities. Such an event needs to be conducted before 31st August 2022.
Please note that conducting this activity is obligatory. Report from the event (photos and description) will be required.
The training will be held in Wisła, Poland. Wisła is a beautiful town in southern Poland, close to the border with the Czech Republic and Slovakia. Attractively situated at the source of the Wisla River, and surrounded by beautiful forests on nearby mountain slopes, Wisla is popular tourist destination. Known as the Pearl of the Beskid Mountains, it has breathtaking views and landmarks.
Participants will be accommodated in double and triple rooms with private bathroom, grouped by gender, with participants from different country.
Due to the fact that the Economission Foundation promotes responsible consumption, meals served during the training will be exclusively vegetarian. Please make sure, that this rule is acceptable for you before committing for participation in this training.
Everything you need for the intercultural evening
Warm clothes and waterproof shoes and jacket.
All your boarding passes, tickets you used to get to the airport, and also the printout with your booking confirmation.
Good mood and enthusiasm
TRAVEL COSTS REIMBURSEMENT
Accommodation costs (programme activities, food and accommodation) are covered by Erasmus+. There is no participation fee.
Travel costs will be covered, based on the country of participants, up to foreseen limits listed below. 
You will be reimbursed on the base of the actual incurred costs, documented by the receipts and invoices. Please keep in mind that we can reimburse you only for this transport, for which you have original tickets. So do not throw anything away! In order to have your travel cost reimbursed you need to keep all tickets, boarding passes and any other documents connected to your travel.
The most convenient way is to take flight to:
KRAKÓW – http://www.krakowairport pl/en/
or
KATOWICE – https://www.katowice-airport.com/en
From there, you need to take a bus to Wisła.
from KATOWICE
Airport – bus station From the airport, you need to take a bus to Katowice Railway Station (PKP). Between a railway station (from where you can a train to Wisła) and a bus station (where you get a bus to Wisła) is only 5 minutes by walk. Katowice – Wisła The easiest way to get from Katowice to Wisła is by bus, as there are direct buses, that take around 2 hours. You can check them as well as buy tickets on this website: https://www.busradar.com .
Please note that this website also shows options by car and by train. They are not reliable and you should focus only on bus options in the search.
from KRAKÓW
Kraków airport – Kraków bus station
Buses to Wisła do not leave from the airport. Thus, first you need to get from the airport to bus station. The easiest option is to take a train from the airport. You need to get to the Krakow Main Train Station called Kraków Główny. In Krakow buses leave from a bus station called Dworzec Autobusowy MDA. It is located next to the Krakow Main Train Station called Kraków Główny.
Kraków bus station – Wisła
The best option is to purchase tickets online in advance: https://en.e-podroznik.pl/ While booking a bus from Kraków to Wisła on this website, please make sure that you take a direct bus (as the website shows also more complicated options). The direct bus is from the Lajkonik company. While purchase this bus tickets, please keep in mind that: – Bus from Kraków to Wisła takes about 3 hours. – The last bus from Kraków to Wisła leaves quite early (please check the last bus before booking your plane tickets!
Once you get to Wisla you should take a taxi to the accommodation place. Taxi from the bus station should cost around 35 PLN. Please remember to keep the receipt! Only then you will be able to include this cost in your travel cost reimbursement.
Address of the accommodation, which you should give to a taxi driver is:
Hotel Krokus
Górnośląska 9
43-460 Wisła