Open Call for 3 Participants for Training Course in Vlasotince, Serbia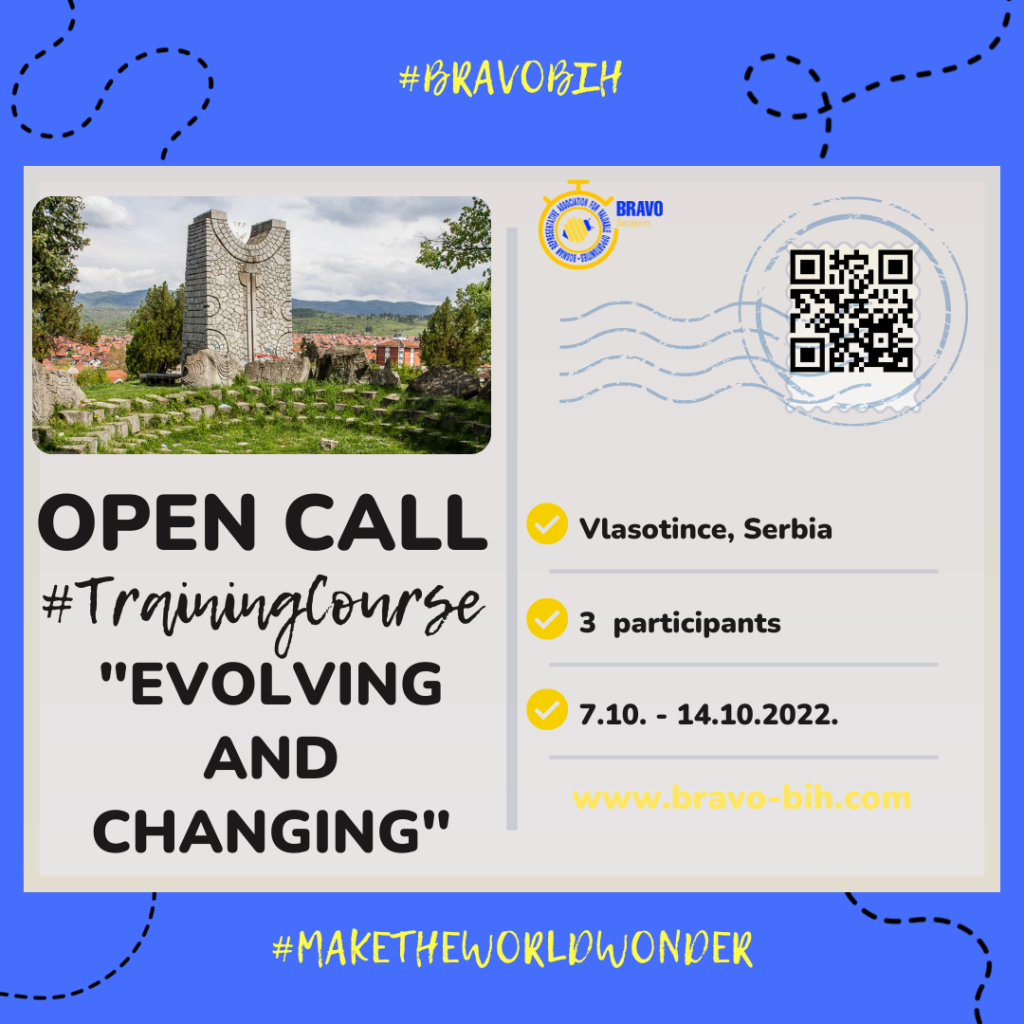 Name of the project: "Evolving and changing"
Date of Project: 7.10.2022. – 14.10.2022.
Sending Organization: "BRAVO"
Place: Vlasotince, Serbia
Participants age: 18+
The number of participants: 3
Working language: English
Deadline for applying: 30.08.2022.
This project is financed by the European Commission through the Erasmus Plus Program. This publication reflects the view only of the author, and the European Commission cannot be held responsible for any use which may be made of the information contained therein. By Erasmus+ rules organizers will cover travel costs, accommodation and food.
"Evolving and changing" is a Training Course which will gather 34 Youth workers from 10 countries, from different parts of Europe, with the aim to equip youth workers with non-formal learning competences for promoting diversity and inclusion values among young people, and fighting the stereotypes and xenophobia among young Europeans. Specific objectives of this activity are: 
– strengthening the knowledge, skills, and behaviors needed to fully accept, support and promote the differences in society. 
– to train youth workers/leaders to manage diversity in a positive and respectful way. 
– to equip Youth Workers with knowledge, skills, and confidence to deliver inclusive youth work. 
– to identify best practices of Youth Work in the field of promotion of diversity and social inclusion of young migrants, refugees and asylum seekers 
– to invest in the intercultural and social skills of youth workers as well as their competencies to manage and work with diversity in all its forms.
TARGET GROUP OF THIS PROJECT
Participants will be selected according to following, basic criteria:
* They are active youth working with youngsters from 25 years,
* They are working in culturally mixed surroundings.
* They are interested to work on this topic and specific issues regarding xenophobia among young people, the promotion of diversity, as well as the inclusion of migrants. The selected profile should also possess the skills to transfer the gained experience to their colleagues in their organizations and community, and use the gained knowledge and methods in practice.
The activities of the training course will be based on nonformal education methods (lectures, workshops, outdoor activities, practical workshops, presentations, group discussions, icebreakers, energizers, intercultural evenings, reflective sharing, discussions in small groups, discussions in the plenary, question and answer sessions, debriefing after each exercise, presentations, info sessions for theoretical input, workshops and group work in order to explore concrete examples of methodological approaches to work on the project topic. Non-formal education methods will bring the knowledge to the participants in an interactive and practical, easily implementable way.
Medication, shampoo and other personal items.
Standard seminar equipment
Warm, comfortable clothes since it can be cold in October.
Passport / ID Please, make sure that you have all the papers when you come, the return tickets may be sent after the project.
Airplane tickets:
Flight tickets (with the name of the passenger and flight details/invoice of flight- printed);
All boarding passes – printed
Other transport documentation
European health card (it is free) Please note that without all original tickets, invoices we CAN NOT make reimbursement to you!!!!
ACCOMODATION, FOOD AND TRAVELING
Accommodation and food – 3 meals a day and coffee breaks – are 100% covered by Erasmus + Program. Extra drinks/snacks are on your own account. More details about traveling when you arrive in Serbia we will inform you later when we get all your arrival details. Our accomodation address is: 29 November bb Vlasotince http://gunjetinac.com/
Travel costs are budgeted according to Erasmus + conditions (using the EU distance calculator): http://ec.europ a.eu/programmes/erasmus-plus/tools/distance_en.htm
All partners have a 275 Euros travel limit except Bosnia and Herzegovina, Slovenia, and Albania with a 180 Euros travel limit.
PLEASE NOTE WE NEED ALL THE ORIGINAL INVOICES, BOARDING PASSES & TICKETS TO MAKE THE REFUND!
The participants should arrive at Vlasotince, Serbia on 07.10 and depart on 14.10.2022. We are starting with dinner on 07th and finishing at 14th with breakfast. We kindly remind you that early accommodation outside of the listed project dates will be on your own expense and responsibility.