Open Call for 3 Participants for Training Course in Dilijan, Armenia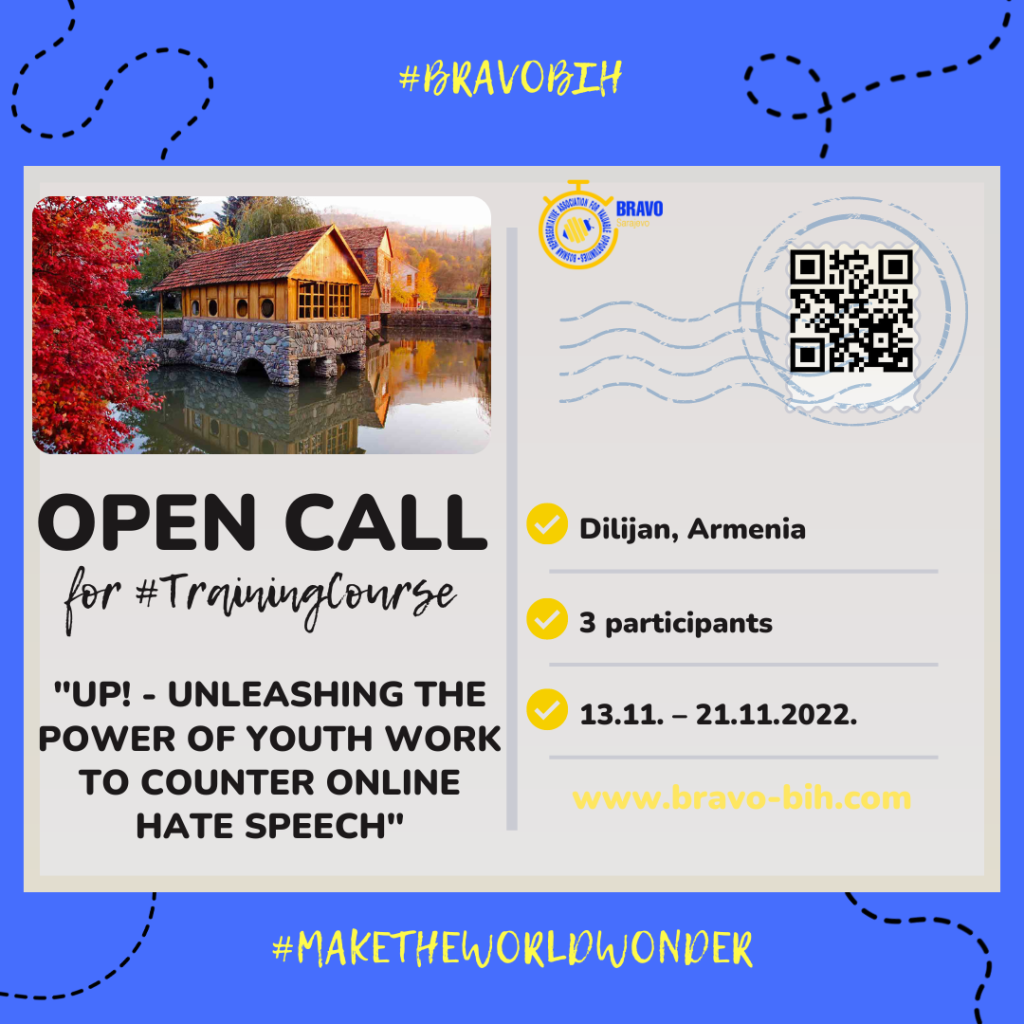 Name of the project: "UP! – Unleashing the Power of Youth Work to Counter Online Hate Speech"
Date of Project: 13.11.2022. – 21.11.2022.
Sending Organization: "BRAVO"
Place: Dilijan, Armenia
Participants age: +18
The number of participants: 3
Working language: English
Deadline for applying: 28.9.2022.
Hate Speech is experienced daily by many young people across Europe. With the development of social networks, the number of cyber-bullying and cyberharassment cases has increased, increasing the risks to democratic order and creating concerns among young people and youth organizations. As youth organizations working with young people on local, national and European levels and promoting digital participation, we have developed the long-term project "UP! Unleashing the Power of Youth Work to Counter Online Hate Speech" to address and transform online hate speech in a safe and transformative way. Through the joint efforts of 14 youth organizations involved, we aim to equip 36 youth workers and educators from the European Union (the Netherlands, Cyprus, Estonia, Greece, Italy, Portugal, Spain) and Neighboring Partner countries (Armenia, Albania, Bosnia and Herzegovina, Georgia, Moldova, North Macedonia, Ukraine) with necessary skills, knowledge and tools to support young people's fight against online oppressive narratives, propaganda and hate speech.
The long-term project has 2 activities (Training Course and Evaluation Seminar) and pursues the following main objectives:
Creating a network of activists, youth workers, educators and youth organizations who combat online hate speech and building their capacity in campaigning against online hate speech with both a national and European dimension;
Exploring the notion of hate speech and examining its main roots, inspiring youth workers to find out innovative mechanisms and solutions in fighting hate speech, targeting different layers of society;
Equipping youth workers and educators with skills, knowledge and tools to provide quality training for young people and support them to recognize and transform hateful speech online;
Exploring various good practices and developing local campaigns, educational activities and materials that support young people to combat hate speech online;
Improving internet and media competences of youth workers and educators so they are better equipped to counter hate speech online and are to promote responsible internet presence and conscious content generation among young people they work with.
TRAVEL COSTS AND REIMBURSEMENT
ARRIVAL AND DEPARTURE INFORMATION
The Training Course will take place from the 13th to the 21st of November, 2022 in Dilijan, Armenia. The 13th of November is Arrival Day. 21st of November is Departure Day.
The selected participants will be asked to fill in an online Registration Form. This will help the organizing team to develop a program that meets your expectations.
NOTE! You can arrive a couple of days earlier or stay a couple of days longer to see around or to travel a bit. However, this should be done at your own expense. The Hosting organization can help you to find accommodation for extra days, but you should bear those extra costs.
While planning your trip to Armenia, you are recommended to reach Yerevan through Yerevan Internation Airport (Zvartnots). The pick-up to Dilijan will be organized by shuttles from Yerevan.
People traveling from Bosnia and Herzegovina and North Macedonia will need a visa to enter Armenia. All the visa costs will be covered by organizers upon presentation of original receipts.
During the Training Course, the participants will be accommodated in Dilijan, Armenia. The website of the hotel: http://vanatun.am/  Located in Haghartsin, Vanatun Monastery Stay has a restaurant, garden and terrace. At the hotel, the rooms include a wardrobe.
Featuring a private bathroom with a shower and free toiletries. During the activity, food will be prepared by experienced cooks, provided at the venue. Three meals and two coffee breaks per day will be provided.
THE PROFILE OF PARTICIPIANTS
The Training Course is targeting 36 youth workers aged 18-45 from 14 organizations ) with an aim to equip them with the necessary skills, knowledge and tools to support young people's fight against oppressive online narratives, propaganda and hate speech.
The project will include a total of 36 youth workers in both stages of the project and experienced trainers. The group will consist of professional youth workers and youth leaders of mixed genders, aiming to ensure 50/50 participation of both male and female participants.
100% of the total travel expenses will be reimbursed. Reimbursement will be done in EUR, regardless of the currency indicated on the ticket and receipt/invoice. Any tickets purchased in a local currency other than EUR will then be converted and calculated according to the exchange rate of the month given by the European Commission.
NOTE! Please check the travel budget limits. If travel costs exceed the amount budgeted in the project, the organizers will only be able to reimburse participants the maximum travel costs indicated in the travel budget. You are therefore strongly advised to consult the tickets with us and book your flights well in advance.
IMPORTANT! According to the sustainability policy of the organizers, only the tickets that are bought 1 month before the activity starts can be reimbursed. Reimbursement: All the participants will receive the travel reimbursement through a bank transfer.
Tickets (there must be price and name of the person stated on it).
Boarding passes (in case of loss – please get a confirmation from the airlines, that the flight was taken)
Invoices – yes, even if you have a ticket, our accounting still needs an invoice.