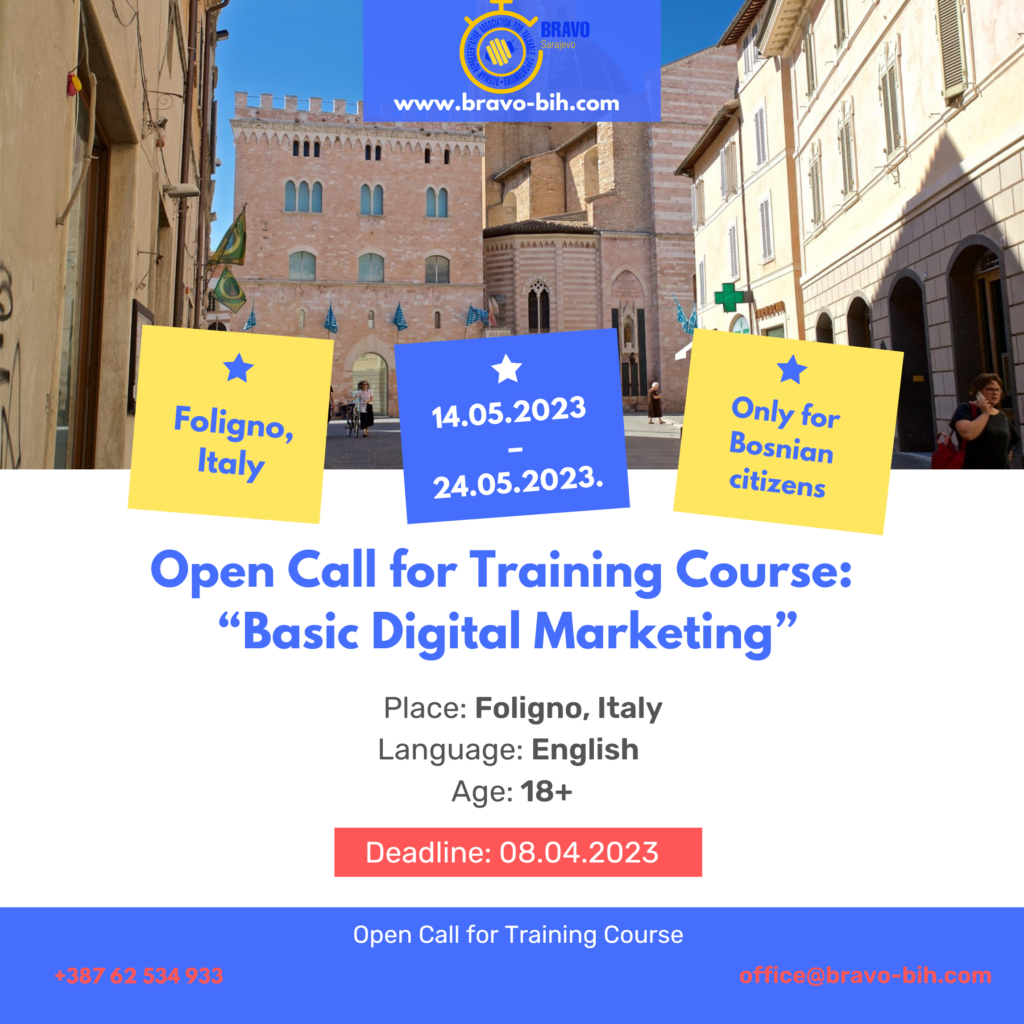 Name of the Training Course: "Basic Digital Marketing"

Date of Project: 14.05.2023 – 24.05.2023.

Hosting organization: "EGInA"

Place: Foligno, Italy

Participants age: 18+

The number of participants: 3

Working language: English

Deadline for applying: 08.04.2023
This project is supported and co-funded by the Erasmus+ programme. It means that your travel costs, accommodation, and food will be fully covered if you get selected for the project. The European Commission's support for the production of this publication does not constitute an endorsement of the contents, which reflect the views only of the authors, and the Commission nor EACEA can be held responsible for any use which may be made of the information contained therein.
"Sharing Design Your Job" project is a continuation of the "Design Your Job" (DYJ) initiative under which is developed 4 projects already. Three of them were financed by EACEA and one by Serbian NA. All projects under the "DYJ" initiative follow and contribute to the overall objective of "Creating and testing new ICT education programs and methodologies suitable for systematic prequalification and re-training of unemployed or marginalized young people".
Initiative uses NFL methods, and mobilities to attract and motivate focused young people to gain hands-on and practical competencies. With these competencies, our users are capable, right after our education process, to find a job, start their job, or at least improve their income situation (usually with Freelancing).
Through the Project, all project participants will have the opportunity to learn new skills that will lead them forward. All project values consist of three areas that stand out:


Access to the shared knowledge of good practices with all hard and soft skills that are needed for the job search that is present in all countries of the European Union.
Work and a new learning system that is unknown to the formal school system. A new look at the unknown and opportunities to acquire knowledge.
Access to free technological management tools, specially designed for the field of soft and hard ICT skills, which will allow them to maximize the efficiency of their knowledge and IMPACT.
The Project will implement 5 Training Courses whose topics will be:
Basic hardware/software manipulation
Basic graphic design
Basic web development
Basic UX design
Basic digital marketing (current call)
OBJECTIVES OF THE PROJECT
During this training course participants will be able to gain skills and knowledge about following:
Websites, social media and communications
Tools for building web presence
Digital marketing plan/an overview and creation of plan
Landing pages and usability
Search engine basics
SEO optimization
Search engine marketing (SEM); Affiliated marketing
Web Analytics etc.
This TC will be based on a non-formal education methodology so we can transfer knowledge and develop relevant skills among the participants. Notably, participants will have daily input from the trainer and they will be assigned to work in a bigger group, smaller teams or individually depending on the task at hand.
The accommodation, food and travel are 100% covered by Erasmus+ Programme.  
1) Information about topic from your country
2) Materials of your organization
3) Good mood
4) Medicines and insurance;
5) Original travel e-tickets and invoices like train tickets, bus tickets etc.
The laptop must be brought. In case you do not own a laptop, please indicate in Google Form that you do not have a laptop in order to provide it to you in a timely manner.
In the heart of Italy's enchanting Umbria region lies the charming city of Foligno. It's a place where time seems to stand still, where cobblestone streets wind their way through ancient buildings, and where the fragrance of freshly baked bread wafts through the air.
Foligno is a city steeped in history and culture, with roots that date back to the Roman Empire. Its rich past is evident in the many churches, palaces, and monuments that dot the landscape, each one a testament to the city's enduring legacy.
But Foligno isn't just a city frozen in time – it's also a vibrant and bustling community, where locals gather in lively piazzas to sip espresso and chat, and where artisans sell their wares in colorful markets. And with its close proximity to some of Italy's most stunning natural landscapes, from the rugged peaks of the Apennine Mountains to the rolling hills of the Valnerina Valley, there's no shortage of adventure to be had.
So whether you're strolling through the winding streets of the city center, exploring the lush countryside, or simply savoring a plate of handmade pasta at a cozy trattoria, Foligno is a place that's sure to capture your heart and leave you longing to return.
Complete the BRAVO- APPLICATION FORM with in English title as following "name of the project you are applying for" until 23:59 on deadline day.
Deadline for applying:

08.04.2023.

Selection results:

10.04.2023.

PARTICIPATION FEE: 

NO PARTICIPATION FEE

If you have any questions don't hesitate to contact us at: office@bravo-bih.com
Who is BRAVO? Watch a video below and enjoy <3
On the video below you can hear very useful information for this mobility.