Open Call for 3 Participants for Project Participation in Athens, Greece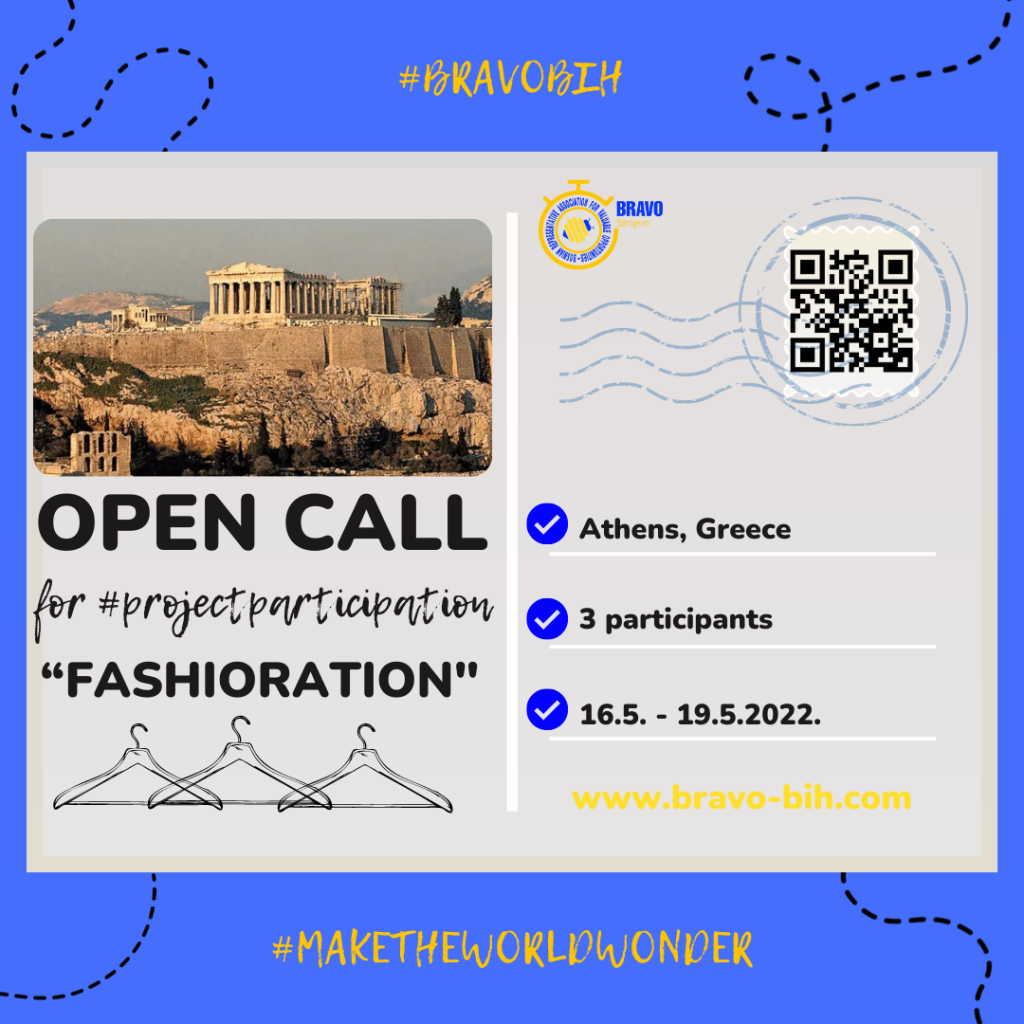 Name of the project: "Fashioration"
Date of Project: 16.05.2022. – 19.05.2022.
Sending Organization: "BRAVO"
Place: Athens, Greece
Participants age: +18
The number of participants: 3
Working language: English
Deadline for applying:08.05.2022.
If you're been keeping up regularly with our projects and activities, you must have noticed that most of them are sport and health or digital entrepreneurship and skills improwement related. But this project is something very new, not only for BRAVO but also first of it's kind in our country Bosnia and Herzegovina! 
You heard that right! 
A very special project indeed which has the tradition, cultural herritage and fashion design in it's fundamental core!
This time we're bringing to you new project "FASHIORATION" to light and we are searching so far for three young persons to join us. 
If you are a fashion design student, or a young person working in small retail and are interested in fashion, traditional custume design, worker in fashion and retail, have a good knowledge of English language, adequate skills of drawing and sketching with pencil and color- you don't want to miss this out! 
What we are looking for are young people/ youth workers who:
– are interested in Cultural Herritage Costume Design
– have knowledge of the History of Costume and Fashion (from the acient times to 20th century)
– have good use of English language 
– have good computer skills in presentation, Word, PowerPoint etc.
– students who have show strong interest and have excelled somehow in their classes
– young people/ youth workers who will be part of this project throughout 2 years and willing to be part of the workshops and project work on National Level
Your task is to transfer the tools and activities to the youth of Bosnia and Herzegovina after attending the meeting and training, and to work together to create plans and new project activities. Therefore, the first project meeting will be in Europe's precious cultural gem- Athens, Greece to kick-off this international experience on a whole new level. 
Through the "FASHIORATION" project, our goal is to promote the validation of B&H's cultural heritage through fashion, art and design. 
By learning, exploring, creating and educating others, we want to share to the world the beauty of Bosnia-Herzegovinan different traditions and different traditional costumes, folk costumes, different embroideries and textiles which have been used throughout our history.